My Professional Knife Making History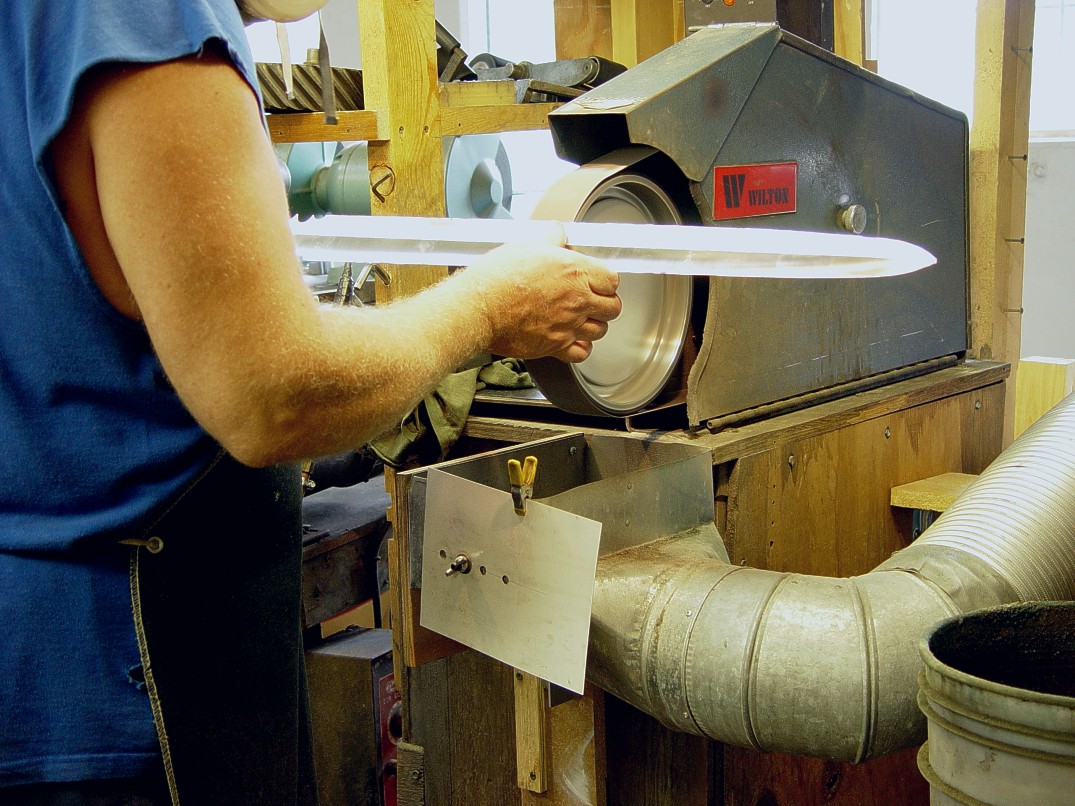 ---
My Profession
This is a descriptive page of my history making knives. I've included some interesting pictures. On this page you'll see various shops, locations, and get information about my life and career making knives. Thanks for being here!
---
From 1980 until 1992, I was located in Farmington, New Mexico and the surrounding area of Kirtland, NM. My first studio was a one car garage. Yes, I started out as a garage maker.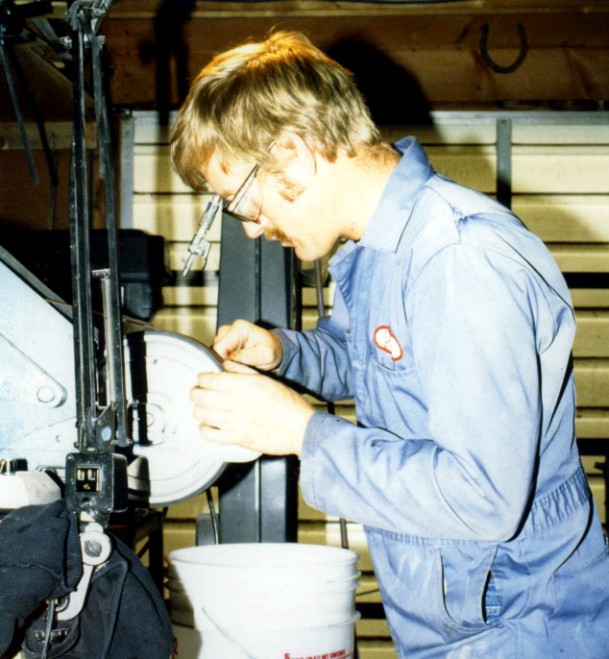 The 1980s
Here I am, a young man in my early twenties, behind the grinder. I removed my respirator for the picture. Note that I was a garage maker, you can see the garage door behind me. This is how most makers start out, innocently enough. Note the clean quench bucket, the clean coveralls, and the thin, younger form of your favorite knifemaker! Ahh, to be young again...
---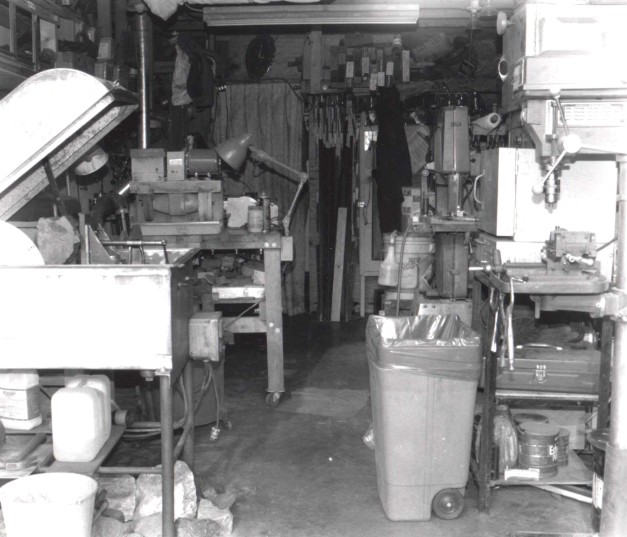 The 1980s
Here's a view of the inside of the one car garage. I started out with just a few tools and some modest ideas. It was pretty crowded back then, but I didn't have to move far to the next workstation. Note the bench on wheels, so I could move it around and work on all sides. You can see the heat treat ovens just behind the drill press on the right. Note the big 18" rock saw in the foreground left, with a chunk of petrified wood ready to cut. Note the pile of boulders on the floor beneath the saw. I've been cutting rock a long, long time! You can see the lapidary grinder, band saw and even the steel stock in the very center of the photo.
---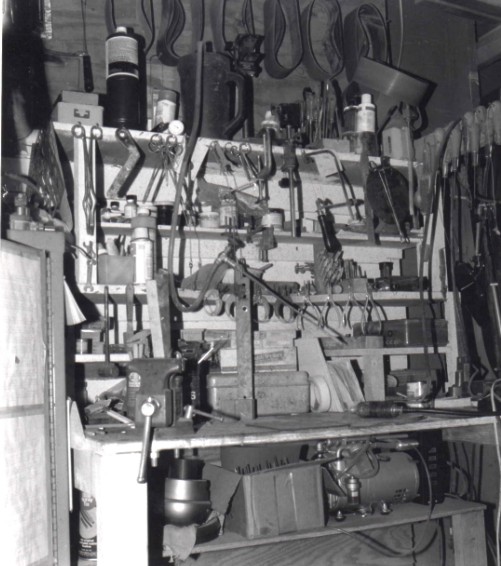 The 1980s
Here's a shot of the small works bench from back then. I've got tools stacked to the ceiling, hung on hooks, under the bench, and in every cubbyhole I could muster. Working in a small space requires some ingenuity. You can see the Gravermeister® engraver and block beneath the table. and files hanging to the right. Lapidary wet sanding belts are hanging at the top, and every shelf inch is dedicated to an item. A large part of this type of job is organizing the workspace, and being able to function in it.
---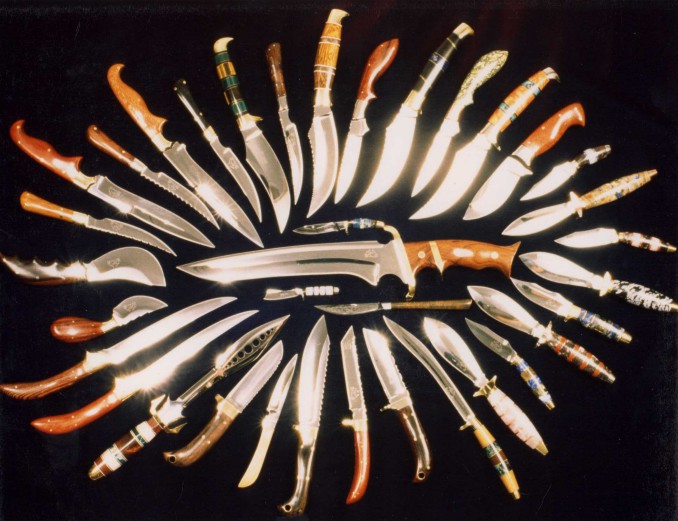 The 1980s
Here's a group of knives from the 80's. If you have an old Jay Fisher custom knife, you might even see it in this group! A popular style at that time was the Aunkst trailing point (four in this pic), the Prairie Falcon, and leaf-bladed New Orleans daggers. There are even a few fillet knives in the photo. Lots of gemstone and lots of exotic wood handles. Of course, every knife here is long ago sold and in someone's hands, which is neat to think about. Also, they're worth far more than they were sold for back then!
---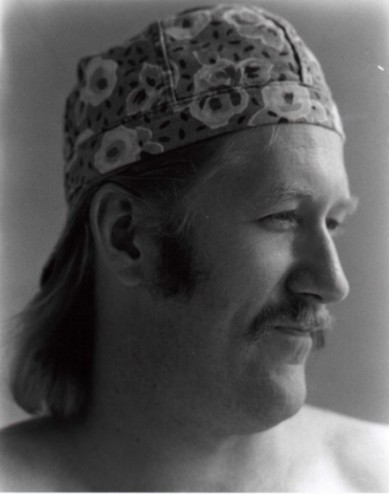 The 1980s
Here's a picture of me in the late 80's in Farmington. The silly flowered welder's cap was a necessary feature of the times, needed to protect that long hair. Hey, everybody's young once!
---
In 1992, I decided to move to a smaller town and chose Magdalena, New Mexico. Magdalena was a quiet little mountain town at that time. I was able to purchase and dedicate an actual store front for my business on main street.
---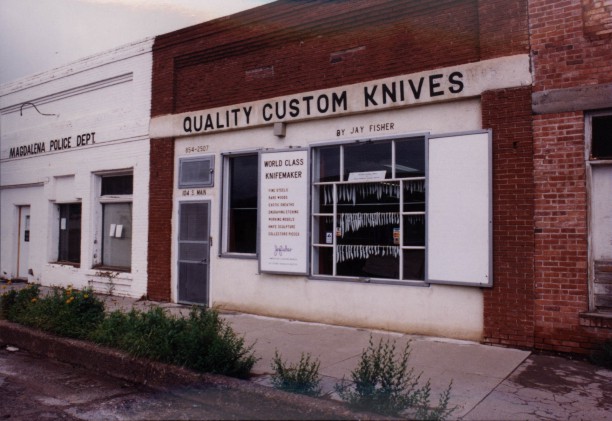 1992-2002
I moved to Magdalena, New Mexico in 1992. I bought the old original Post Office, built in about the 1860s. This old building had a common wall with the police station and another vacant building. I was the only artist with a storefront in the town of 1000, in the southwest mountains of New Mexico. This is an early picture, before I changed the storefront name to Enchanted Spirits Studio. It was a great little shop, about 1200 square feet, and some very fine works came out of that little building.
---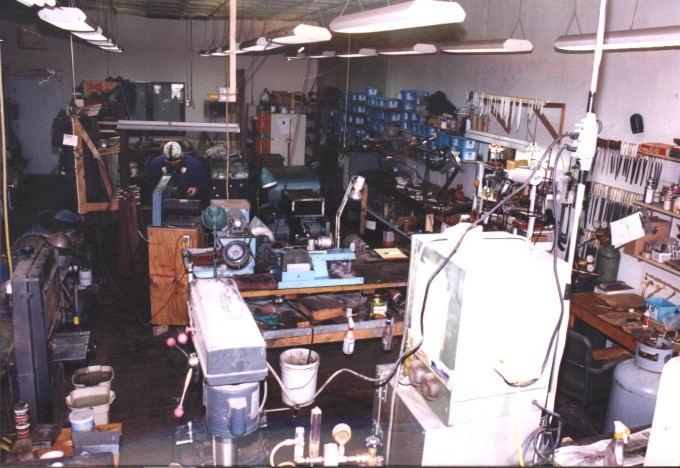 1992-2002
Here I am working at the grinder inside the Magdalena shop. When I arrived, after working for a decade in a one car garage, I thought I'd never run out of room. Within two years, this is how it looked. In later years, the shop was even more crowded: stacked to the ceiling with materials, supplies, and equipment.
An endearing part of this building was the original oak floor. It was springy yet tough, and comfortable to work on. There was an apartment in the back which I converted to a darkroom and photographic studio. Some of the equipment you can see is the band saw, the drill press, heat treating ovens, leatherworking bench, jeweler's bench, blue plastic boxes of gemstone, woodworking tools, rock saws, lapidary grinders, and belt grinders.
---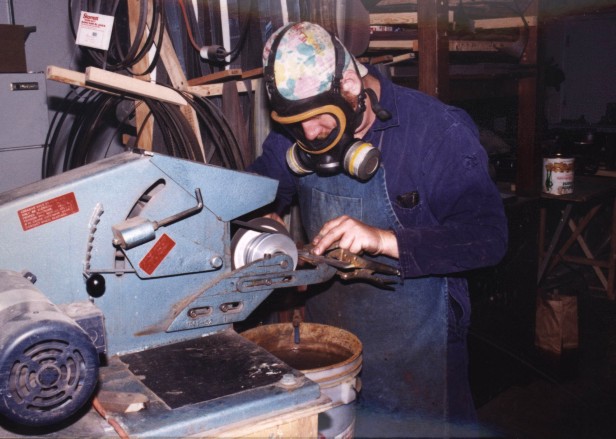 1992-2002
A closer view of me at the grinder in the Magdalena Enchanted Spirits Studio. Still have the welder's cap! Note full face protection and apron. Proper safety gear is what has allowed me longevity and health in this career by protecting my lungs, eyes and body. The hands often remain ungloved, because close tactile contact and feel is required.
No matter how a knife maker creates, he will undoubtedly spend a lot of time at the belt grinder. The grinder is often the heart of the knife maker's shop, and a good grinder can do a variety of tasks. Though every maker has his favorite, I believe that the Wilton is the best for a lot of reasons. It's a professional, well-designed and made machine, with a fully guarded cast iron body and cast iron frame parts, and can be mounted with contact wheels from 1/4" in diameter up to over 10". For smaller grinds it has air-cushioned dead heads down to less than 3/16" and belt driven accessories (like the one shown). I can be adapted to drive buffing wheels, wire wheels, abrasive cut-off discs, Bear-Tex abrasives, Scotch bright pads or any accessory that can be mounted to an arbor. In belts, it can operate the widest variety of grinding belts made, including aluminum oxide abrasives, silicon carbide, ceramic metal, Zirconium, diamond, and even cork impregnated with abrasive particles. This Wilton is a variable speed model, which is essential to produce fine finishes. If you think I sound like an advertisement for Wilton, you could be correct. This particular grinder (under the guidance of my old hands) has produced every single hollow ground knife I've made on this website!
---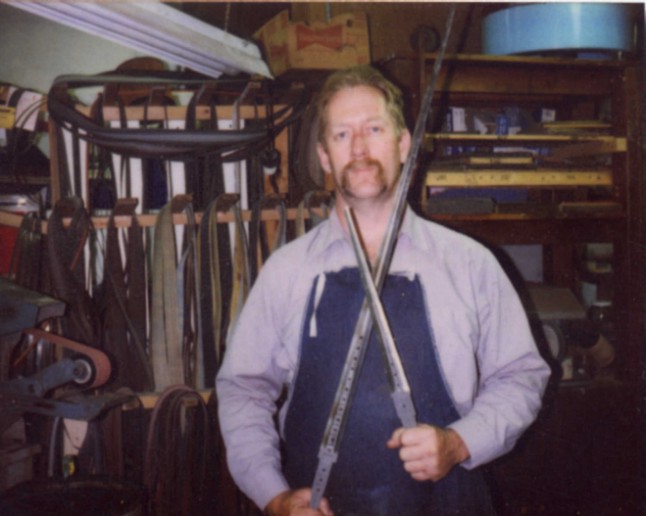 1992-2002
Here's a picture of me holding a rapier blade and matching parrying dagger. Quite a piece of grinding! The blades are hollow ground with central cannellures (fullers) and piercework. They were hollow ground with the 3" diameter contact wheel you see mounted to the grinder at the left of the photo. If you're a knife maker, you might realize how difficult this is. The belt grinder is used all the way up to 2000 grit, through ten steps of grinding to allow a mirror finish on the blades. Behind me in the photo is the belt rack with dozens of belts in various grits, abrasive types, and backings.
---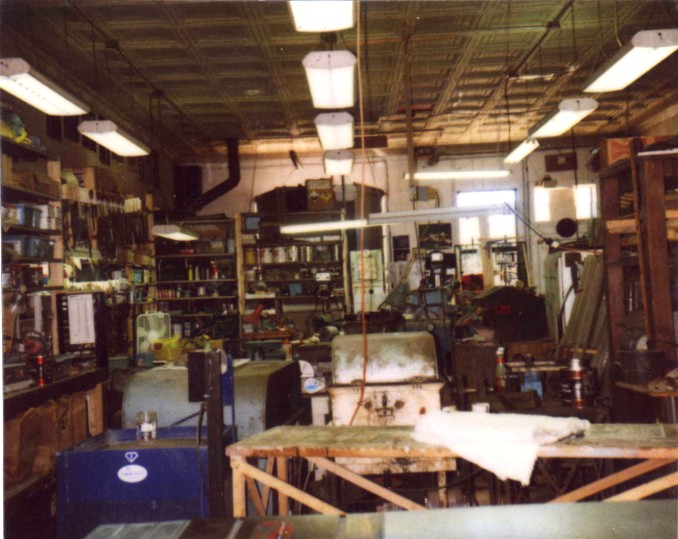 1992-2002
Here's the inside of the Magdalena studio looking toward the front. This is a later shot; I can tell because the supplies are stacked to the ceiling. Note large rock saws, lap machine and table saw in the foreground. The pressed tin ceiling and the oak hardwood floors were the most endearing features of this very old building. This picture was probably from the late 1990s.
---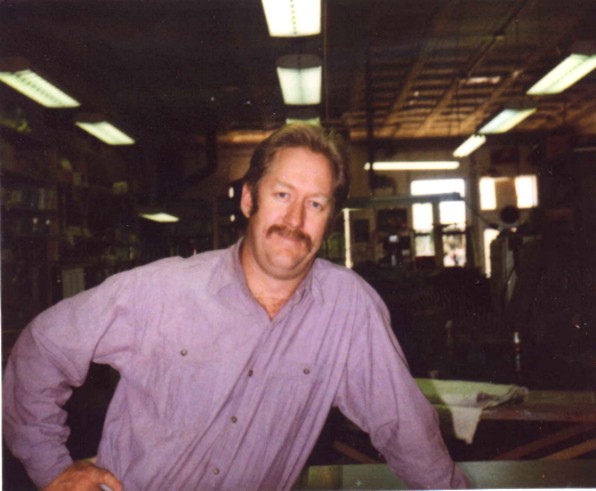 1992-2002
This is me in about 1998, in the Magdalena studio. The studio looks dark in the background even though there are a lot of florescent lights. Part of this is an artifact of the flash photography, but it brings up an important point. Lighting is critical in any shop, and it seems you can never have it bright enough. This was one of the limitations of the studio in Magdalena, as windows were only on one end of the building, and the equipment blocks any incoming light. As the years progressed, I moved from heavy background lighting to concentrated lights on each machine, suited to each task. I go into critical lighting more in my upcoming book.
---
In 2002, I moved to Clovis, New Mexico. Many people have asked why in the world I would live in Clovis, New Mexico, a town known more for dairy, cheese, and cattle than as a location for artists and craftsmen. Clovis is, and always will be my home town. My family moved to Clovis in the early 1960s, as my father was transferred here to Cannon Air Force Base as part of the 2040th communications squadron. The area was so nice and quiet my family decided to stay, and I still have family and roots here.
---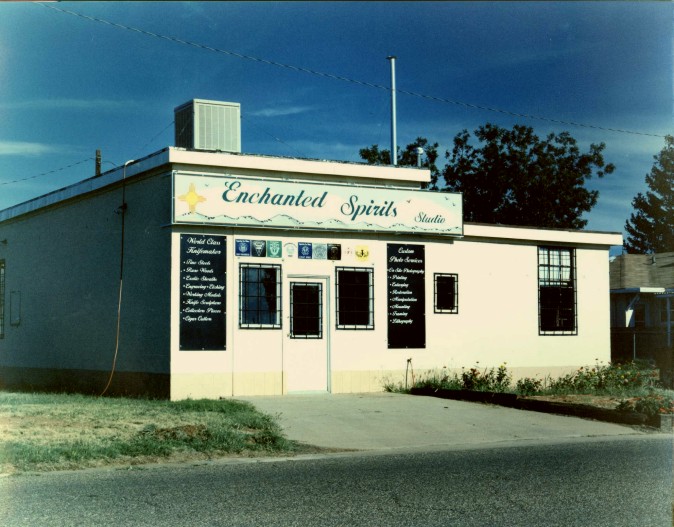 2002-Present
In 2002, I relocated to my home town of Clovis, New Mexico, after living in various other parts of the state and country for 27 years. Since I can live just about anywhere there is a phone line, electricity, USPS and UPS, I wanted to move closer to my family and my roots. This building was a sign company when I was a kid, and it's about 3000 square feet. I worked eight months on the plumbing, electrical, drywall, and grounds before getting back fully into knife production. This is an early picture of the shop, and it looks kind of barren!
---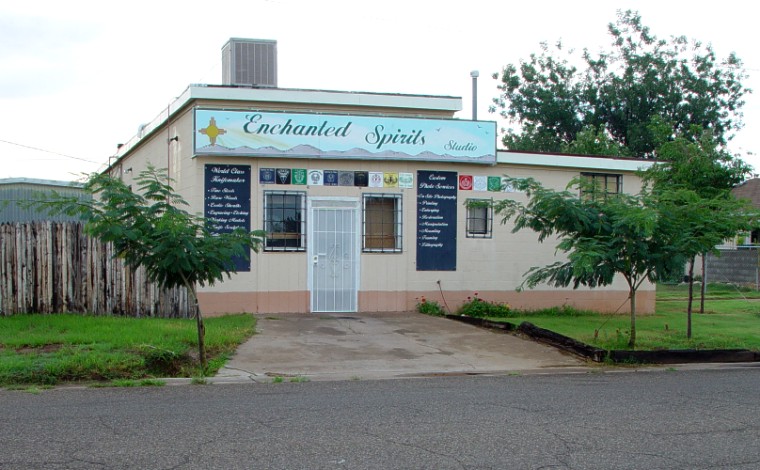 2002-Present
Here's a view of the front of the Clovis Studio, taken in summer of 2006. With 11 and 14 foot tall ceilings, it is a sizeable space to fill with tools, equipment, and supplies that allow me to create fine art projects. This is my professional business storefront.
The Studio: Due to Fire Department Codes, the studio is not open to the general public. I may, however, accommodate individuals in a pre-scheduled one-on-one guided tour.
---
2002-Present
Here's a view of the inside of the shop front from about 2003. It must be winter, because of the barren trees outside the window. A nice sunset to end another day.
The studio overlooks Dennis Chavez Park and pond. It's great to look over the park and water, watch the geese, ducks and families in the park while creating beautiful knives.
In the photo, I'm standing behind the grinder nest. This is an array of grinders, dedicated to many tasks of knife making, and include flat, belt, and wheel grinders set up for specialty tasks.
---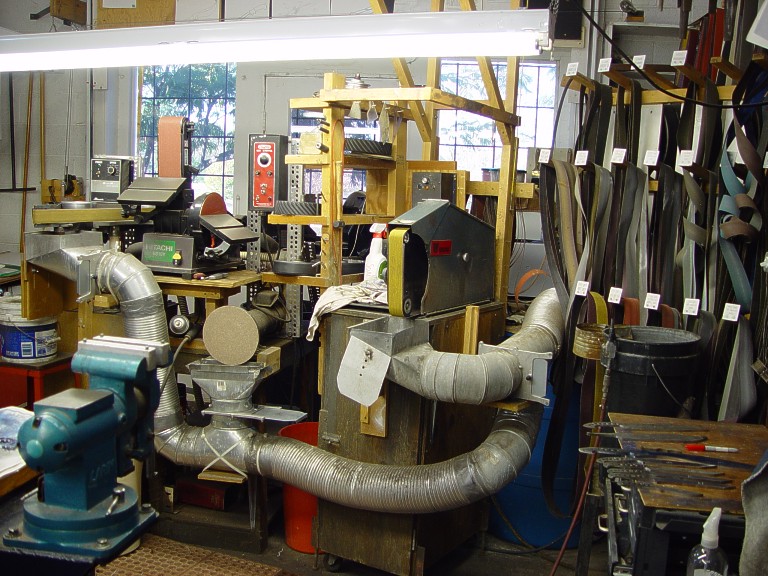 2002-Present
Here's a shot of the same grinder nest in the previous photo. Note the evolution of this very small part of the studio. The point is that the artist's studio should evolve with the artist and his works.
---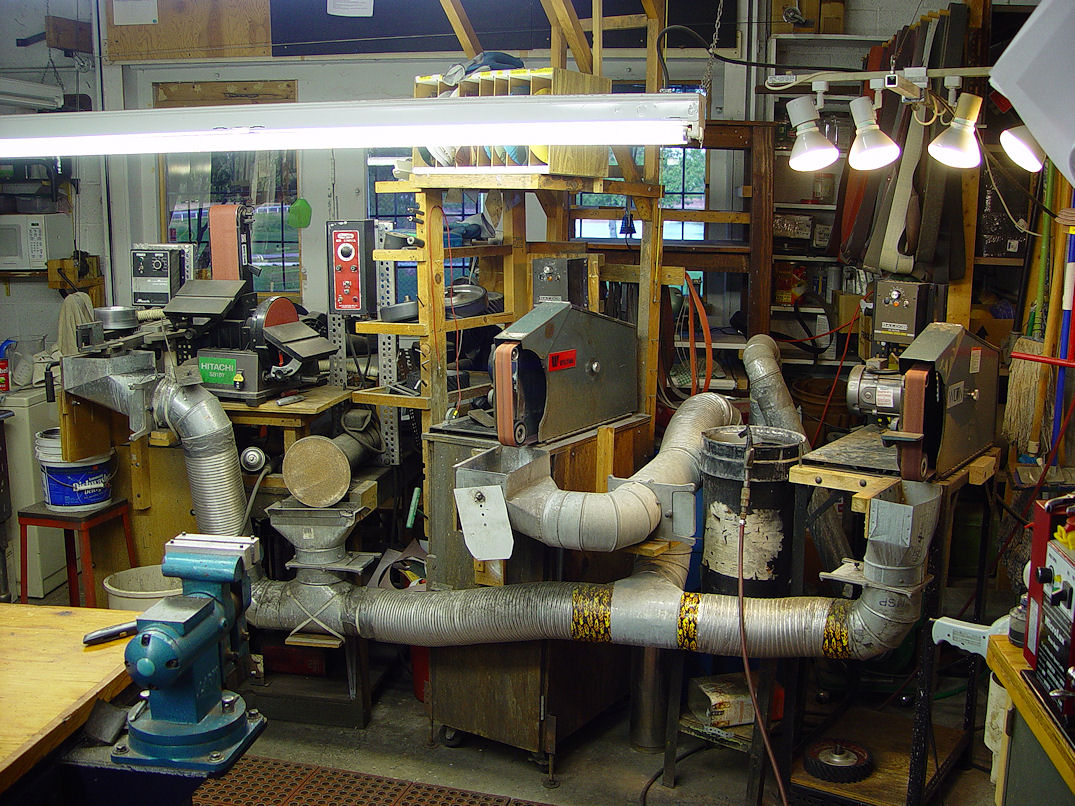 2002-Present
Here's another shot of the grinder nest, three years later. Note the additional grinder, lighting, and dust collection. The evolution continues!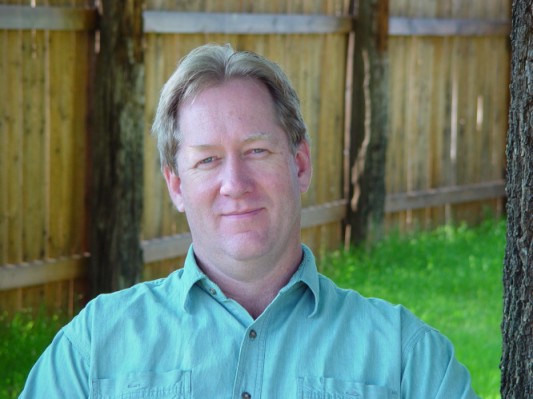 Spring, 2006
A shot of me in spring of 2006.
---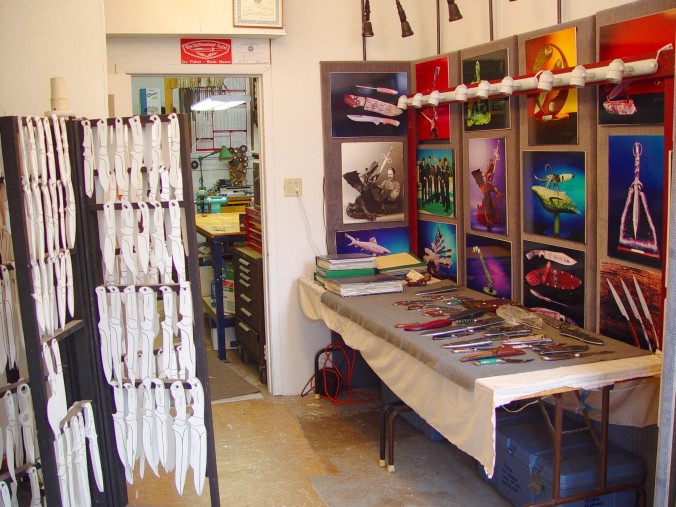 2002-Present
A view of the lobby of the Clovis studio in the early 2000s. Note the hundreds of knife patterns on the rotating rack, and the small amount of inventory. I stay pretty deep in custom orders, so my inventory is always small. Gone are the early days when I would take 60 knives to a show!
---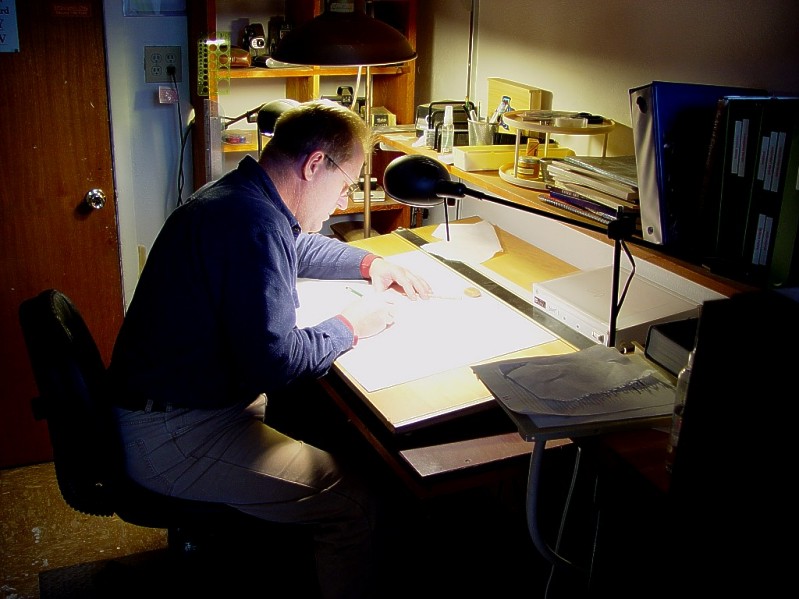 2002-Present
Here's the same lobby as the previous photo to illustrate the changes in half a dozen years. The display is gone, the patterns have a dedicated rack, and the lobby has been turned into a drawing and design area. The older I get, the more important it is to dedicate the time to drawing and designing the knives, sheaths, and engraving artwork that embellishes them. I no longer need show displays, equipment, and paraphernalia to do shows and exhibitions, as I've moved beyond them. Where is my show? You're looking at it. Since about 2004, I've done all my business on this very website. This is the only place you can purchase or order a new Jay Fisher knife.
Thanks for being here!
---