An Overview of my Profession
"Homo sapiens has been around for about 100,000 years. Surprisingly, he was not the first knife maker. Evidence shows that the recently identified hominid species A. garhi, was a tool and knife maker, deliberately selecting and modifying specific raw materials in a sophisticated and consistent way, and with careful intent. He was making double-edged knives about 2.5 million years ago. This technology gave its inventors an astonishing advantage - the ability to shift to an energy-rich, high-fat diet which led to all kinds of evolutionary consequences.
Jay Fisher is the best modern knife maker around, pursuing an ancient tradition but beautifully perfecting the craft by selecting the finest man-made and natural materials. Jay Fisher makes every type of edged steel weapon, fitting the blade to it's purpose. The world's elite clandestine rescue and tactical squads seek his weapons. Their lives depend on "Jay Fisher Custom Knives"- the best quality knives in the world."
-- Bernardo M. Perez
Deputy Assistant Director - Ret.
FBI Laboratory, Washington, D.C.
---
Millions of years have passed since man first noticed that a sharp flake of obsidian, flint, or agate could cut. No one knows when the birth of the cutting edge took place; it is enough to understand that the knife was man's first tool. No image, figure or shape would carve his destiny so profoundly, and even today every item we touch, eat, wear, or drive has at one time been touched by a cutting edge. We humans, without fang or claw, will always require our essential edge, and are simply naked without it.
Our planet is mostly iron, and the surface is covered with minerals which we refine for our use; this age of belongs to steel. My work glorifies this intimate relationship with man's ancestry, gracing the necessary blade with utility, style, wear, value, and high art. Knife makers may adorn their steel with exotic woods, bones, horn, or ivory, but those who master the technique realize the significance of a cherished mineral (gemstone) blending to a refined mineral (steel): handle to blade. In that partnership, I make more gemstone handled custom knives than any other single knife maker in the world.
Beyond the brutally tough, or intricately ground precision blades of utility, beyond the cherished legacy pieces collected, appreciated, and passed from generation to generation, a few rare and exciting creations reach into the realm of knife sculpture. I make the full range, from utility knives to knife sculpture, carrying a standard stock of over 400 patterns designed by my clients and myself, form-fitting individual pieces to a client's particular hand and need, and also delving full heart into fantastic creations of classical, modern, and sculptural artistry with a wide range of materials and finishing techniques.
I've worked hard to have an international presence. I have made knives since 1979, been a full time professional knifemaker since 1988, have attended shows and exhibitions all over the world, and even have a piece in the Tower of London, the finest weapons museum in the world. I make real military combat and tactical knives for some of the finest fighting forces in the world, and their designs are available to the public and collectors right here on this web site. This web site is probably the most elaborate and well covered site of any single knifemaker in the world. There are over 12,000 pictures here on over 400 pages.
I do all my own work. I cut, grind, shape, heat treat, and finish all my own blades. I carve wood, stone, natural and manmade materials for my handles. I do all my own engraving, etching, sheath work, photography, and sculpture. No other hands are involved with the creative process, and a fluid composition blends each piece, from the tip to pommel, from edge to display stand.
Whether your needs require a special knife design for brutally rough tactical or combat service or a legacy piece to invest in and value through the years, I can create it for you and work with you, in the classical traditions of client and craftsman, patron and artist. That is what I do.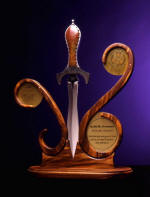 ---