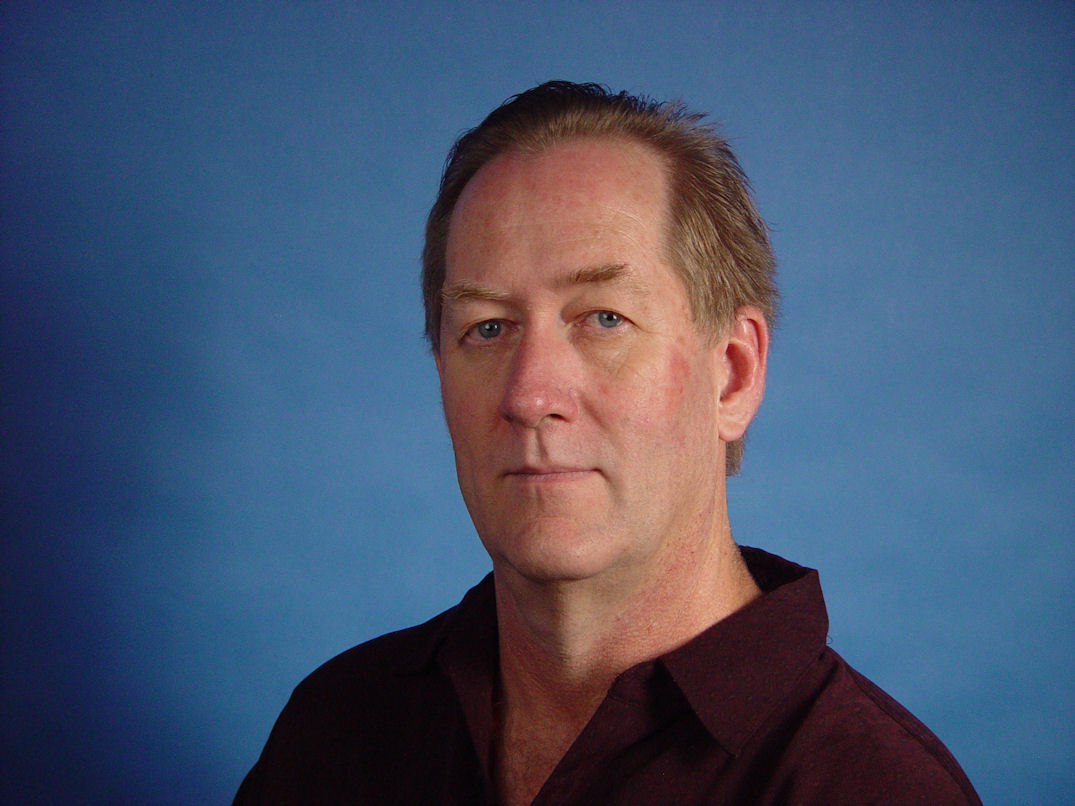 Jay Fisher, Fall 2011
---
Beginnings
My parents told me that the first words out of my mouth were at 14 months. I didn't have anything to relay before that, but when I was ready, spoke in entire, complete, and correct sentences. Little did my folks know that I guilefully planned this as an infant; with many hours of secretly scheming over old English textbooks I could reach from my crib. This was my first difficulty. It's been tough ever since...
Before I made knives, I ground rocks as a lapidary. Before I was a lapidary, as a kid, I worked in my dad's electronics business. Before that, I wrote. So, at the root of all that life has given me are these words, really, simple things, small yet powerful, painting images in your mind, sharing ideas, dreams, and life. Though you are probably here because of knives, note that the root of all of this is the word, written, spoken, and shared. More on that.
I was 19, and working as an industrial maintenance electrician when I heard about the secret of steel: that you could heat it and cool it at different rates and temperatures and derive a piece dozens of times harder or softer than other pieces of the same steel. I was fascinated, and a welder told me, "If you want to learn about heat treating, make a knife."
My first knives were made from found materials: leaf springs, reciprocating saw blades, band saw blades, high tungsten, and high speed tool steels. I learned about annealing, softening the steel, shaping it, hardening it, and tempering it. At one point my blades were nice, but my handles were lacking, then my handles were better than the blades, then my sheaths were the worst, so I tried to bring it all together. I've always believed that the blades, fittings, handles, sheaths, stands, and cases are all part of this trade craft so everything should be commensurate. I added engraving, etching, carving, and embellishment. I've always believed in sole authorship with my knives, and other than collaborative works, do all the work on my knives myself. I'm still learning, still growing, with every knife.
Top of Page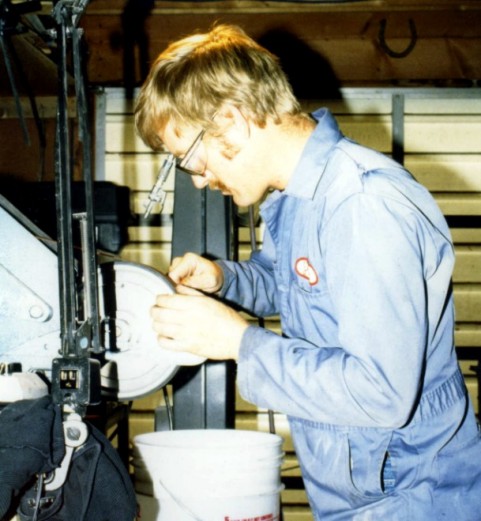 Jay Fisher, early 20's, offhand grinding
---
A Career
My first sold knife went to the Master who ran my Kenpo Karate dojo. He wanted an Ed Parker knockoff, so I made him one for $30. That was 1980. I started out as most makers of that time period, doing local gun and knife shows, then fine knife shows, and then fine and juried art shows. I kept making, showing, and selling, and went full time in 1988, left industry, and never looked back.
Since then and currently, I am a professional knife maker. I make collector's pieces, military combat knives, and high art sculpture. I even have a piece in the Tower of London. I've made pieces that weigh over 400 pounds and have taken over a year an a half to build. I make fine knives for patrons, specialty pieces for users, professionals and the military. I make combat knives for the United States Army, Navy SEAL team members, 101st Airborne and Special Forces, and United States Air Force Pararescue, our nation's top military rescue service as well as SERE military professionals and civilian rescue and emergency response units. I make knives and full packages for law enforcement, SWAT teams, and MERGE and specialized units. I even make very special knives for the world's top counterterrorism units, namely the Israeli Defense Force/Israeli National Police YAMAM counterterrorism units and units and individuals not currently displayed on the public part of the website (for obvious reasons). I make knives for EOD units, and Principle Security Details. I make knives for professional restaurant chefs, hunters, daily knife users, prodigies and aficionados, often with their direct custom input and requests. I make very fine custom art knives, and knife sculpture for some of the most discriminating and successful patrons. It's an honor to make knives that are depended on, admired, and cherished by their owners. These people are the reason I do what I do.
As a professional, I offer my expertise and knowledge in Knife Consultation, for some of the most critical needs in the world. More on consultation.
Top of Page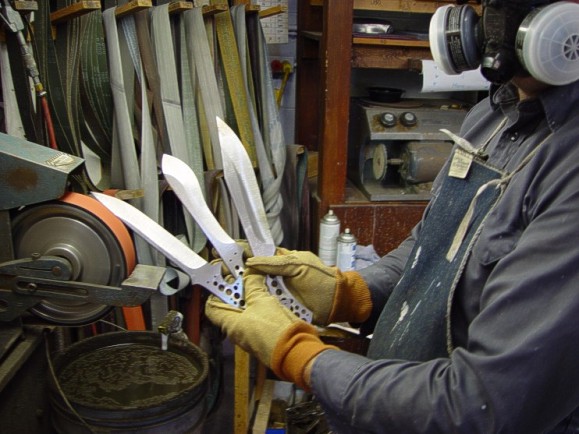 Control grinding knife blades, Jay in early 2000's
---
Knives and Skills
I enjoy making knives because I can work with an extremely wide variety of materials: tool steels, exotic metals, precious metals, horn, wood, ivories, bone, manmade materials, leather and hides, and gemstone. It takes a bewildering amount of tools to work with so many materials, and I seem to have run out of room in a 3000 square foot shop. A lot of stock and inventory is needed in woods, metals, and stone as well as mastery of the machinery and processes to complete a knife idea. I'm not a typical knife maker, and books and resources accompany training in metallurgy, carpentry, leatherworking, finishing, and computer science in my profession.
I don't make the typical knife; I make more gemstone handled knives than any other single maker in the world, well over a thousand to date. Working with rock requires a whole different set of tools, a complete lapidary shop, with dozens of different types of abrasives and compounds, as each stone seems to take a different procedure to finish. It can be very frustrating, but the rewards are worth it, as nothing on earth has the variety, individuality, beauty, color, and feel of real gemstone. I don't use any stabilized or plastic rock. Some people think real gemstone is fragile, but if done right, it will outlast the blade. If gem can take the rigors of knife construction, grinding, sanding, carving, shaping, and finishing, it's going to last on the knife. I've never had one gem handled knife fail, ever. Some have even seen combat.
Top of Page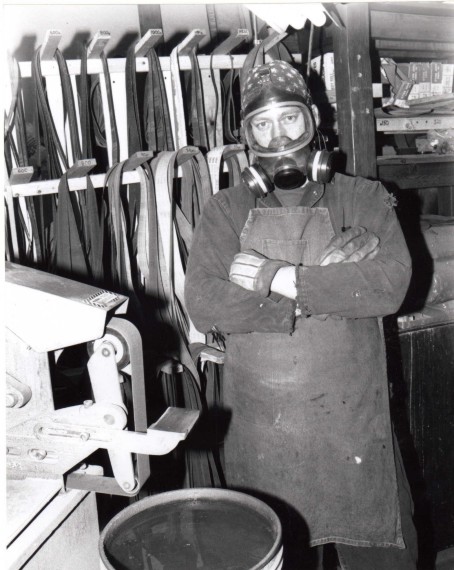 Geared up for rough profiling, 1990's
---
More Than Knives
Knives and swords are not just blades and handles, they are sheaths, stands, cases, and accessories. I've always believed that these accessories should never be neglected, that they are part of the whole piece of work and should be commensurate with the quality of the knife.
Fine knives also consist of many other processes. Embellishment takes many forms and requires many functions, like chemical processes of hot bluing, plating, etching, sealing, and finishing. It takes a lot of chemistry background and training to accomplish this, and most clients are completely unaware of the training and effort that goes into their knife.
Top of Page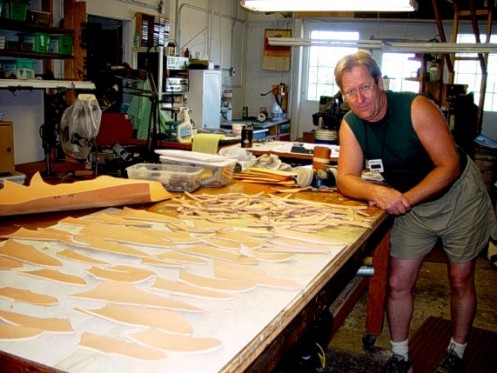 Sheath parts, mid-2000's
---
Metal Finesse
A traditional embellishment I use is hand-engraving. This is an old style process, as ancient as metal, where a graver or burin is used to carve designs into the surface of the metal. It takes a lifetime of practice, continually improving skill with time, designs, and applications evolving with every work. I engrave some of the hardest tool steels and the toughest stainless steels used in this field.
With a long time computer user's background, I also perform machine engraving with the use of an X-Y axis computer controlled rotary and diamond drag machine. Though the actual engraving is done under computer control, the artwork, relationships, design and mechanical applications are directly under my artistic input. Combining computers and artwork in the knife field is a growing interest and an exciting field. I've even engraved gemstone with this technique.
Top of Page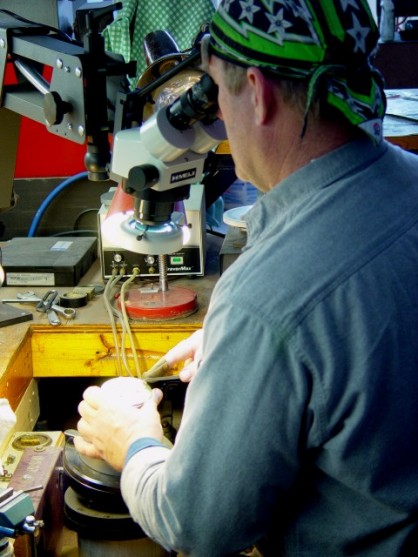 Hand-engraving, 2000's
---
People and Places
Knife making has been good to me, and I've met some wonderful people along the way. I started back in Farmington, New Mexico in 1980 rubbing elbows with D'Alton Holder and Don Norton. I've also lost good friends along the way, guys like Norm Levine and Gerry (Gerard) Hurst. They've certainly left some fine knives behind.
One of my greatest experiences was to have an affiliation with the United States Air Force Pararescue school at Kirtland Air Force Base in Albuquerque, New Mexico. For years, I accompanied the "PJs" and SERE instructors on training blocks and created some of the fine photographs that hang in their conference room, illustrating their blocks of training. I've also had the honor of working with Pararescue in training operations as a civilian organizer, sponsor, and advocate. I've made knives for the PJs for years, taken their input and design, applied my own knowledge of knife making and mechanics of knife construction, to create their dream knives that they carry in the field of combat and rescue. I still make more actual Pararescue knives than probably any other single maker in the world, and I take it very seriously. They have the field experience to let me know what works and what doesn't; I apply that knowledge to create better and better knives.
I've also worked with numerous elite military, law enforcement, counterterrorism, and rescue professionals to apply the same kind of personal, professional knife design for the knives they use in the field, and ultimately hand down to their children. I also create fine commemoratives, etched with names, service dates, units, or special occasions. It's a relationship of warriors and weapons maker that is deeply rooted in history, and I'm proud to be a part.
Top of Page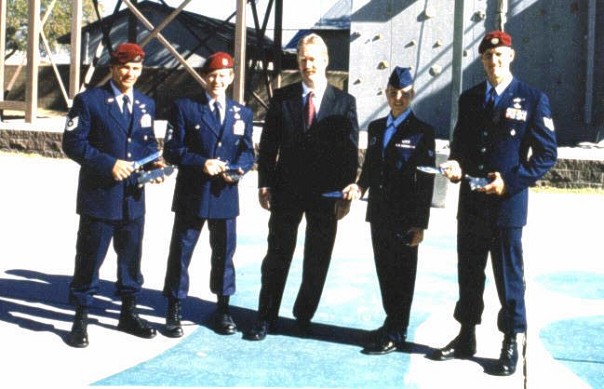 Jay Fisher, USAF Pararescue, USAF SERE, late 1990's
---
Photographer
Though I've had a strong interest and been photographing since I was a kid, knives required me to do some deeper research and training. I knew early on that knives and photos went together. Since I could not send out or display the actual knives in every venue and since I wanted a good record of my work, I realized that my knife photos would have to speak to that record. I started before the digital revolution with chemical photography. I tried my hand at custom processing, built and maintained my own darkroom, and practiced a variety of photographic processes, including color, transparencies, black and white, lithography, and even matting, mounting, and framing. I still have the darkroom today, but since most of the knives are displayed digitally, the knife photos are in that realm. Photography has given me more than just a record of my knives throughout my career, it has allowed me enough knowledge and experience to be able to professionally photograph the military and celebrities, and even to teach photography to others in the classroom.
Top of Page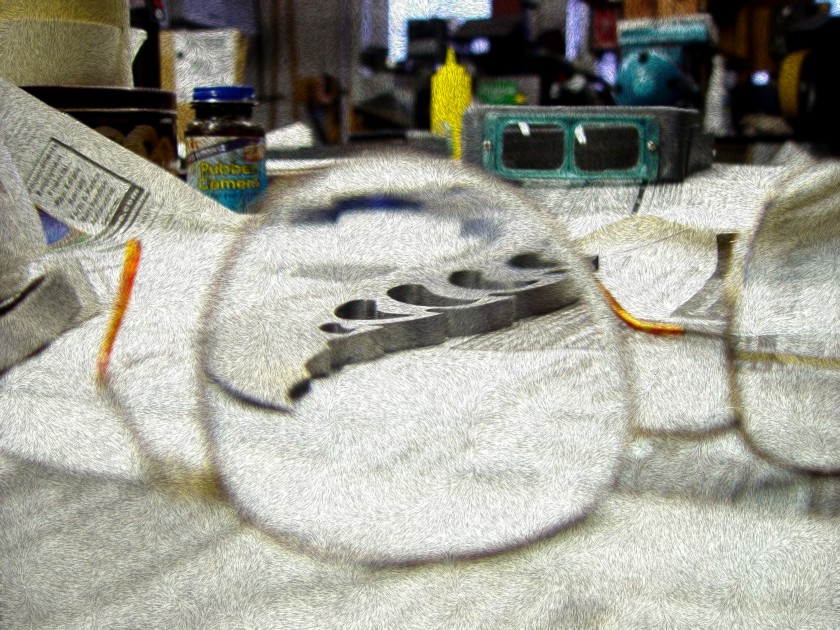 Artistic studio photo, mid-2000's
---
The Profession
I've been lucky with my art, trade, and craft, but I seldom work less than eleven hours a day. I've learned a lot about that early interest in heat treating, and now run four ovens: vacuum purged, inert gas, rapid ramp. I have a complete cryogenic processing shop. I with I work with any knife steel my clients want, but have my favorites: O-1, D2, 440C, ATS-34, CPM154CM, CPMS30V, CPMS90V, CPMS35VN, N360, and CTS-XHP. I also work with damascus, powder steels, crucible particle technology steels, and cast my own artistic fittings. I do all my own engraving, etching, make sheaths with exotic skins, leather, and manmade materials, and sculptural stands and fine cases out of exotic woods, gem, horn, stone, and bronze. I've taken nearly every picture on this website and at one time offered a five-disc CD ROM Archive (with over 3200 high resolution pictures), that was eclipsed by this website, with over 15,000 photographs! I've built and maintained this entire website, too, from the early beginnings of the internet, and it's probably the best on the internet for an individual maker; it's about 600 pages long, has over 2 gigabytes of photos and information, over 15,000 photos (including thumbnail photos and restricted pages, and gets about three million hits a month. Read more about the website here.
By the way, I do this not only because it is a venue for my knives, but because I want to share with all of the knife enthusiasts out there, for free, available at any time. While many makers offer their ideas, techniques, and methods in a book or paid form for money, everything you see on this website is available for free, to anyone, at anytime.
Top of Page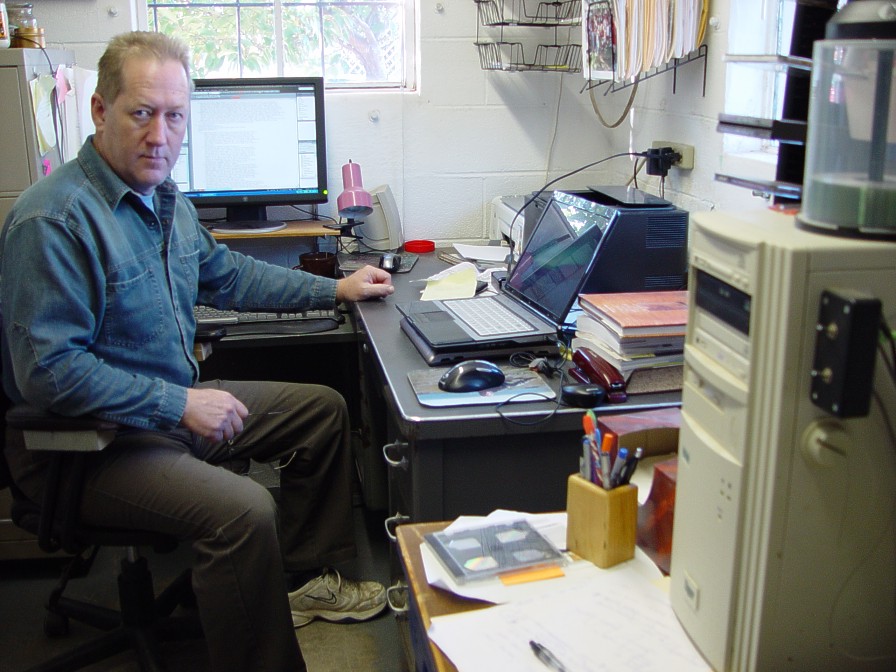 Office work, 2009
---
Knife making is not the only thing I've done, not by far. When I was young, I thought the best way to find out what interested me was to try many different things. I studied martial arts, music, and archaeology. I worked as a volunteer in archaeology, assisting in site surveys and mapping, with direct input from professional archaeologists and representatives of the New Mexico Department of Cultural Affairs and New Mexico Historic Preservation Division. I was even instrumental in getting a new ancient Native American site on the historical register. I tried my hands at jewelry making, woodworking, mechanics, and design and fabrication of machine tools. During my industrial employment, I soaked up everything I could. I worked a while at a professional printed circuit lab where I learned electroplating, etching, and chemical analysis. I was a construction electrician and a maintenance electrician and mechanic. I worked in numerous jobs including a printed circuit board manufacturing plant, a radio crystal manufacturing plant, a fiberglass manufacturing plant. I worked in a secondary aluminum smelter, a pigment plant, and a plant that made concrete-coated steel pipe as an industrial electrician and mechanic. I spent over a decade in a coal-fired power plant. I worked on everything from the low voltage interposing logic system that controlled the generation system to the high voltage transformers that bussed hundreds of millions of watts of electricity to the grid. I worked on pneumatic systems that functioned on 20 ounces per square inch and high pressure compressors at 5000 psi. I worked on refrigeration, HVAC, switchgear, motor controllers, and electric motors, from fractional horsepower to 10,000 horsepower. For several years, I maintained 120 fixed fire systems, all the systems in the generation station. During my years at the generation station, I was actively involved in firefighting and emergency medical services, was a founding member of the station's emergency response team, and became a certified level two firefighter. I was also EMT and firefighter with several active volunteer fire departments with medical rescue services.
You might well ask why, with all this experience as an industrial maintenance electrician, mechanic, and technician, and with so much specialized industrial trade experience, I would leave industry. After all, the pay is great, and the benefits are good.
For me, industry was mostly about repairing things. No matter how complicated, there would be some little bug, or design flaw, or wear area where machinery or equipment would wear out, be used up, or fail. So repair work was like a hunt, a hunt for a flaw. This is exciting and demanding for some individuals, but I got my greatest thrill building devices from scratch. I call that making vs. fixing. Some guys get off on the fixing, I preferred to make. And making knives gives me some of the greatest variety of materials, designs, techniques, and equipment. I still get plenty of repair work on my own equipment, but making, creating, and the artistic pursuit is what floats my boat.
That is why writing is so appealing to me. When you write a novel, you make the entire world, and all the characters in it. What could be more exciting? In the early '90s, I started writing seriously. How serious? My first book is 850 pages and was re-written 15 times. I've started three more books and am working on those when I'm not making knives or maintaining this site. I've researched conceptual physics (a lifelong interest) and am building a treatise and an action-thriller based on some new ideas and discoveries. I'm also currently working on a book on the modern knifemaker and profession.
Since the 1980's, I have been making knives as a profession. I was a member of the Knifemakers Guild from 1988 until 2007. I was the founding vice president of the Professional Knifemakers Association, and wrote the initial bylaws. I'm no longer a member of the PKA or the Knifemakers Guild; unfortunately I don't have the time to dedicate to any organization, and dedicate all of my time to my clients, business, and family. I've been listed in New Mexico Magazine as Eastern New Mexico's most famous artist. I was listed in the 2007 Best of the West sourcebook by True West Magazine as the Best Living Knifemaker. I've attended many gun and knife shows, knife shows, arts and crafts shows, fine art shows, and invitational exhibitions all over the United States, and in Germany and Paris. At one time, I did 13 shows a year. I was lucky enough to be asked to create a piece that is now in the Tower of London. I'm also proud of a 400 pound bronze, steel, and gemstone sword sculpture I made to honor Dr. Steven Rosenberg, M.D. Ph.D., head of oncology at our National Institutes of Health, for his work helping cure cancer in children.
Top of Page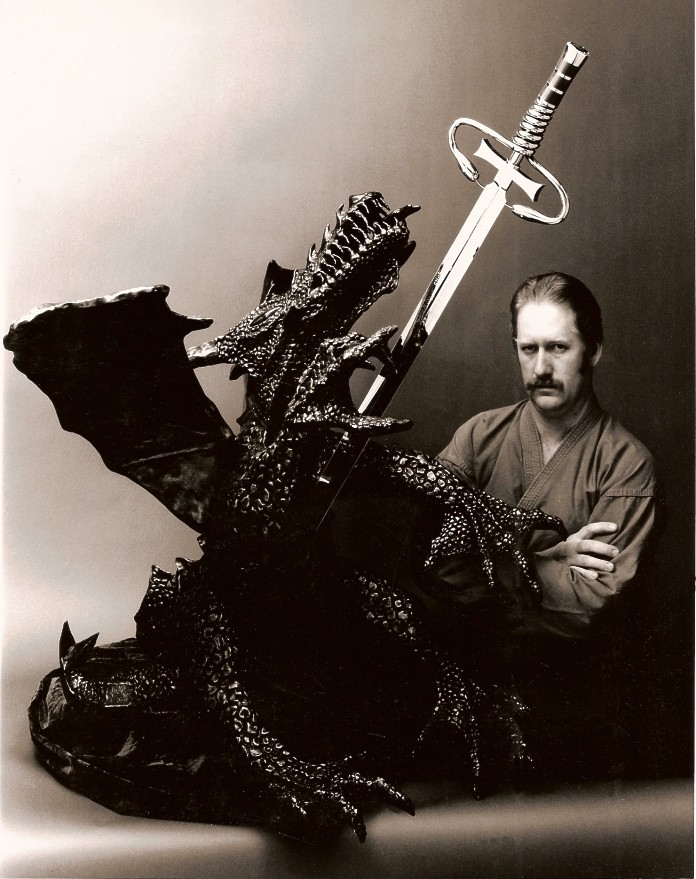 Jay Fisher and Dragonslayer, late 1990's
---
The Best Part
My personal life. Though knife makers may lead a solitary work life, alone for many hours over a bit of steel and stone and leather, it's important to note that I would not be able to do this if it weren't for the loving support of my wife and family. These are the greatest people in the world and I dearly love them all. I'm married, and between us we've got seven children and 13 grandchildren. We're intensely proud of our young people and their children. You can bet that some of my family have tried their hand grinding steel blades and handles, and I'm proud of these collaborative works we have created together. You can see 90 pictures of my family on this special page.
My wife surprised me on my 50th birthday by inviting all of my family. All the colors? Why, it was the fourth of July. What a great group!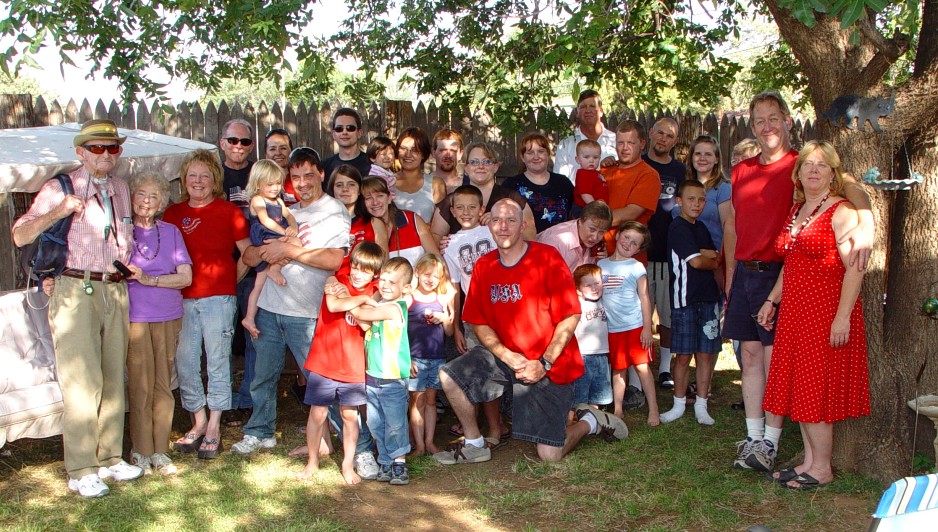 My family on my 50th birthday
---
Knives are about People
The best thing about knife making as an art and trade is to hear the stories of what the knives have done, if they've rescued someone from a pinch, saved a soldier's life, or inspired an artistic thought that makes the piece personal, even interactive to those who view, hold, and use my knives, swords, and artwork. Making knives is certainly the world's oldest honorable profession, and I'm proud to be a part of it.
My inspiration? Countless knife and weapons makers, warriors, and artists throughout history, who remain faceless but for the conquests, knowledge, and beautiful works they've left behind, as will I.
Top of Page
Thanks for being here!
---