Uvhash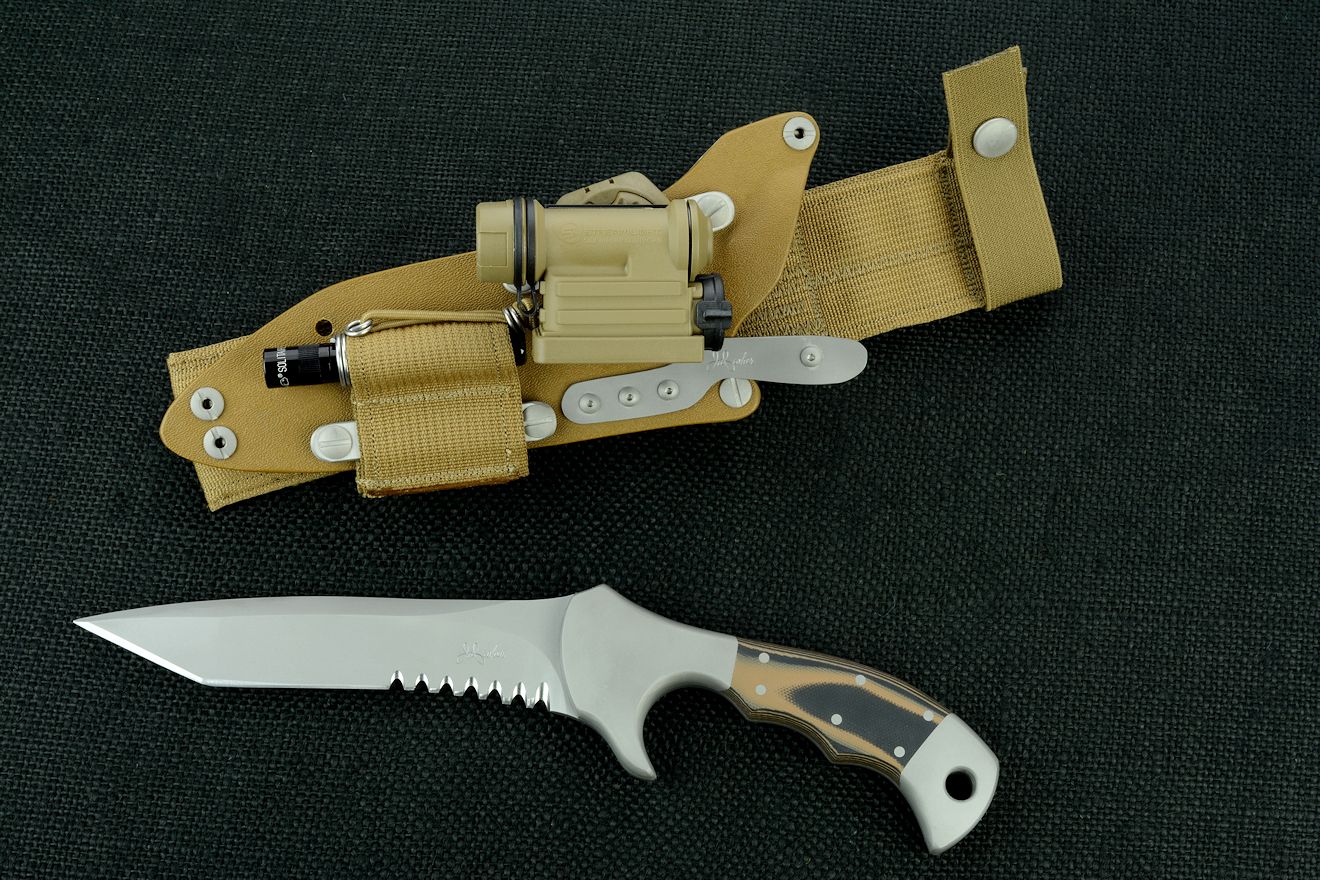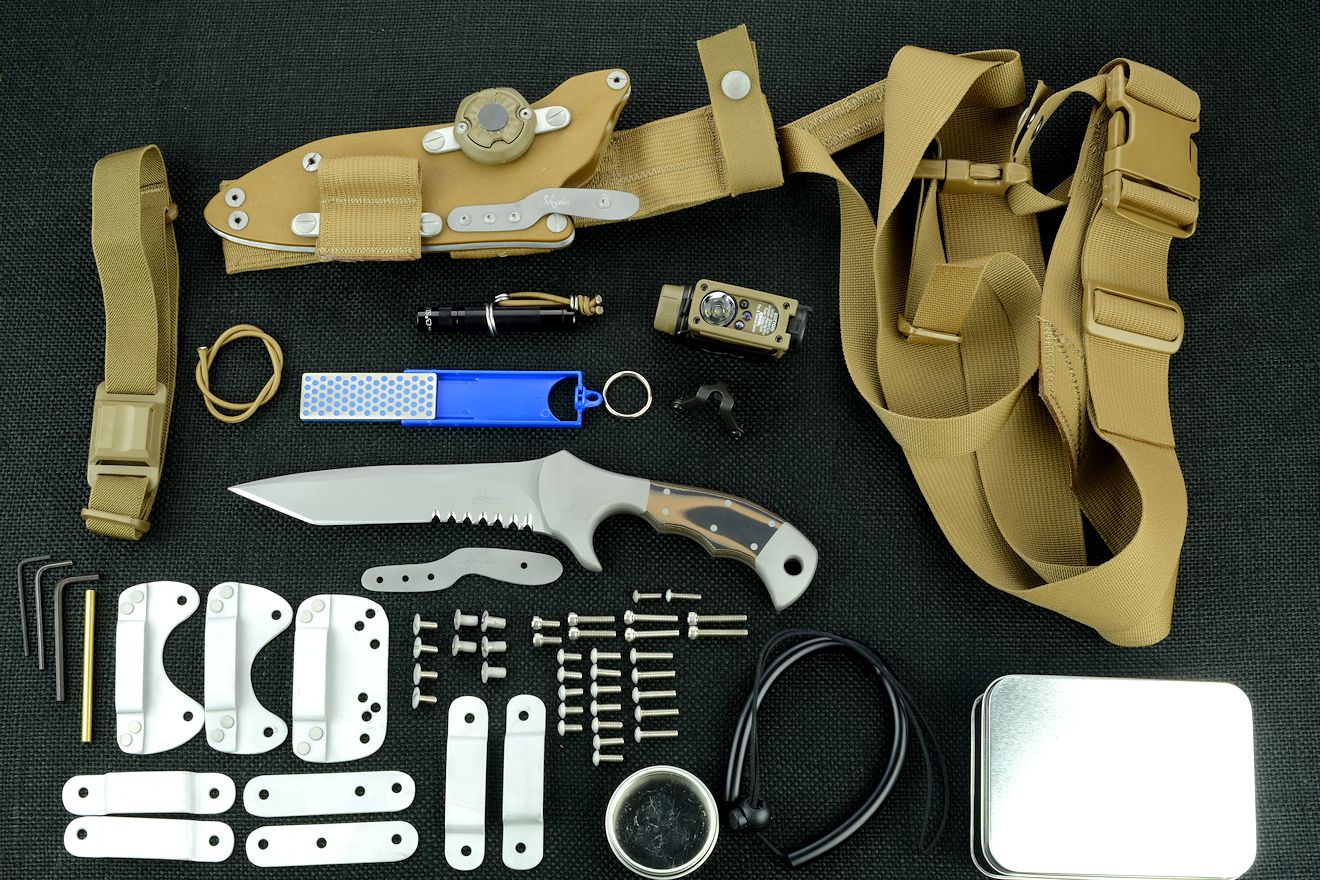 "Uvhash" Counterterrorism Tactical Combat, CSAR, Survival Knife
Size: Length overall: 11.65" (29.6 cm), Blade Length: 6.25" (15.9 cm), Thickness: .236" (6.0 mm)
Weight: Knife: 1 lb., 1.0 oz. (482 grams), Sheath (with extender, accessory package, Streamlight, LIMA, sharpener, and Maglite): 1 lb., 3.0 oz. (539 grams)
Blade: ATS-34 High Molybdenum Martensitic Stainless Tool Steel, Hardened and Tempered to Rockwell C59, Media Blasted, Flat Non-reflective
Bolsters, Fittings: 304 Austenitic Stainless Steel, Media Blasted, Flat Non-reflective
Handle: Coyote/Black G10 Epoxy Laminate Composite
Sheath : Hybrid Tension-Locking, Coyote Kydex, Aluminum, Stainless Steel, Titanium
Ultimate Belt Loop Extender: Coyote Nylon belt loop extender stitched with polyester, with Fine DMT diamond pad sharpener, stainless steel non-reflective snap, stainless steel mounting straps and stainless steel hardware
Streamlight: Streamlight Sidewinder Compact II Lamp, mounting frame 304 stainless steel with all stainless steel hardware, media blasted, flat non-reflective
LIMA: (Lamp Independent Mount Assembly) Nylon stitched with high strength polyester, 304 stainless steel fittings and hardware with Maglite LED Solitaire and stainless retainer
Belt plates, loops: 5052 H32 high strength aluminum alloy, 304 stainless steel
Lanyards: 550 Coyote Nylon Kernmantle Rope (Paracord), Nylon, ABS plastic, neoprene
Knife: The Uvhash is named for the early 20th century horror/fiction/fantasy writer H. P. Lovecraft's blood-mad god of the void. This is drop point tanto blade, extremely strong and tough, a medium sized knife, a solid, thick and strong tactical, combat, and counterterrorism knife, made with the input of military and counterterrorism professionals for their wear and use in combat. The blade I made of ATS-34 high molybdenum high chromium stainless tool steel, one of the most requested and reliable modern tool steels in the field. It's chosen for its extreme toughness and wear resistance, high durability, and high temperature resistance. The blade design considerations were for an evolved version of my most popular PJLT that I create for USAF Pararescue professionals, refined for assault and counterterrorism work. The blade has a three-quarter length top swage that reduces the thickness of the spine without sacrificing spine strength, and the blade has 2" of my aggressive and popular hammerhead serrations for tough cutting and ripping needs. It is a true tanto, with a good length of straight cutting edge, and a solid secondary point (yokote) for bearing down in heavy applications without using the main point. Being wide at the point means the point is very strong for effective and reliable piercing. The knife is hollow ground with accurate geometry for a razor keen cutting edge with heavy spine support. The knife is full tang, one solid piece of steel from tip to butt, and is bolstered with zero-care 304 high nickel, high chromium austenitic stainless steel, with a very large and substantial reinforced forefinger quillon to positively guard the hand during highly active assault, defense, and use. The handle shape has comfortable finger grooves, and feels well-locked in the hand, even with large hands. The rear bolster has a chamfered extra large 3/8" diameter through-tang lanyard hole for extra security if needed while working elevated or over water. The handle scales are coyote and black G10 fiberglass/epoxy laminate composite, one of the most durable handle materials made, and are solidly attached by bedding beneath the dovetailed bolsters and securing with six through-tang stainless steel pins. The blade has no filework for a smooth and easy to clean surface. The knife feels stout and effective in the hand, with the balance point exactly at the forefinger location in forward grip. With the drop-profile at the rear bolster, the knife is well-held in reverse grip as well, the sizeable quillon protecting the hand in any grip position. This is a serious tactical weapon, made for daily use and dependability, in reliable and durable materials.
Sheath: Versatility is critical and a necessary function of the professional knife ensemble. This sheath is a professional assembly, clearly, the best tactical sheath and accessory package made in the world. It's also an example of my commitment to making the finest combat tactical, and rescue knives and sheaths on the planet. It starts with double thickness coyote brown (.125") kydex (methyl acrylate and polyvinylchloride), hot-formed over an aluminum welt frame of 5052 high strength corrosion resistant aluminum alloy in H32 hardness. The body and welts are secured with bead blasted and slotted 304 stainless steel Chicago screws for the ultimate in durability with no care and no glare. The sheath is one of my reliable hybrid tension-locking models, securing the knife with tension until high strength or physical displacement of the mechanism allows removal of the knife. This usually takes about 15 pounds of pressure, but an additional spring plate in 6AL4V titanium is thicker and stronger, requiring about 20 pounds to release. The owner can choose his best tension, and the entire retention arrangement is reversible. Everything on the sheath is highly corrosion resistant, even the machine screws are all stainless steel. The sheath can be worn in any position, even upside down when worn with the die-formed high alloy aluminum belt loops and belt straps on PALS webbing and every conceivable arrangement of combat gear. The belt loops can be located in multiple positions along the welt frame and are reversible for a variety of wear options. This spacing also allows the array of my sheath accessories to mate with and locate in multiple positions along the welts, and allows the knife to be mounted to virtually any gear in any position!
Accessories: This knife and sheath is made complete with my ultimate accessory package. For more details and instructions for these accessories, please look over my Tactical Sheath Accessories page.

Ultimate Belt Loop Extender (UBLX): I included my Ultimate survival, CSAR sheath belt loop extension with outstanding and critical features and devices. The nylon accessory is waterproof, durable, and extremely stout heavily stitched with polyester thread for rot resistance, and lowers the locking knife sheath to be worn in a more traditional belt position with the knife handle at the hip. The extension is mounted with counter bored and dressed 304 stainless steel straps and stainless steel socket head cap screws attached to the existing stainless Chicago screws, and the assembly is stiffened by multiple zigzag polyester stitching to prevent the extension from folding, bending, or collapsing when the knife is extracted from the sheath. The belt loop is 2 inches wide for standard tactical belts, and has a top placement coyote brown elastic bungee shock cord with snap retention to prevent the knife handle from flopping around during active movements. Even the dot snap assembly is all stainless steel and is media-blasted for non-glare. The elastic shock cord is not for retention of the knife; this is done with the stainless steel hybrid tension-lock; it just stops the handle from flopping around during very active moments (running, climbing, crawling). At the lower back of the extension I've included a custom fit pocket for a DMT (Diamond Machining Technology) Mini-Sharp diamond-nickel abrasive hone, to bring up the cutting edge in the field with ease, even on this high alloy wear resistant blade. These are great tools that can re-sharpen or just touch up even the hardest tool steel edges, as they are surface-bonded with diamond abrasives. The pocket for this tool is situated at the sheath back and against the body, so the sharpener can not be removed unless the sheath is off the body and the industrial strength coyote brown Velcro hook and loop closure is open. Read more about the UBLX at this link.

Streamlight: NEW! Answering many requests for a greater variety of flashlight accessory, I've created hardware adapters to mount the Streamlight Sidewinder Compact II flashlight to the sheath. The mounting bracket allows a variety of mounting locations and options to suit individual mission parameters, depending on needs. The mounting hardware is all blasted stainless steel for reliability and strength while being non-reflective. The Streamlight is a great adjunct, with some very useful and necessary features. It starts with the assembly, which allows a rotatable, elevation-adjusting of the flashlight so that it can be aimed and held in any position on the sheath front. It can be aimed at the tactician's work in front of him, the trail, a map, behind him, above him, below him, practically anywhere in the sheath is exposed. It's held in rotational position by detent stops on a blued steel non-reflective strap, and the elevation (tilt angle) is held by tension within the hard, coyote brown plastic frame. So the lamp can be aimed well. The lamp is removable, quickly and easily, by pressing it towards the sheath and sliding the lamp in the axis of the keyhole slot in the frame. The lamp can be then held in the hand, clipped on any strap, and even clamped to a helmet or other gear with the included mounting bracket. It even has a strap for head mount if needed. The flashlight functions on either a CR123 battery (standard in most tactical gear) or a AA battery. The white LED lamp is variable in three intensities, with 55 lumens being the highest output. The lamp also has a red LED (for muted and quiet operations) a blue LED for (other muted or quiet operations) and, probably most important, an Infrared LED for operations using Night Vision (and requiring light invisible to the naked eye). All lamps vary in three intensities, and all can be made to flash continually for signaling with a quick double click on the operating switch. The lamp is rated to a 1 meter immersion in water protection, and a three meter fall impact rating. This is a very tough, small, lightweight lamp that offers critical operational functions in many realms, and it mounts to any location on the sheath with the standard mount spacing for all my accessories!
LIMA Emergency Lamp Backup: An important lesson I learned from my counterterrorism unit clients is the addition of the emergency backup lamp, because any electrical device can fail, and a backup can save your life. So I included my LIMA (Lamp Independent Mount Assembly) on this sheath. This is a special socket in thick and wide coyote nylon stitched with polyester for durability and rot resistance, and it accommodates a LED Maglite Solitaire. This little light puts out! At 37 lumens for over an hour and a half, it can reach out 180 feet and give you enough light to get to safety, should your Streamlight Sidwinder fail, or you decide to go lightweight without it. The LIMA is secured with a 304 stainless steel strap and screws and mounts anywhere along the sheath welts where I have the critical 2.5" spacing. The retaining strap rings are also 304 stainless, and the 1/8" coyote shock cord is easily replaceable if needed. I've even included a replacement cord in the kit.
Horizontal Belt Loop Plates: Answering the call of my counterterrorism and military clients, I've included a pair of horizontal belt loop plates for this knife sheath. These bolt on either side of the sheath using included hardware, and are 5052H32 high strength corrosion resistant aluminum alloy, riveted with 304 stainless steel for permanence, durability, and light weight. They allow horizontal wear of any belt up to 1.75" wide, and the sheath runs inline with the belt.
Sternum Harness Plus: The sternum harness I've included is also the result of input from my counterterrorism clients. It allows the knife to be worn, handle down, angled across the sternum, on top of any other tactical gear. This harness is made of coyote brown nylon and stitched with polyester for rot-free, high strength longevity, and the buckles and straps are coyote ABS plastic. The harness can be donned and doffed quickly and simply and the "plus" is the additional one inch wide stabilizing strap and buckle that creates an "X" strap around the torso. Even the removable X-strap assembly has a snap that is non-glare, and made of stainless steel for zero-care and high corrosion resistance.
Flat strap plates (horizontal and/or vertical): These have several uses: one is to mount the knife sheath rigidly clamped to the sternum harness, with no play. They also allow the sheath to be clamped on any gear (like PALS webbing) with a solid strap security and no sliding around (like on traditional belt loops). So they clamp the sheath to your gear with all stainless steel hardware.
Belt Loops (also called "footman's loops): Answering requests from my counterterrorism teams, I've included two pairs of belt loops made from 5052H32 high strength, corrosion resistant aluminum alloy that are media-blasted for non-glare. These accommodate belts that are 1.5" wide and the thin belt fixtures allow a maximum gap and belt thickness of .190", and the thick belt fixtures allow a maximum belt thickness of over .250" (1/4") thick belts! These bolt in any of the positions with the standard spacing on either side of the reversible sheath.
Lanyards: I've included two lanyards that can be critical and necessary for retention of your knife when working in elevated locations or in marine environments. One is a SCUBA lanyard with tension adjustment and neoprene sleeve to protect the wrist. The other is an adjustable sliding coyote brown paracord type, a frequent request by my tactical combat professionals. Both lanyards can be quickly and easily attached to the knife lanyard hole through the rear bolsters and tang using a simple Larks' head hitch.
Tools, Hardware, Containers, Bag, Tag: I've included all the tools, hardware, and necessary components to mount all or any combination of these accessories with your gear, on your person, and all of the hardware is stainless steel in common American Standard Sizes. Included is a screw top tin for hardware storage, a large tin container for the larger components, and a heavy canvas embroidered drawstring bag to keep it all together. Also included is an archival engraved acrylic tag detailing the components with my contact information. Instructions and a checklist for the individual components are also included, as well as a list of video links that explain how to set up every single one of them! This is an ultimate system, and demonstrates my commitment to actual combat, field, rescue, and counterterrorism service in my trade.

Learn much more about my Counterterrorism Knives at this link.
A great professional grade knife, made of extremely tough and robust materials, with a design that is suited to the most aggressive and serious counterterrorism and tactical defensive or offensive use, while crossing over to survival, extrication, disaster response, and emergency reaction needs. It is a complete and ultimate package of accessories and wear options built of the most durable, corrosion resistant, and strong materials available, like no other ensemble on earth. NO OTHER SOURCE offers and supplies what you see here, all hand-made to mesh with your gear, your outing, your mission, and your excursion, no matter the situation and exposure. This is why I make knives for some of the top military, tactical, rescue, and counterterrorism units in the world. This is a knife that can deliver for generations, getting there, achieving the potential, and getting you back home with uncompromising strength and beauty.
Thanks, G. S.!
Hi Jay,
I picked up your Uvhash today; what a superb tactical knife. I have stolen the last 2 hours contemplating it, and it is indeed the best tactical knife in every aspect I've owned. I am still working on the grip comfort... I am going to be testing it and fielding it in the not so distant future. The knife is a sheer pleasure, the workmanship superb, the sheath is almost on another level—if possible. By far the best sheath...such a crucial part of any tactical knife. The tension is perfect as it came, the knife glides out with ease quietly or with a soft "click" depending on what one's needs are.
I can't say enough. Many, many thanks Jay. A dependable beauty—I can't ask for more.
With Best Regards,
G.
---
---
---