Tarazed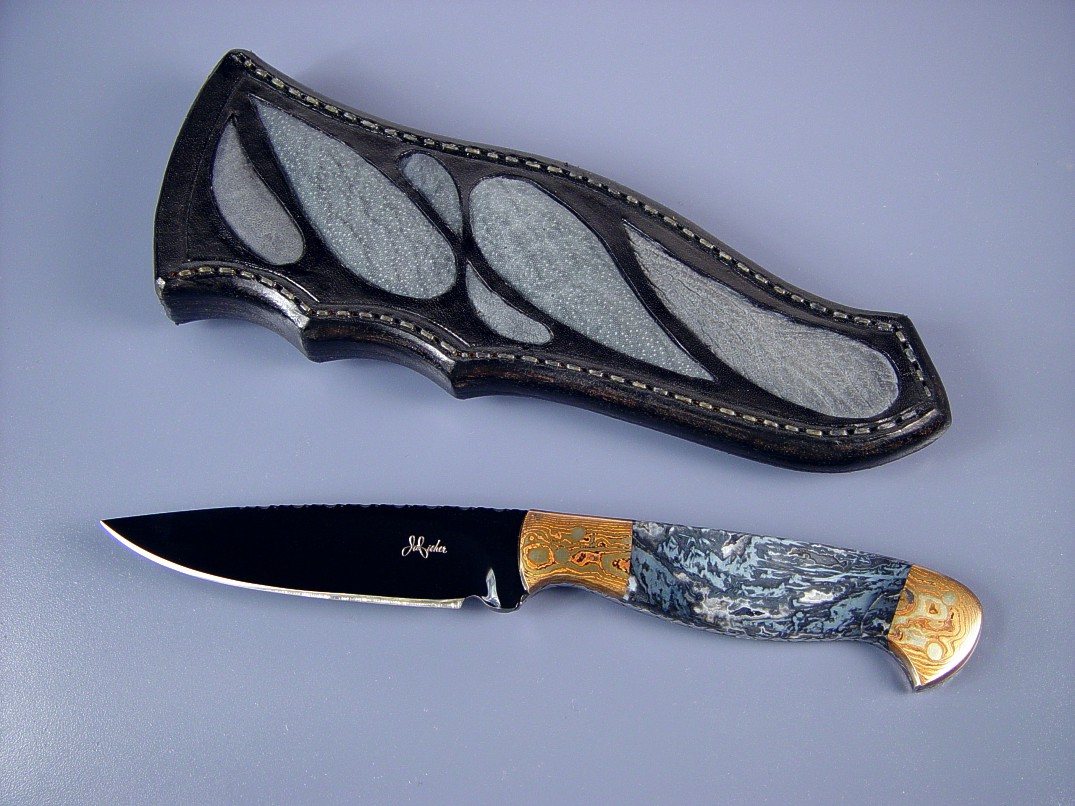 Tarazed
Size: Knife: Length overall: 8.25" (20.9 cm), Blade Length: 3.9" (9.9 cm), Thickness: .172" (4.4 mm)
Weight: Knife: 5.5 oz. Sheath: 5.2 oz.
Blade: O-1 High Carbon Tungsten-Vanadium Alloy Tool Steel, Hardened and Tempered to Rockwell C59, hollow ground, mirror finished, hot blued
Bolsters, Fittings: Mokume Gane (diffusion welded and forged copper, nickel silver)
Handle: Moss Agate Gemstone
Sheath: Shark Skin inlaid in hand-carved Leather
Knife: Tarazed is a great design; a drop point blade with a full-sized handle makes this a very useable knife shape, and the application of unique materials makes this particular Tarazed a fine work of art. The word Tarazed means the beam of the scale of balance, and I tried to balance the entire ensemble with careful artistic application of color, texture, and pattern. I started with a mirror-finished jet black blade of O-1 high carbon tungsten-vanadium tool steel, and the deep penetrating bluing not only sets the color of the steel but inhibits corrosion and increases the longevity of the knife finish. The razor keen blade has a single bevel edge, a bit sharper than my usual double bevel cutting edges, and the drop point has a nice curve with a bit of belly and a point that is easy to sheath. The full tang blade is completely fileworked with an unusual canted offset pattern. The handle of this knife is larger than the blade, so the balance point is well within the hand, making for accurate point control. For the handle, I chose some rare and unusual multi-toned moss agate gemstone, in blacks, grays, and whites, all interlaced and heavily patterned. The bright and smoothly polished gemstone has areas of translucency and transparency; this is a stone that you can stare at for a very long time and see more and more interesting patterns, crystals, and shapes within. Being an agate, it is very hard and tough and should easily outlast you, me, and the blade! I wish I had more of it; I only have a very small piece left, and then there is no more! I wanted to compliment this striking pattern, so made two pairs of Mokume Gane bolsters, a patterned nonferrous laminate of diffusion-welded alternating layers of copper and nickel silver. The forged laminate is pinned to the knife tang with zero clearance peened nickel silver pins, polished, etched, and patinaed to bring out the beautiful "grain" pattern. The handle is comfortable in the hand, with good belly, noticeable quillons, and is very thin for balance.
Sheath: The sheath needed to match the knife, so I used natural color sharkskin inlaid in black-dyed thick leather shoulder. The nine inlays in the sheath have heavy texture, not unlike the pattern on the agate, with wrinkles and valleys that give the very tough skin a great deal of character. The sheath is sculpted, formed to an interesting shape, and is heavy, durable, and strong, hand-stitched with polyester sinew, lacquered and sealed. The grays and blacks match very well with the color of the gemstone.
Thanks, G. D.!
Hi, Jay,
Just received the knives. So very glad I called you to ask about "Tarazed." I am amazed at the beauty of construction and the way all the parts are so incredibly complimentary! So far, Tarazed is my favorite treasure from your hands.
Anxious to see what you have planned for the future.
Bless you Jay!
--G. D.
---
---