Sirona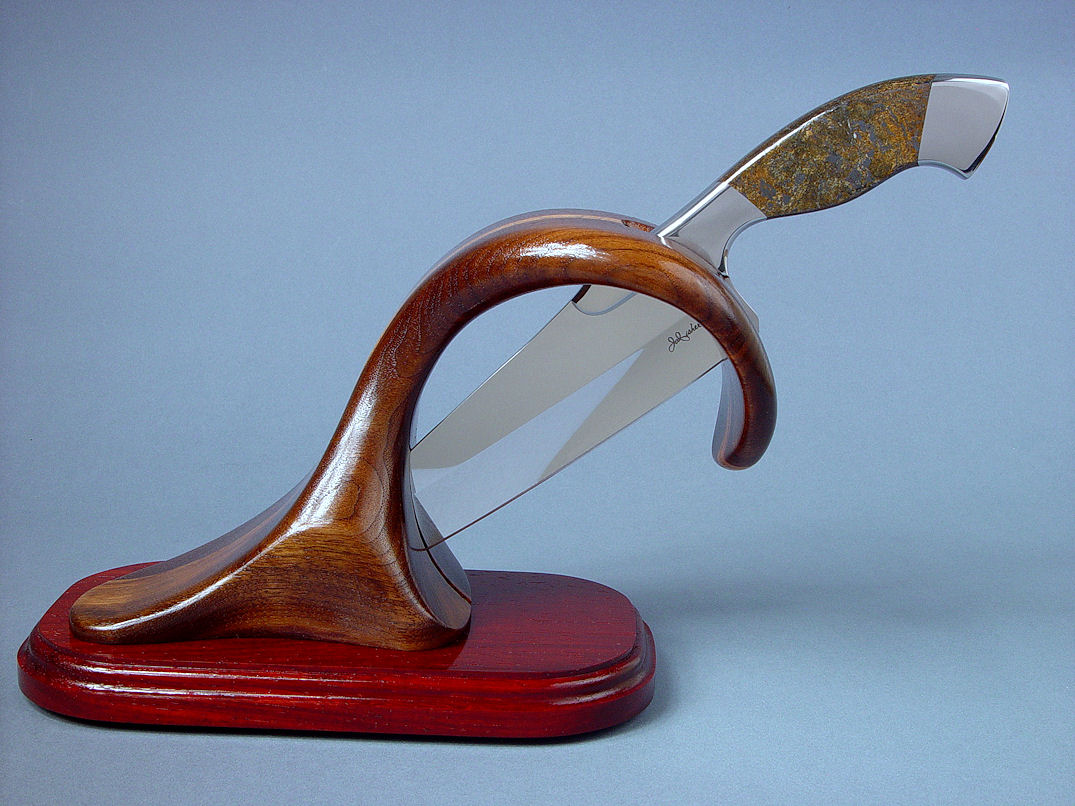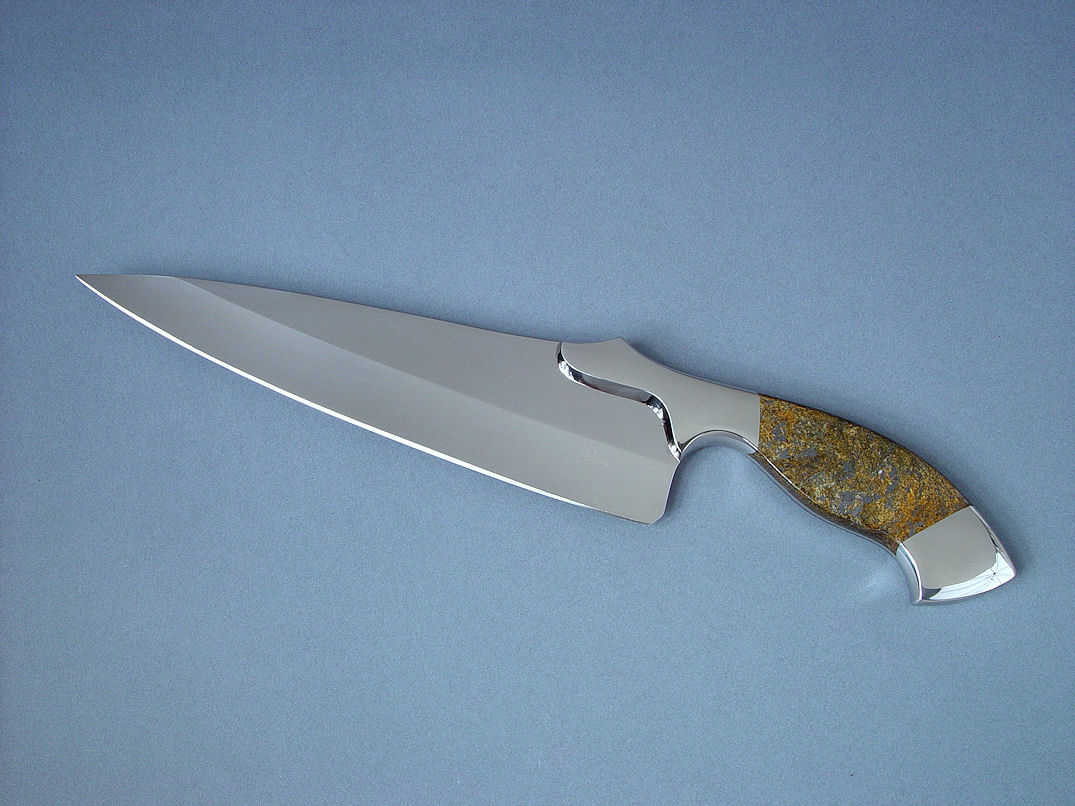 "Sirona" Fine Custom Chef's Knife
Size (Knife): Length overall: 13.2" (33.5 cm), Blade Length (at cutting edge): 8.5" (21.6 cm), Thickness: .131" (3.3 mm)
Size (Stand with knife): 14.0" (35.6 cm) long, 5.1" (12.9 cm) wide, 8.8" (22.4 cm) tall
Weight: Knife: 1 lb. (454 grams) Stand: 1 lb. 15 oz.(879 grams)
Blade: 440C High Chromium Martensitic Stainless Tool Steel, Hardened and Tempered to Rockwell C57, mirror polished
Fittings/Bolsters: 304 Austenitic Stainless Steel, mirror polished
Handle: Polished Bronzite Hypersthene Gemstone
Stand: American Black Walnut, Red Oak, South American Padauk Hardwood, Neoprene Feet
Knife: The Sirona is named for a Celtic Goddess, a healing deity. This Sirona is a derivation of an old classic Sabatier chef's knife, but with some important and useful distinctions. I designed this Sirona for a special client who wanted a very fine chef's knife, a singular piece that would accomplish much of his culinary cutting tasks with elegance and style. The Sirona has a reasonable yet substantial blade, made of 440C high chromium martensitic tool steel, for extremely high corrosion resistance, good wear resistance, and high toughness. The blade is deeply hollow ground and made in thin stock, for the necessary and useful thinness at the cutting edge that will offer decades of cutting efficiency in the blade while keeping the beauty and clean appeal of fine, high chromium stainless tool steel. The grinds are extremely well matched, side to side, and the curvature of the edge will offer great rocking motion on the board. The spine is substantial, yet lightweight for such a sizeable knife, and the spine and tang are clean and smooth for easy cleanliness. The knife is bolstered in zero-care 304 high nickel, high chromium austenitic stainless steel for the greatest toughness and corrosion resistance of any stainless steel. So tough is this steel, it is used for stainless nuts, bolts, and fasteners. So corrosion resistant is it that it is what the finest stainless cookware is made of. The front bolster is sculpted with a nice geometry that allows a comfortable pinch grip along the spine, and contoured and polished throughout. The rear bolster is angled and with a great drop for the heel of the palm, and a good quillon, makes the knife a pleasure to hold. The bolsters are dovetailed and bed a pair of beautiful polished Bronzite Hypersthene gemstone handle scales, which are metallic with gray hematite and enstatite spangles in the light. This gem is a magnesium iron silicate, and the special light play is called schiller, due to sub-metallic sheen of iron bearing minerals. The gemstone handle is hard, durable, and smoothly contoured and polished for a wonderful feel. The balance point of the knife is just in front of the forefinger placement, and the knife feels thin and quick in the hand.
Stand: My client requested a custom stand for the knife, one that would suit the originality of the display and design while accenting the gemstone handle. I hand-carved the dynamic and flowing stand in American Black Walnut with a spine of American Red Oak, and mounted the carved wave of wood on a base of South American Padauk hardwood for striking contrast. The woods are finely finished with a deep penetrating oil stain, finished with many coats of smooth and glassy polyurethane varnish that will be easy to keep clean. The base bottom has an engraved artist tag and inset neoprene feet for stability and protection of any surface the knife is displayed on.
A classy, elegant, and useful work of original art for the chef and his domain.
Thanks, A. D. !
Evening Jay,
I wanted to give you a proper testimonial now that I've had time to use Sirona at work for a day. I couldn't wait to bring out Sirona at work, everyone noticed the shining mirror polish immediately while I was getting ready to small dice about 150 tomatoes to keep the restaurant stocked for the day. Sirona was well up to the task. The knife felt like an extension of my hand, and the extra weight also feels good, knowing that I'm not using some flimsy piece of carbon steel that I'm so used to. After seeing in person how good a knife could be, my first thought was that I can't wait to order my next two! It was a pleasure to speak with you on the phone and I look forward to doing business with you in the future.
--A.
---
---