Seabee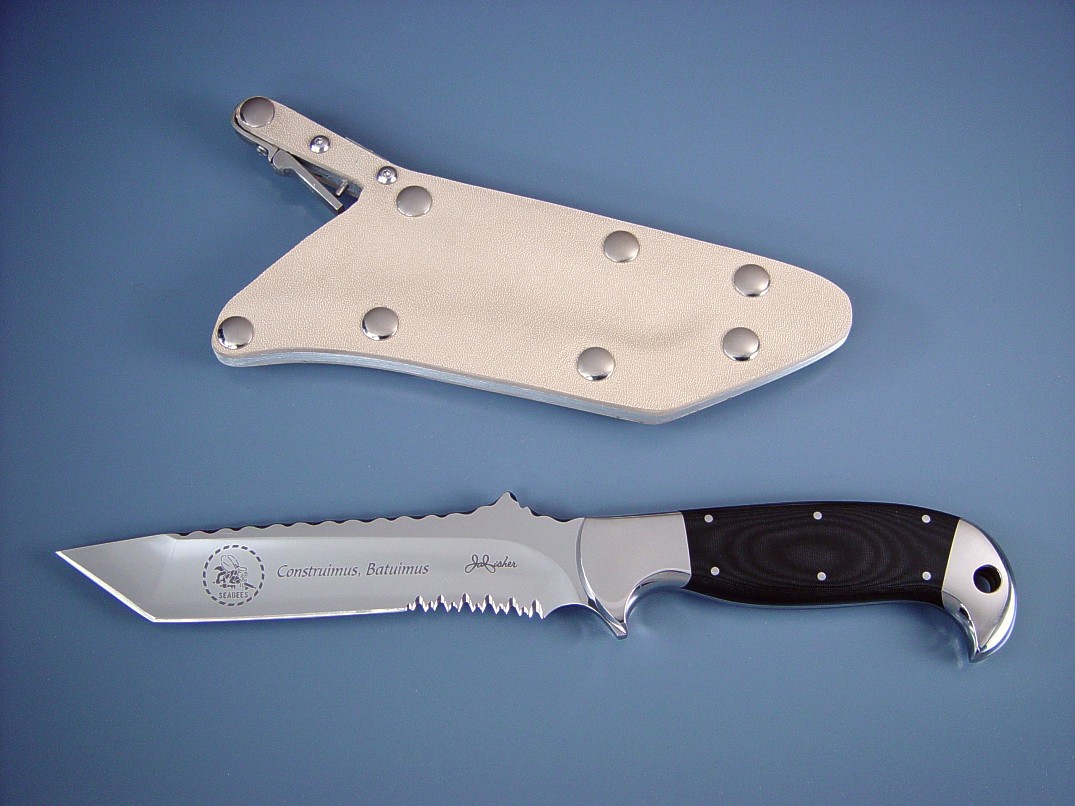 "Seabee" fine custom handmade tactical, combat, utility knife
Size: Length overall: 11" (28 cm), Blade Length: 5.9" (15 cm), Thickness: .1875" (.48 cm)
Weight: Knife: 11 oz. (312 grams), Sheath: 7.5 oz. (213 grams)
Blade: ATS-34 High Molybdenum Martensitic Stainless Tool Steel, Hardened and Tempered to Rockwell C59, hollow ground and mirror polished
Bolsters, Fittings: 304 Austenitic Stainless Steel, mirror polished
Handle: Polished Canvas Micarta Phenolic
Sheath: Locking, Kydex, Aluminum, Stainless Steel, Nickel Plated Steel
Knife: Based on my original Pararescue design, the Seabee is a combat, tactical, and service knife meant for use. One glance and you know what branch of service and where this knife is headed. The blade is tough ATS-34 high molybdenum martensitic stainless tool steel, with a full, deep hollow ground in a useful tanto shape, with 1.5" of aggressive vampire rip teeth serrations. Atop the blade is wave filework, just enough for purchase and matching the theme of the knife. The knife is a full tang, strong design with a full taper for good weight balance. The bolsters are high nickel, high chromium zero care 304 austenitic stainless steel, with deep quillons and a large rear bolster lanyard hole. The handle material is tough canvas Micarta phenolic, and the extra canvas texture gives a good grip especially when wet.
Sheath: The waterproof locking sheath for this fine combat-grade knife is made of double thick (.120") kydex thermoformed acrylic/pvc mounted to a strong frame of hammer-hardened 5052H32 corrosion resistant aluminum frame welts with .250" nickel plated steel Chicago screws. The sheath has a matched pair of 1.75" standard utility belt loops, reversible for left/right or up/down wear.
This is a fine combat grade military knife, a style suitable for any type of tough cutting chore, and ready for the sea!
Thanks, V. M. !
Jay,
I came home to a package on my door step from you. My god your craftsmanship is just awesome!!! Flawless design for this blade, very clean lines and honed to perfection. I love it!!! I can't wait to try it on some materials at work tomorrow, so far just 3x5 index cards have met there maker. The handle fits me like a glove and feels very secure. The sheath is awesome very sturdy and ridged, awesome locking mechanism by the way. Very clever design and boy is it effective. I have sheathed and extracted the blade with bare hands only tonight, I will try gloves tomorrow to see if I can get it out (I've got fat fingers).
Jay you are one hell of a craftsman, you are truly a master at your art. You poured so much energy into this piece for me and I am positive you do the same for my brother's in arms everywhere.
Thank you again!!! I'll be in touch with testing results on different materials.
--V. M
---
---