Sadr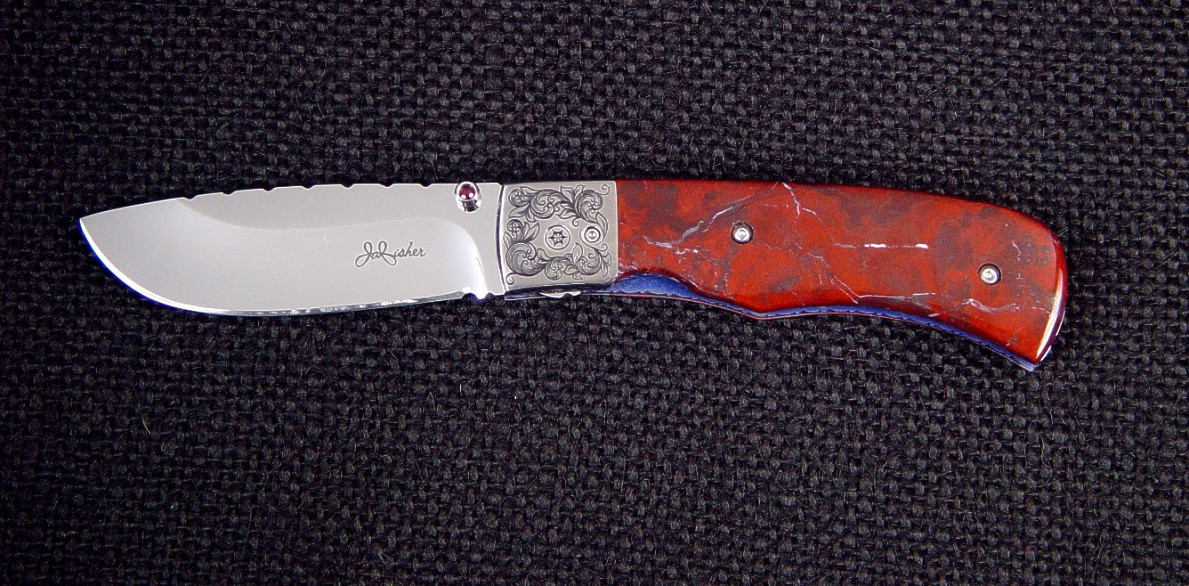 "Sadr" Liner Lock Folding Knife
Size: Length overall: (open): 6.6" (16.8 mm), Blade Length: 2.8" (7.2 cm), Length Closed: 3.8" (9.7 cm), Thickness: .125" (.32 cm)
Case Size: 4.5" long x 2.6" wide x 1.4" tall (11.4 cm x 6.6 cm x 3.5 cm)
Weight: Knife: 3.5 oz. Case: 1 lb. 3 oz.
Blade: 440C High Chromium Martensitic Stainless Tool Steel, Hardened and Tempered to Rockwell C59, hollow ground and mirror polished
Bolsters, Fittings: 304 Austenitic Stainless Steel, bright satin finished, hand-engraved
Thumb Stud: 304 Austenitic Stainless Steel, hand-engraved, set with faceted Rhodolite Garnet gemstone
Liners: Cobalt blue anodized 6AL4V titanium, fully fileworked
Handle: Polished New Mexico Jasper Gemstone
Case: Porphyry Granite, Labradorite Porphyry Granite
Knife: There are very few knives that classify as presentation grade, and this is one. Sadr (pronounced "sadder") is named for a star in the constellation Cygnus, and is in a complex region of the Milky Way, surrounded by reddish interstellar clouds, excited by the glow of ultraviolet hot stars. Sadr lies at the center of the constellation of the northern cross. I carried this theme throughout the knife and case. For the blade, I chose 440C high chromium martensitic stainless steel, for its great beauty, corrosion resistance, and longevity. Hollow ground in a gentle and accurate grind, the blade and spacer (also made of hardened and tempered 440C) are fully fileworked and engraved in my "starshine" pattern. Even the inside of the spacer has the design. Mounted in the blade are a pair of handmade thumb studs, made from 304 high chromium, high nickel austenitic stainless steel, hand-engraved with accents and set with Rhodolite Garnet faceted gemstones that match the handle. The bolsters are also made of 304 stainless, and I hand-engraved them with a fine scrolled pattern that surrounds and emphasizes the pivot and pivot screw head, which are engraved in a hex-star pattern. The knife liners are fileworked 6AL4V titanium, which I anodized to a deep, cobalt-blue color to match the theme of the knife. The filework on the liners is extremely fine, please remember when you're looking at the pictures that the liners are less than .050" thick! All of these pictures are enlargements; for example, the photo above is over twice the size of the knife. For the handle scales, I chose a tough, hard, and fascinating polished red Jasper gemstone from New Mexico that has white agate "lighting bolts" playing through the cloudy reds and burgundy colors of Jasper. The action of the knife is snug on closure, with smooth locking and a solid feel.
Case: A knife this nice could not just be shoved into a pocket, it needed a display and presentation case befitting the effort and idea. So I created a very nice Porphyry Granite combination stone case. The first Porphyry Granite is composed of large crystals (or phenocrysts) of quartz, feldspar, biotite, and hornblende. The Granite is surrounded with a ring of gray-blue Labradorite Porphyry Granite, also containing basalt. The Labradorite shines with silvery-blue reflections depending on the light and viewing angle. Weighing over a full pound, yet only 4.5 inches long, the Granite case is polished throughout, and lined with suede leather. I've cut and polished two finger cuts into the inside of the case for easy removal of the knife. The case was quite a bit of lapidary work and I don't think you'll find anything else like it in the knife world. I love the feel of this glossy polished rock, and it's heavy and solid, just right for storage of this fine, unique knife.
Thanks, J.P.!
Jay,
I received "Sadr" yesterday. Thank you for your promptness.
As you know, this is a beautiful knife in all ways, but your custom filework and engraving impress me the most. The attention to detail is incredible. It makes me wonder how much time it takes to create such a knife.
Please keep up the great works.
--J.
---
---