Patriot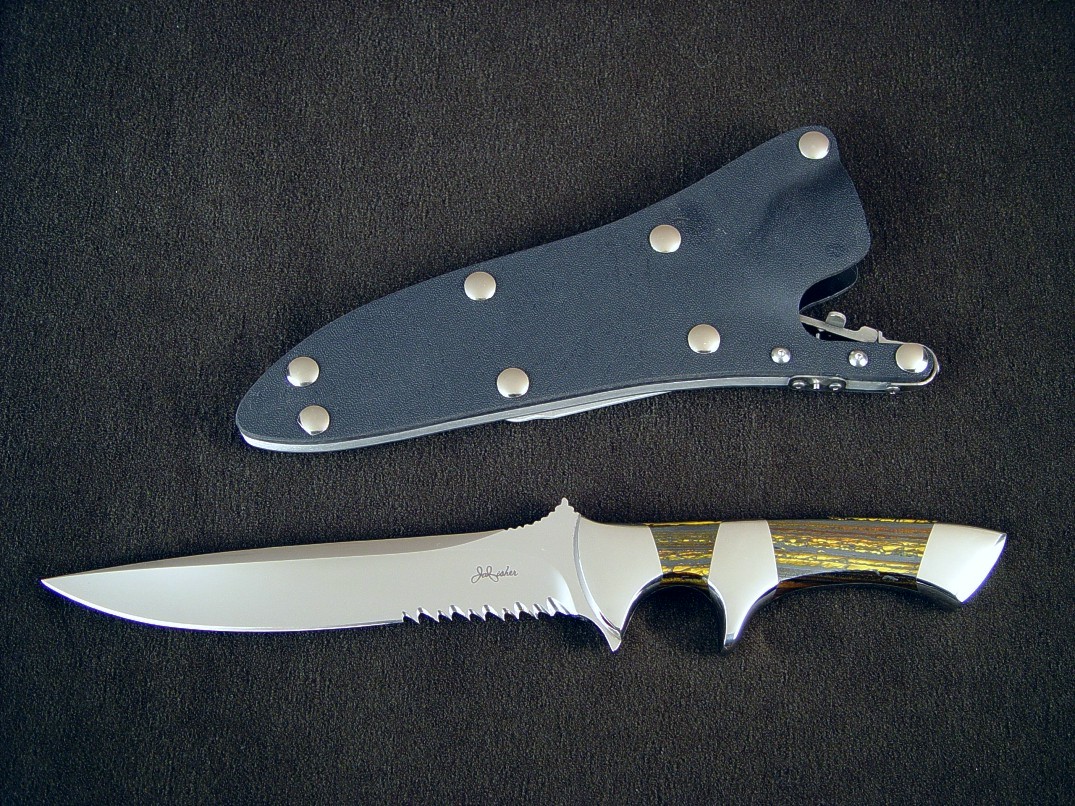 "Patriot" Tactical Combat Grade Custom Knife
Size: Length overall: 12.375" (31.4 cm), Blade Length: 6.75" (17.1 cm), Thickness: .242" (6.1 mm)
Weight: Knife: 1 lb. 1 oz. Sheath:9.7 oz.
Blade: ATS-34 High Molybdenum Martensitic Stainless Tool Steel, Hardened and Tempered to Rockwell C59, Mirror Polished
Bolsters, Fittings: 304 Austenitic Stainless Steel
Handle: Australian Tiger Iron Gemstone
Sheath: Kydex, Aluminum, Nickel Plated Steel, Stainless Steel
Knife: Custom made for a great client, this Patriot is a clean, tough, and super combat-grade tactical weapon and tool. My Patriot design has a proven record with Special Forces in combat, with its straightforward design. This blade is from thick, 1/4" stock, so has significant weight and bearing. The steel is very tough ATS-34 high molybdenum martensitic stainless tool steel, and I've hardened and tempered the blade to 59HRC for supreme wear resistance. The tough blade has a very aggressive point, with a full length top swage that reduces point and spine profile without sacrificing strength. The hollow grind is precise and clean, with a bright, low care mirrored finish. The knife has over 4.5" of straight linear length, and 2" of my canted "Vampire" rip teeth serrations, super keen and sharp. The spine has a critically placed thumb rise, and the tang, though fully tapered, is thick and strong. With just a minimum of filework for the critical thumb area, the spine is clean and smooth. The handle has a triple-pair bolster set of high chromium, high nickel 304 austenitic stainless steel, for zero care and great toughness. The bolsters are all dovetailed and bed two pairs of Australian Tiger Iron gemstone, a very hard, tough stone of Hematite, Jasper, and Tiger Eye quartz. This stone has touches of red, dark metallic hematite, and chatoyant tiger eye that has bright plays of light and pattern. the mid-bolster at the sub-hilt area supports pressure from the forefinger for the canted rip teeth, and the angled pommel is heavily bolstered for defense and impact. This is a very tough knife.
Sheath: The sheath is one of my locking waterproof combat grade models, probably the best tactical sheath made. It's double-thickness kydex, thermoformed over a 5052H32 corrosion resistant aluminum welt frame, secured with nickel plated steel Chicago screws. The over 40 piece sheath has a complex handmade locking mechanism, made of all stainless steel components in 302, 304, and 316 austenitic stainless steel with stainless machine screws. Reversible wear is possible with the removable die-formed aluminum belt loops.
Tough, tough, tough! A durable piece of art.
Thanks, T. M.!
Outstanding!!!!!!!!!!!!!!!!!!
--T.
---
---