Pacifica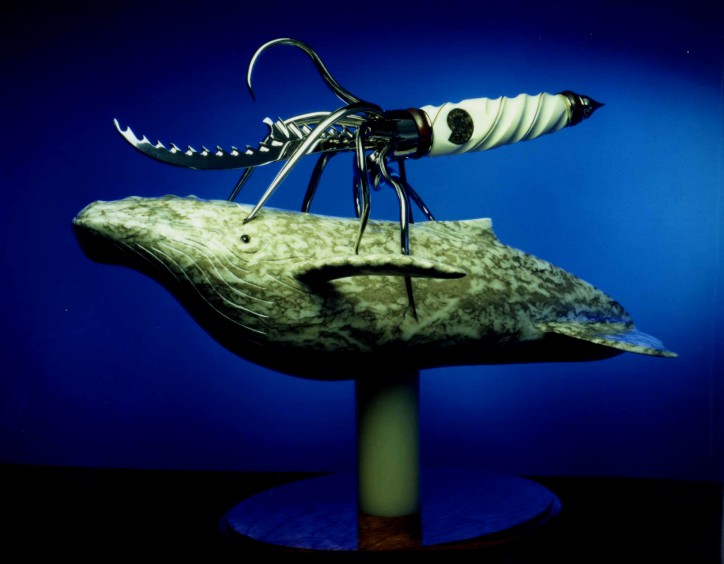 Pacifica
Size: Whale and base: 20" long, 12" wide, 10.5" high. Giant Squid: Approximately 17" long and 9" around at tentacles
Blade: 440C High Chromium Martensitic Stainless Tool Steel, Hollow Ground, Sculpted, Carved, Hardened and Tempered to Rockwell C59, flawlessly mirror polished
Fittings: 304 Stainless Steel Tentacles, Nickel Silver Spacers and Pommel, Banded Red Jasper/Hematite Gemstone Spacers
Handle: Pre-ban Aged Elephant Ivory, 24kt Gold Wire, Pyritized Ammonite Fossils
Stand: Hand-Carved Utah Brown Alabaster, Obsidian Eyes, Nylon Riser, Bubinga Exotic Hardwood Base
Nameplate: Includes etched nickel silver verse plate with date and signature, mounted on Bubinga hardwood, and archival engraved acrylic materials plaque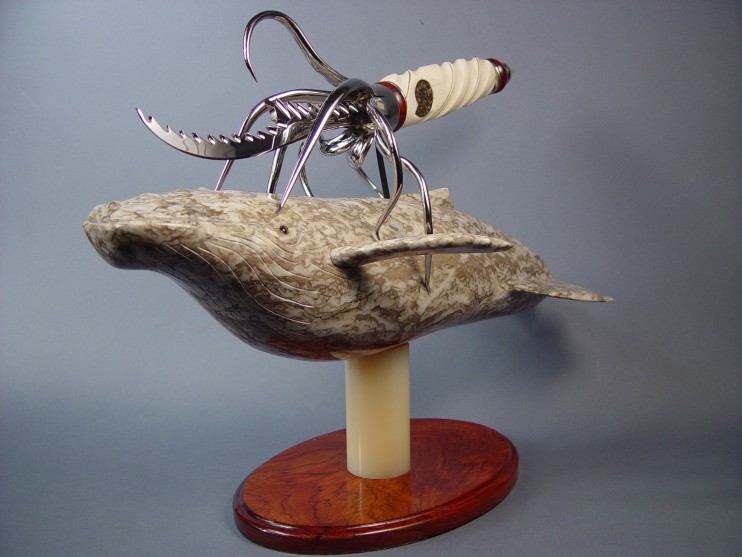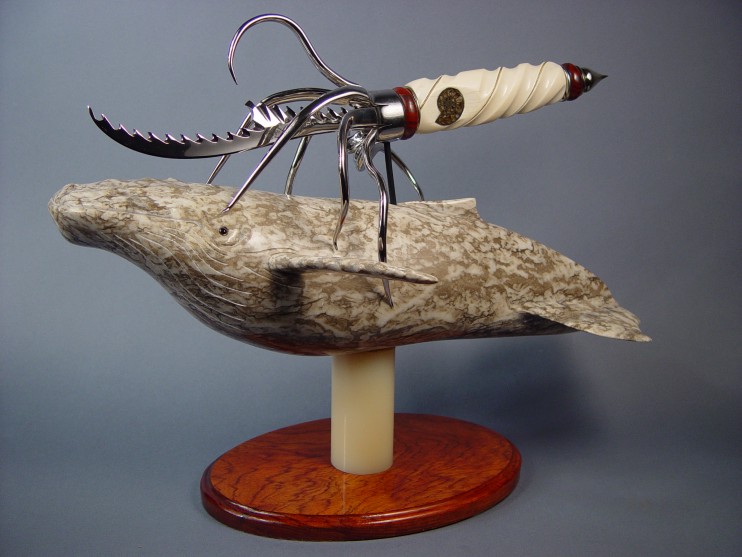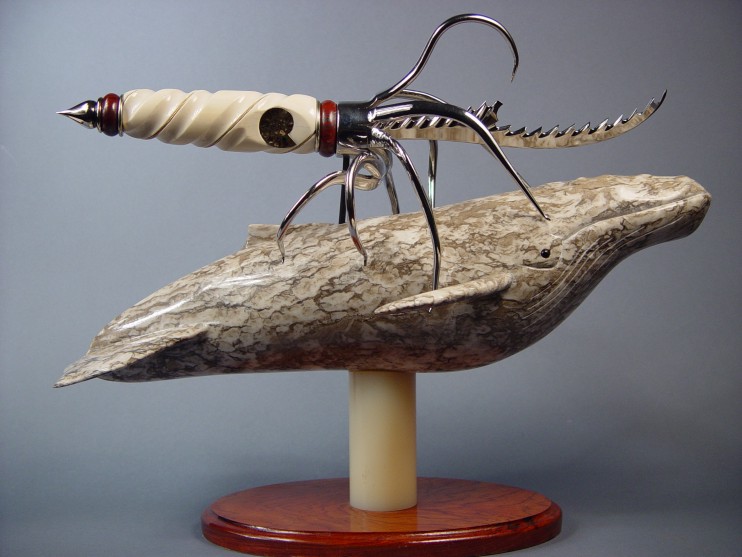 Pacifica
This is one of the finest knife sculptures ever made. How do I know that? Because I've been to knife shows, exhibitions, and art shows all over the world, and nothing compares to Pacifica. Throughout history, there have been very few sculptures centered on the theme of the knife, and it is truly a new art form. This piece had been my centerpiece for many years, lovingly carried around to shows, gracing my table with its presence. Pacifica developed a following in all those years, and people often asked if I would be bringing this important sculpture with me to exhibitions. I made this piece in 1990, and had been unwilling to part with it for many years, but every artist must move on, and since it had been stored away, and I rarely do shows any more, I decided to try to find this masterpiece a good home.
Knife sculpture is a rare art form. Early makers in the middle of the twentieth century who stepped out of the norm of knife making often labeled their knives Fantasy Knives, and these knives, though elaborate and often highly embellished, still conformed to what could be called a traditional knife form. In other words, they could be picked up and used if necessary, but of course, due to their expensive and intricate nature and often unique character, were not expected to ever see use as a cutting tool. Knife sculpture is a step above fantasy knives: original one-of-a-kind works of art based on a knife theme. Knife sculpture is a complete work, base or stand, blade and handle: all blurring the line of definition for traditional norms in the knife form. It is truly fine sculptural art, in a metals, with stone, wood, manmade materials, and a wide variety of mediums.
The challenge of knife sculpture is often the materials, which differ from the traditional sculptor. Where a sculptor who has his work cast in bronze may make his pattern out of any suitable material that can be molded, formed, tuned, and refined, the knife sculptor must use some of the toughest, hardest, and most durable tool steels made. He must blend these with organic materials like ivory, shell, and wood, and form and bind these with permanent techniques, materials which range in hardness from gypsum to diamond. He often uses precious metals, and precious gemstone. He must be able to form all of these in an original idea, seamlessly joined in a piece that conveys movement and a living energy. He must be able to polish, finish, and detail all of his various components, and make them mechanically as well as visually stable. The toughest part of all is that the knife sculptor is seldom recognized, as most patrons, dealers, and authorities of fine art merely consider knife making a craft. So knife sculpture is a new, rare, and exciting form, perhaps decades before its time, yet deserving of man's oldest, and first constructed tool.
The idea for Pacifica came to me when I read a short fiction article about a battle between a humpback whale and a giant squid. For all my life, I've been fascinated by the leviathans of the deep, as we truly do not know how this entire realm of our earth functions. Though the article is long lost, the idea did not pass from my mind until I wrote a short verse, and created a visual representation about the words.
Echoes in unfathomable sea,
Leviathans battle in violent spree.
Maelstrom's vortex they so reap;
Cryptic horrors of the deep.
Ascending Poseidon's aquamarine,
Scarcely a ripple can be seen.

Hi Jay
I just wanted to let you know how much I've enjoyed having Pacifica. Since I've had it I've had to take a step back and admire it a little bit everyday. I have to tell you that it's received mixed responses from those lucky enough to see it first hand, (that's one of the things I love about it). I think that with fine art there are people who get it and people who don't, but once I explain what it is and what it represents, there's a definite appreciation for it. It truly is just more than a knife. Pacifica is a work of art. I look forward to my next purchase from you! Till then thanks for everything.
Jack
---
A note about the ideas behind this artwork:
Pacifica is, by no means, designed as an anatomically correct, physiologically accurate, or situational or scientifically acceptable association of these two sea creatures. It is, simply, a work of art.
It is incredible the amount of interest, inquiry, email, and emotional response I get from this piece of fantasy artwork and sculpture. People who claim to be experts will insist on trying to educate me as to the "proper" placement, scope, natural setting, and even lifestyle of the animals I've represented in knife form. For instance, they know (as I do too) that a humpback is not a predator of giant squid, while a sperm whale is, and therefore I should change the artwork to represent something differently. Others have claimed that my sense of scale and proportion are all wrong, and that the appendages of the giant squid include a pair of tentacles in addition to the eight arms I've represented, and even tried to describe the sexual organs of the animal! Yes, yes, I tell them, I understand all that. In addition, I'm absolutely certain that the beak of the giant squid is not a knife blade of the scale, proportion, and composition of high chromium martensitic stainless steel that I've created!
Perhaps if I represented a sailing vessel instead of a humpback whale, they would be less critical. No, I'm certain they would find issue with that, too, as no giant squid in history has ever brought down a ship as some old woodcuts illustrate...
Perhaps this emotional response may have more to do with the current infatuation with the humpback whale. The humpback is indeed a magnificent, unassuming creature, full of grace and life and beauty. It is also an animal that kills and or eats billions upon billions of helpless algae, shrimplike crustaceans, and protozoas, all floating harmlessly in the sunshine of the ocean. For purposes of my own imagination, what might it be like if the humpback were prey to an animal that takes on whales on a regular basis? Why, the humpback might not have a chance. The political, scientific, and situational associative recklessness of it all makes them shudder.
This is not the worst reaction I've seen. The visual power of Pacifica has impacted people at shows, exhibitions, and display venues for years. People have stared at it in fear, have skirted the table giving wide clearance as if it was going to leap off the helpless humpback and rip open their throat. One woman pointed at Pacifica and said, "This is what makes our children do bad things!" and then scurried away. Other knifemakers have stared at it, turned to look at me, scowled, and walked away without a word. Why? Because, no matter your background, education, intellect, or place in this big beautiful world, if a piece of artwork elicits an emotional response, it has done its job.
Ninety percent of the comments about this fantasy artwork are positive. People do find it an edgy, active study in curves, perspective, and harassment on their sensible compassion for an endangered animal. They have a good respect for what it is, politically and biologically indecent as it may be. My only hope as an artist is that the viewer feels ... something.
To those who are not fond of my portrayal, please do create your own fifteen pound hand-carving of alabaster, hardened and tempered high chromium martensitic stainless tool steel, austenitic high chromium, high nickel stainless steel, carved, hammer forged, and hand- finished, with hand-carved ivory, inlaid lapped and polished fossils, carved gemstone, shaped gold nickel silver, bubinga, and nylon, and send me a picture of your completed works!
If you think the sculpture has an effect on the photographic representation of a computer monitor, you may well be awed by its presence in the physical world. My goal is to create a sculptural work that when placed in a room, can not be ignored!
---
The creation of Pacifica was an endeavor of high tension. First, I made some rudimentary drawings, and realized that because of the nature of the materials, the form I needed would have to be constructed from the base up. For the humpback, I chose Utah Brown Alabaster, due to its interesting pattern and relative workability. I took a thirty pound chunk of rough rock and carved the whale's body and tail fin in one piece. I hand-chiseled, filed, hand sanded, and polished the form to a high sheen. It was sculpted in the round, and at the time, I didn't realize how difficult such a form could be. But with tenacious determination, I kept working at it. It took weeks. I then carved and attached the fins with hidden pins for support, and cut, carved, and finished the obsidian gemstone eyes, black and glassy. I mounted the whale on a pinned and internally secured riser of solid nylon, chosen for its neutral color and texture, and mounted the riser to a finished piece of bubinga hardwood, chosen for its wavelike figure and rich color.
If the whale wasn't hard enough, the giant squid was an exercise in raw skill and perseverance. The blade, reminiscent of the beak of the beast, was sculpted and carved, heat treated, hardened and tempered and finished to a bright polish. It has a hidden tang, and the threaded end was silver-brazed to a carrying disk that joins the blade to the tentacles. The tentacles are carved out of solid 304 high nickel-chromium austenitic stainless steel, an incredibly tough material that resists anything you want to do to it! In order to form the tentacles, I had to first carve them to the gentle tapered shape, then sand finish them to a pre-polish, then heat them with a heating tip to lemon-yellow hot in order to form them. I used sacrificial wood blocks to push the super hot forms around, and to conform to the shape of the alabaster whale. What a tricky thing this was, as just a small amount of heat on the whale would ruin the alabaster! Once the form was established, I hand sanded and polished the stainless steel. The handle of the squid had to be spectacular, so I chose a solid piece of elephant ivory tusk. Since this was created in 1990, and the ivory was old then, it's assured to be "pre-ban" ivory, and therefore completely legal. The ivory was carved, formed, fluted, sanded, finished and polished, and wrapped with a delicate twisted pair of solid 24kt gold wires. The ivory is gently checked and lightly yellowed, in the graceful warm way that only ivory can display. While carving, I created sockets in the ivory to hold two beautiful pyritized ammonite fossils for the giant squid's eyes. An ammonite is similar to the chambered nautilus of today, a very ancient fossil species, and part of the mineral replacement of the original creatures shell is pyrite, so the pieces have a beautiful, intricate pattern and striking metallic luster. This was suitable for the eerie representation of the giant squid's eyes. I added polished spacers to the handle terminations of nickel silver and banded jasper and hematite, giving a warm reddish cast to accent the form. The pommel is carved of solid nickel silver, in a definitive and acute point.
The giant squid rests lightly on the whale's body, secured with a neutral steel pin in the center. The piece may be displayed in a variety of ways though, and when the squid is held in the hands or placed on a table top, it looks as if it's going to crawl away! This is truly the highest compliment I've received about the piece: that it looks alive. What sculptor in tool steel, precious metals, gemstone, ivory and wood could ask for more?
Pacifica found a great home in Southern California in April of 2009. Though I miss it, I'll always have it in my photos, and in my heart!
Thanks, J. H.!
Hi, Jay.
I just wanted to let you know how much I've enjoyed having Pacifica. Since I've had it, I've had to take a step back and admire it a little bit every day. I have to tell you that it's received mixed responses from those lucky enough to see it first hand (that's one of the things I love about it). I think that with fine art, there are people who get it, and people who don't, but once I explain what it is and what it represents, there's a definite appreciation for it. It truly is more than a knife. Pacifica is a work of art. I look forward to my next purchase from you! Till then, thanks for everything.
--J.
---
Years later:
Hi, Jay.
I just wanted to say that I still love having PACIFICA!
--J.
---
---