PJ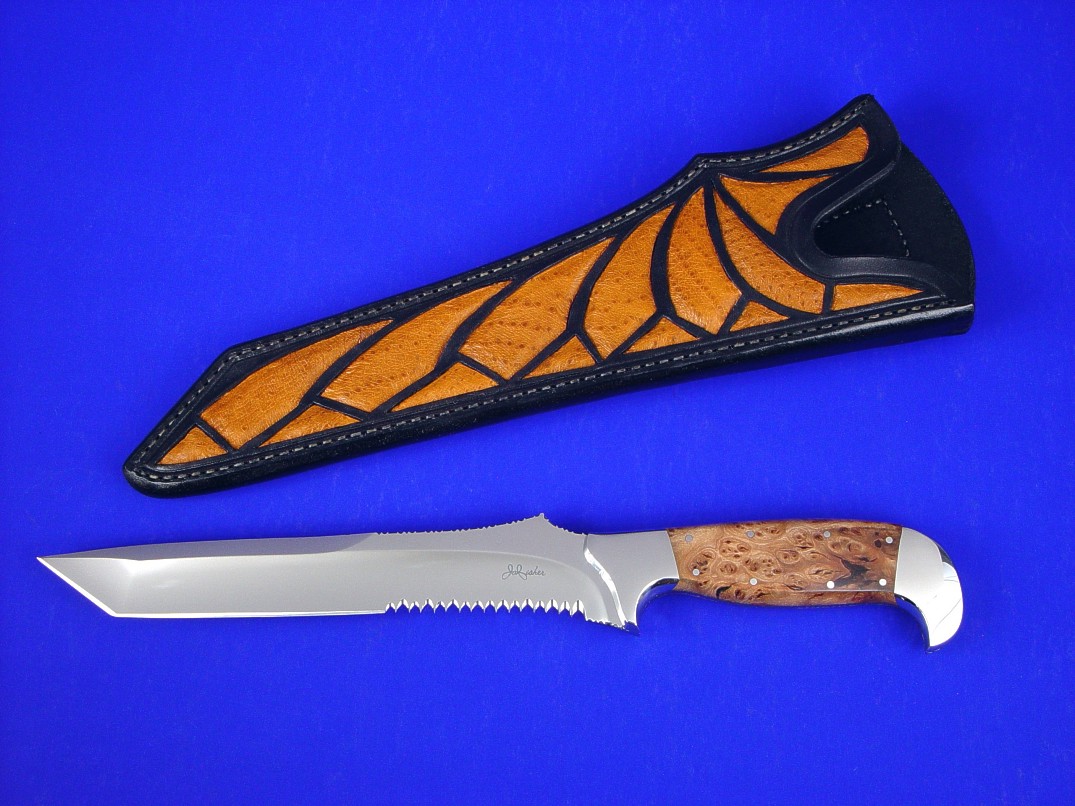 "PJ" Pararescue Pattern Tanto Knife
Size: Length overall: 12.75" (32.4 cm), Blade Length: 8.0" (20.3 cm), Thickness: .188" (4.8 mm)
Weight: Knife: 12.0 oz. (340 grams) Sheath: 7.4 oz.(210 grams)
Blade: 440C High Chromium Martensitic Stainless Steel, Hardened and Tempered to Rockwell C58, mirror finished
Bolsters, Fittings: 304 Austenitic High Nickel, High Chromium Stainless Steel, mirror polished
Handle: Polished Stabilized Box Elder Burl Hardwood
Sheath: Emu Skin Inlaid in Hand-carved Leather
Knife: The "PJ" is my original tanto pattern I designed with United States Air Force Pararescuemen for a combat search and rescue knife. This is the large, full sized model, and the origin of my most popular selling CSAR knife, the PJLT. I decided to offer a full sized PJ done in a graceful, lightweight, artistic and elegant version and this is the result. This PJ has an impressive and beautifully polished hollow ground blade, thin and long, in high chromium 440C martensitic stainless steel for the highest corrosion resistance and most beautiful finish of any stainless knife blade steel. The grinds are sweeping and graceful, with nicely radiused terminations and clean, crisp grind lines well-matched. The blade has a half-length top swage that leaves plenty of spine thickness to support the aggressive blade. The eight inch blade length is measured from the tip of the point to the front bolster face at the front quillon. The knife has 2.5" of my sharply ground Vampire Teeth serrations, and the cutting edges are hand sharpened to a razor-keen single bevel cutting edge. The tang is fully and thinly tapered for perfect forefinger balance, and sports fine and accurate filework throughout in a "double square arrow" design. The bolsters are clean, mirror polished 304 high nickel, high chromium austenitic stainless steel, the same stainless used to make tough stainless bolts and machine screws. They are zero-care and extremely corrosion resistant. The front bolster is sculpted and polished to follow the blade termination grind, and the rear bolster is full and large with a substantial "hawk's bill" for a positive grip. The bolsters are dovetailed and bed a pair of stabilized Box Elder Burl hardwood handle scales, secured with eight stainless steel pins. The Box Elder Burl has been pressure stabilized with over 19,000 PSI of polymer resin, so is essentially waterproof and extremely durable. The burl has nice eyes and good figure, and is very strong for its light weight. In fact, when you grip this knife, you'll be surprised at how light it feels for such a large knife.
Sheath: Of course, the sheath had to be commensurate with the quality of the knife, so I designed and constructed a sheath of 9-10 oz. leather shoulder, hand-carved and inlaid with a surprising 35 individual inlays of light brown Emu skin; there are fifteen inlays on the sheath front alone! I like the geometric design; it matches the angularity of the tanto blade, and the quill "eyes" in the Emu go well with the eyes in the Box Elder Burl. I formed a noticeable mouth in the sheath face to highlight the handle material, and the sheath body is hand-stitched with polyester sinew, dyed black, lacquered and sealed.
A beautiful, light, and graceful version of a proven tanto design suitable for investment, collection, or use.
Thanks, B. M.!
Got the knife today. Wow. Love the stabilized Box Elder handle and the unique file work throughout.
--B.
---
---