PJLT Dragon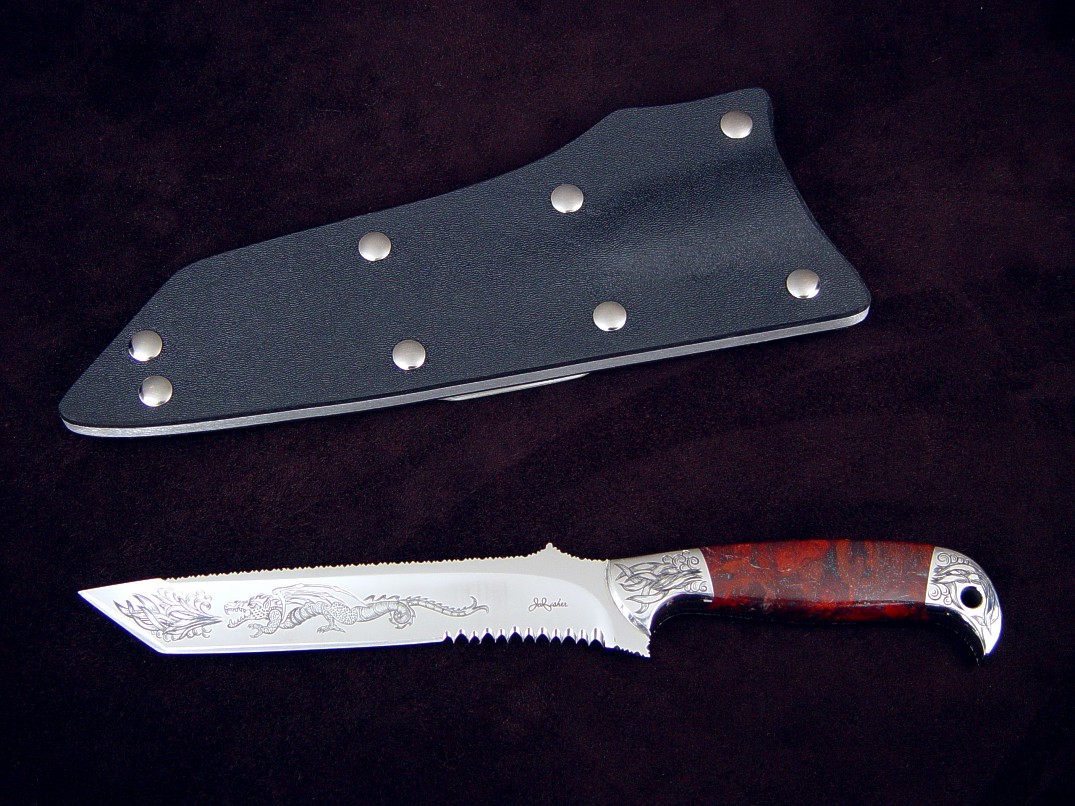 "PJLT Dragon" Fine Handmade Tactical, Art Knife
Size: Length overall: 11.125" (28.2 cm), Blade Length: 6.5" (16.5 cm), Thickness: .195" (4.9 mm)
Weight: Knife: 10.5 oz.(298 grams), Sheath: 12.5 oz. (354 grams)
Blade: 440C High Chromium Martensitic Stainless Tool Steel, Hand-engraved, Hardened and Tempered to Rockwell C58
Fittings/Bolsters: 304 stainless steel, hand-engraved, mirror polished
Handle: Polished Fossilized Stromatolite Algae Gemstone
Sheath: Kydex, Aluminum, Nickel Plated Steel
Knife: You might recognize my popular PJLT tanto blade pattern, my most requested Combat Search and Rescue (CSAR) knife used by United States Air Force Pararescuemen and many other professional, law enforcement, and emergency response teams. This is a very special custom version of the knife for a great client. The knife is the standard profile, style, and grind, with 2" of my vampire rip teeth serrations. The blade is brightly finished 440C high chromium martensitic stainless tool steel, hand-engraved with my artwork in an outstretched dragon belching flames and smoke. Most engravers won't touch stainless steels and stainless is usually all I work with, so this is very special. The blade is fully fileworked with my dragon's teeth pattern completely around the fully tapered tang. The tang supports two pairs of 304 austenitic high nickel, high chromium stainless steel bolsters, hand-engraved to match the blade. The polished bolsters bed a pair of stunning Fossilized Stromatolite Algae gemstone handle scales. This rock is made of quartz, jasper, and hematite, and is the fossilized remains of blue-green algae that lived literally billions of years ago. The algae existed in Precambrian times, clearly some of the oldest fossilized remains of life on our planet. The reason for the red color and hematite (iron oxide) is that in those early times, the earth's oceans contained much more iron than today, and iron in accretionary sedimentation that replaces organics to create fossil minerals produces red coloring. The patterns and colors of this gemstone are striking, with clouds, swirls, and bands of red color with shiny gray hematite interspersed, complimenting the dragon motif. The fossilized Stromatolite is hard, tough and durable with a bright polish.
Sheath: The client requested a tough sheath, so I made one of my tension fit kydex sheaths in double thickness thermoformed kydex over a 5052H32 corrosion resistant high strength aluminum welt frame, with die-formed aluminum belt loops, all secured with nickel plated steel Chicago screws.
A beautiful, durable, and unique PJ LighT, sure to turn some heads!
Thanks, B. M.!
The filework is atypical, and I have not seen it on your site before. It is really special.
Love your work... worth waiting for... well, not that long... The Dragon came out great. Thanks!
--B.
---
---