Mercury Magnum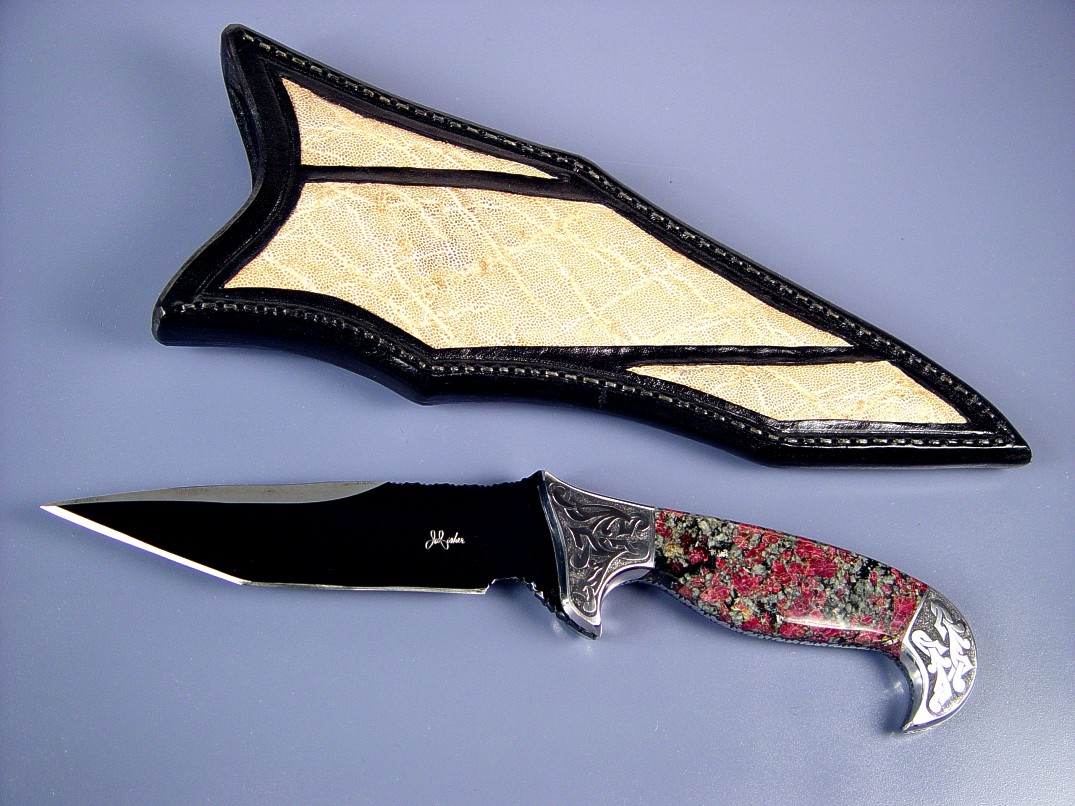 "Mercury Magnum"
Size: Knife: Length overall: 10.0" (25.4 cm), Blade Length: 5.25" (13.3 cm), Thickness: .178" (4.5 mm)
Weight: Knife: 11.0 oz. (312 grams) Sheath: 6.2 oz.(176 grams)
Blade: O-1 High Carbon Tungsten-Vanadium Alloy Tool Steel, Hardened and Tempered to Rockwell C59, hollow ground, mirror finished, hot blued
Bolsters, Fittings: 304 Austenitic Stainless Steel, Mirror Finished, Hand-Engraved
Handle: Russian Eudialite Gemstone (Rare)
Sheath: Elephant Skin inlaid in hand-carved Leather
Knife: I was commissioned to come up with a new design for a tactical SWAT team member, a law enforcement professional in an active west coast police department. We sent designs and ideas back and forth and came up with a new tanto style I named Mercury. Here's a page detailing of the first Mercury, currently in professional service. Based on this design, I enlarged both the handle and blade, named it Mercury Magnum, and created this first knife in the design. This is already a popular design; I've got half a dozen new orders on the bench for the model. I wanted to make one a supreme one-of-a-kind collector's tactical art piece, and this is my result. This Mercury Magnum has a substantial hollow ground, mirror polished and hot-blued blade of O-1 high carbon alloy tungsten-vanadium tool steel, with a two-thirds length polished top swage that reduces point profile without sacrificing spine strength. The grind on this blade is clean and sweeping, with gentle curve on the termination that preserves strength at the blade-to-handle junction. I put a scalpel-sharp single bevel cutting edge on the blade and a deep choil for a defined edge termination. The blade is full tang, one solid piece of steel from tip to tip, and has full filework in my detailed heterodyne pattern, an intricate arrangement with high cut density. The handle is substantial, with front and rear quillons and large sculpted and polished bolsters, made of 304 high nickel, high chromium austenitic stainless steel for zero care. I put a substantial amount of time into the bolsters; I worked up a design based on the combination of curves and sharp angles found in the knife pattern and created an interlocking scroll and diamond motif that I engraved on the stainless steel bolsters in deep relief. Deep relief engraving takes a lot of time and effort; removing the background of the tough stainless steel is no chore for the timid! Many hours went into the execution of this hand-engraving, and it's worth it for the results. For the handle, I wanted to use some extraordinary material, and I located this particular Eudialite gemstone from Russia. This is the only piece I was able to acquire in this quality and density, and though more may come up on the market, it may not, and if it does, it will be rare and fleeting. The rose-raspberry colored Eudialite (or Eudialyte) gem is transparent to translucent, getting its color from manganese, and spread throughout light tan to green and gray matrix. This handle is Victorian in flavor, stunning in color, unique and unusual, and may never be seen again!
Sheath: I wanted something extra special for the sheath, so I chose an Elephant skin inlay set that match the lightest colors of the gemstone in the handle. The contrast of the super-tough, light-colored skin with the black leather is striking, and I incorporated the sharp angles of the tanto blade shape into the inlay patterns. The nine inlays cover the sheath front and back; even the belt loop has three inlays! The sheath is made of 9 - 10 oz. leather shoulder, heavy and solid and tough, hand-stitched with polyester sinew, lacquered and sealed.
A truly rare, gorgeous, investment grade work of art.
Thanks, D. T.!
Dear Jay,
I instantly fell for this beautifully wondrous, esthetically appealing, and superbly functional "Mercury Magnum!" Seeing, feeling, and holding the Mercury Magnum, I knew that I had added another magical knife to my collection of Fisher knives! Upon receiving each of your custom knives, I am more and more enthralled with your creative genius that shapes each knife from concept to final finish.
I have reread your "Who is Jay Fisher?" section again, and your life choices and all your successes (to include your extended family) are the constitution of a successful man. I am so glad that Tom H. introduced me to you via the internet!
--D.
---
---