Macha Navigator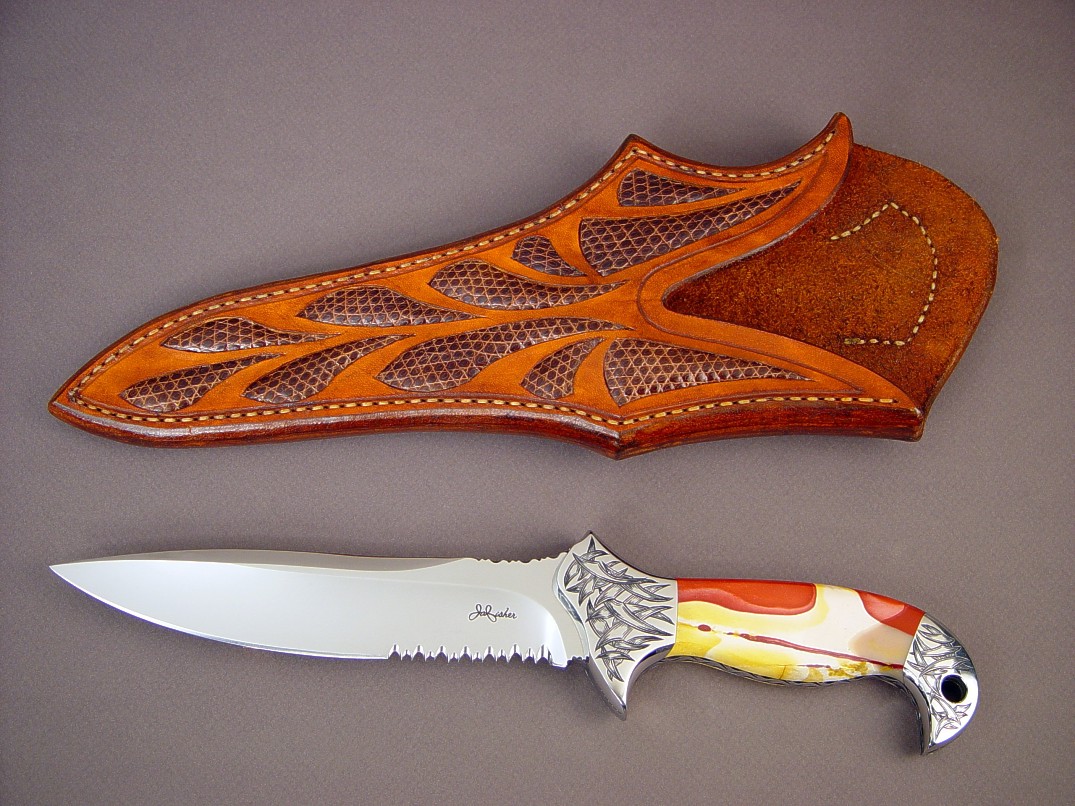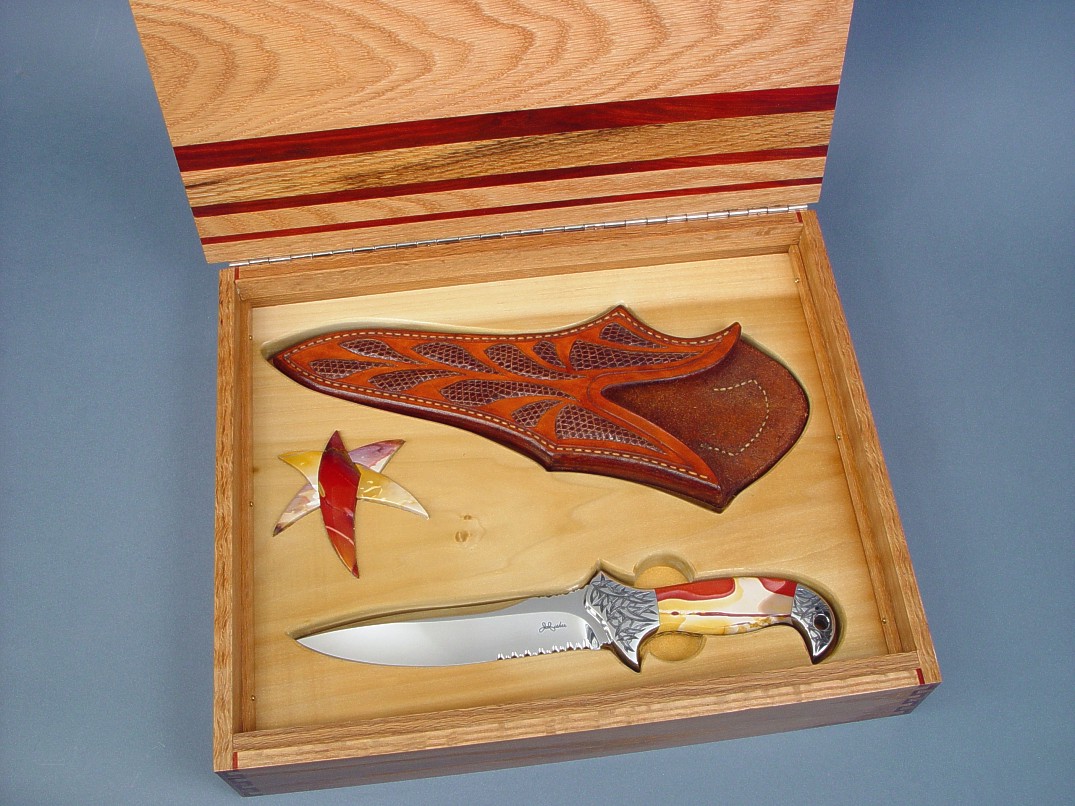 Macha Navigator
Size: Length overall: 11.75" (29.8 cm), Blade Length: 6.5" (16.5 cm), Thickness: .246" (6.2 mm)
Weight: Knife: 1 lb. 1 oz. (482 grams) Sheath: 8.5 oz. (241 grams)
Blade: ATS-34 High Molybdenum Martensitic Stainless Tool Steel, Hardened and Tempered to Rockwell C59, Mirror Polished
Bolsters, Fittings: 304 Austenitic Stainless Steel, Hand-engraved
Handle: Australian Mookaite Jasper Gemstone
Sheath: Hand-carved Leather inlaid with Lizard Skin
Case: American Red Oak, Exotic Redheart (Chakte Kok), Poplar, Mookaite Jasper gemstone, Nickel Plated Steel
Knife: The original Macha design is named for the Celtic goddess of war, and is pronounced mak-kha. This is a variation of the design, originally created for a military combat navigator role but executed in collector's high art fashion, with finest materials, finish, and embellishment. The blade of this Macha Navigator is ATS-34 high molybdenum martensitic stainless steel, chosen for it's high toughness and resistance to corrosion. ATS-34 is a "chrome-moly" tool steel, with a splendid reputation for performance and durability, exhibiting an extremely fine finish and high longevity. The blade is deeply hollow ground, and brightly and beautifully mirror polished. The hollow grinds are perfectly matched, with sweeping grind terminations and crisp, clean lines. The blade has plenty of single bevel razor-keen cutting edge, and two inches of my vampire rip teeth serrations. The two-thirds top swage reduces point profile yet leaves plenty of fully thick spine to support the blade. The spine is very strong, as the blade is ground from 1/4" stock, yet the deep grinds leave a thin and uniform cutting edge. The spine and tang are fully fileworked with a modified vine pattern, and the tapered tang helps to balance the weight exactly at the forefinger placement in forward grip style. The large front bolster is sculpted, contoured, and polished on the front face and the rear bolster features a through-tang 5/16" lanyard hole. Both bolsters are made of high chromium, high nickel 304 stainless steel, a zero-care stainless of tremendous toughness. I mirror-finished the bolsters and hand-engraved them with an aggressive interlocking pattern. The dovetailed bolsters bed a pair of book-matched Mookaite Jasper gemstone handle scales. This striking gemstone is exceptionally hard and extremely tough, and the striking color pattern ranges from white to dark red with variations of yellows. This is a marine fossiliferous chert (flint), and comes from Mooka Station, West Australia. It's fascinating to think of what sedimentation and geological events had to take place to create this unique gemstone. The stone even has a metamorphic area near the rear bolster that is cryptocrystalline quartz chalcedony, smooth and glassy. This is a fascinating gemstone and is smooth and inviting and comfortable in the hand.
Sheath: The sheath for this beautiful knife had to be commensurate with the knife, so I created it with 21 inlays of matched brown Teju (Tegu) lizard skin inlaid in 9-10 oz. hand-carved leather shoulder, hand-stitched with polyester sinew, dyed tan, lacquered and sealed. The sheath has a deeply plunging mouth to frame and accent the gemstone handle, and a high back to protect the knife and wearer. I constructed it so that an easy finger pull of the hawk's bill quillon on the rear bolster pulls the knife. The lizard inlay pattern echoes the curves and lines of the engraving, and even the belt loop has lizard skin inlays.
Case: My client requested a commensurate display, presentation, and storage case for this beautiful knife, so I made a custom work just for him. I wanted to match the bright and bold colors of the gemstone and sheath of the knife, so I created a hardwood case in American Red Oak and exotic Redheart (Chakte Kok) hardwoods. The two woods combined beautifully, and I used a special double dovetail joinery technique for the corners to add some striking pattern and accents. The top is made of the same hardwoods with a hand-carved and polished inlay mosaic of the same Mookaite Jasper gemstone I used in the handle, and the design pattern matches the engraved motif of the bolsters and the inlays of the sheath. The gemstone mosaic is repeated on the inside, on the Poplar wood inset that is carved to envelop the knife and sheath. All of the wood colors are natural, and the case is finished in lacquer, inside and out. A natural suede leather bottom beds the knife and sheath, and the hinge is continuous in nickel plated steel for durability.
A great and unique ensemble for investment, collection, or use!
Thanks, D. M.!
Got it today, Jay. WOW. The blade feels massive. Awesome... the blade, sheath and case all work together very nicely. I'm proud to own another example of your truly unique and special art work.
--D.
---
---