Halius Tactical Combat Knife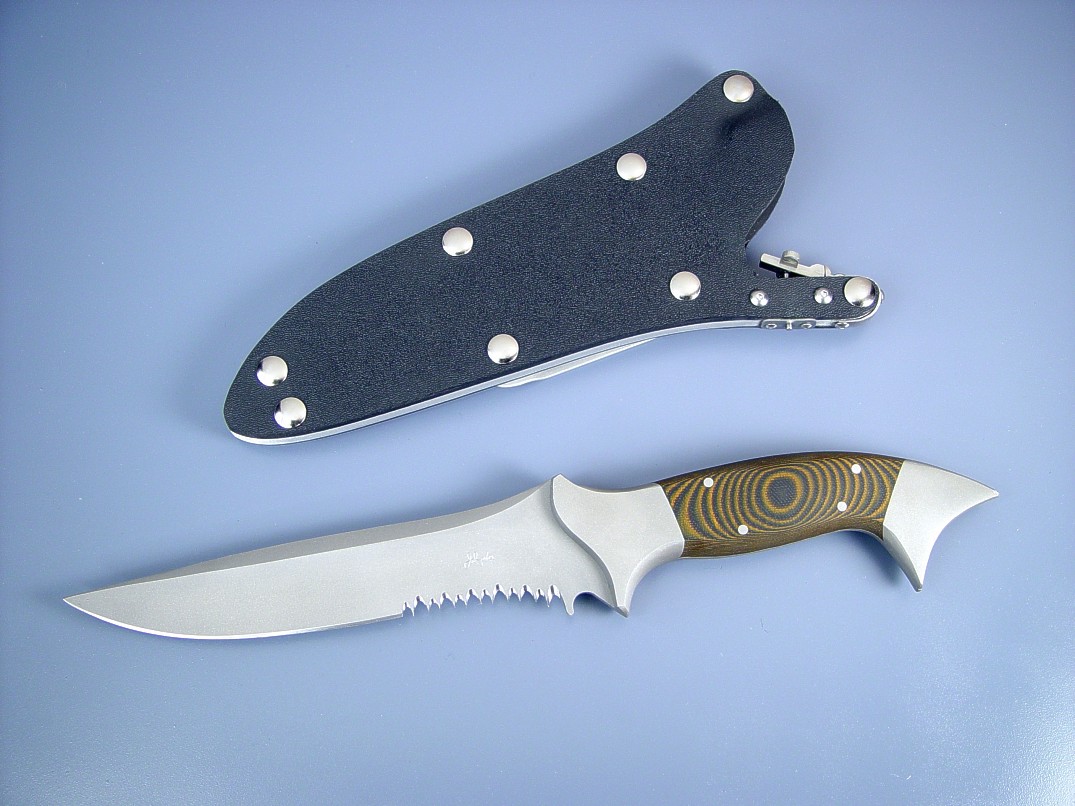 Halius Tactical Combat Knife
Size: Length overall: 12.6" (32.0 cm), Blade Length: 7.0" (17.8 cm), Thickness: .240" (6.1 mm)
Weight: Knife: 15.5 oz. (439 grams) Sheath (with extender): 12.4 oz. (352 grams)
Blade: 440C High Chromium Martensitic Stainless Tool Steel, Hardened and Tempered to Rockwell C58, Bead Blasted
Bolsters, Fittings: 304 Austenitic Stainless Steel, Bead Blasted
Handle: Tiger Stripe G10 fiberglass-reinforced epoxy laminate
Sheath: Locking, Kydex, Aluminum, Stainless Steel, Nickel Plated Steel
Sheath Extender: Polypropylene, Nylon, Polyester, Nickel Plated Steel
Knife: Named for a character of the sea in Greek mythology, Halius has a fishtail shape with water-like curves and lines. This is a full combat knife in fluid form. The blade is tough, durable, and corrosion resistant 440C high chromium martensitic stainless tool steel, hardened and tempered to 58HRC for great wear resistance and serviceability. The blade is very thick at the spine, nearly 1/4", and has a full length top swage for reduced point profile without sacrificing strength. The stout blade has 2" of my vampire rip teeth serrations, a substantial choil, and a fully tapered tang with no filework to hold debris. The knife has a sculpted front bolster that follows the grind termination, with full support and maximum thickness at the forefinger quillon and the thumb rise. The rear bolster has the fishtail form, which can double as a persuader or skull crusher talon, though it's fairly blunt so shouldn't abrade the wearer. The 304 stainless steel bolsters are multiple-pinned for permanent attachment, and the high chromium, high nickel stainless is zero care. The dovetailed bolsters bed a pair of Tiger Stripe G10 fiberglass-reinforced epoxy laminate, a very tough and durable waterproof synthetic material that is as beautiful as it is hard-wearing. The G10 has a large swell in the center of the handle for robust control and fit in the hand (see thumbnails below). The handle can be gripped with the small finger inside the fishtail for greater reach, or with the thumb along the top of the tail and the forefinger inside the fishtail in a tactical reverse grip. This grip position allows supreme pressure upon the butt of the handle and thus, the blade point. This is a very strong, stable tactical combat knife, with the balance point at the junction of the front bolster and the G10 dovetail.
Sheath and Extender: I've made one of my fine locking, waterproof tactical models for this knife, probably the best tactical combat knife sheath style made anywhere. While most makers use a single thickness kydex (.060"), I use kydex that is (.125"), twice that thick for strength, durability, stability, and longevity. The kydex is hot-formed over a 5052H32 corrosion resistant, high strength aluminum welt frame, secured with nickel plated steel Chicago screws and waterproof cement. The sheath has all stainless steel locking components in 302, 304, and 316 austenitic stainless steel for low-care, high corrosion resistance, and durability while positively locking the knife in the sheath. Even the machine screws and reinforcements are stainless steel. 1.75" wide belt loops are die-formed in high strength aluminum, and are reversible for versatile wear in any position. Included with the combat sheath is my sheath extender, which lowers the knife for waist belt carry, and has a shock-cord retainer for anti-flop when highly active. This is a useful accessory, and I go into great detail about it on a special page on this site. It is reversible and removable also.
A heavy duty tactical combat knife and primary edged weapon ready for action.
Thanks, J. S.!
Hello, Jay.
I have received the knife today. It looks great. I really like the look of it. I think it looks at least as good as Anzu. I'm surprised that you have sent the knife already.
Thank you,
--J.
---
---