Grim Reaper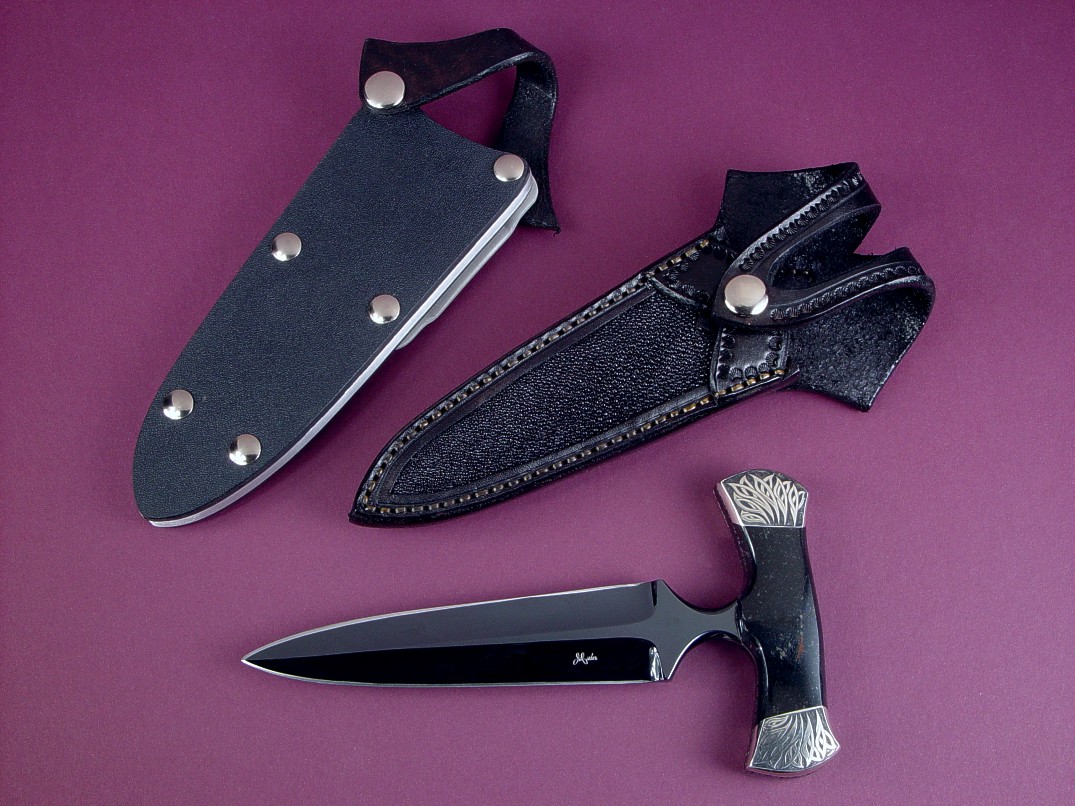 "Grim Reaper" Custom Push Dagger
Size: Length overall: 7.5" (19.1 cm), Blade Length:5.5" (14.0 cm), Thickness: .295" (7.5 mm)
Weight: Knife: 12.0 oz. (340 grams) Sheath, Kydex: 8.2 oz. (232 grams), Leather: 4.8 oz. (136 grams)
Blade: O1 High Carbon Tungsten-Vanadium Tool Steel, Hardened and Tempered to Rockwell C59
Bolsters, Fittings: Hand-engraved Nickel Silver
Handle: Black Australian Nephrite Jade Gemstone
Sheath: Kydex, Aluminum, Nickel Plated Steel, Leather Retainer
Sheath: Stingray Skin Inlaid in Hand-carved Leather Shoulder
Knife: The Grim Reaper is a great push/punch dagger, with a design that is combat proven in OIF and OEF. This custom individual dagger has a long double-edged blade, double hollow ground with a tight radius 3" contact wheel for a strong thick spine, yet very thin and razor keen single bevel edges. The blade was mirror finished, and then hot blued for a deep black penetration that inhibits corrosion and gives a black, glassy look. The blade is O1 high carbon tungsten-vanadium tool steel alloy, hardened and tempered to HRC59 for high wear resistance, and good overall strength. The blade was ground from very thick stock, for a center neck at the ricasso with high strength. All tang surfaces are radiused and polished for a comfortable grip, and the full width tang is milled to balance the weight of the dagger exactly at the neck. I fully fileworked the tang with a deep bold pattern, and it's cold-blued for a finish that is easy to maintain, with some corrosion protection. The handle is bolstered with nickel silver pinned bolsters that I hand-engraved with a winged pattern for a great look. The bolsters are dovetailed and bed a pair of very tough and durable Australian Black Nephrite Jade gemstone handle scales, brightly polished. These will outlast the knife and sheaths and me, too! The Jade has spangles of metallic pyrite, with bits of red jasper and a nicely contoured form.
Sheath, Kydex: The first sheath is one of my kydex tension fit models, in double thickness thermoformed methylacrylate/polyvinylchloride over a 5052H32 corrosion resistant high strength aluminum welt frame, secured with nickel plated steel Chicago screws. This sheath has die-formed aluminum belt loops that are reversible and can also be moved to high-low locations on the sheath. The knife is retained with a thick 9-10 oz. leather strap that is secured with nickel plated steel snaps, secured to the sheath with stainless steel machine screws.
Sheath, Leather: The client also requested a fine leather sheath, so I built this one with 9-10 oz., leather shoulder, dyed black, hand-carved and inlaid with black Stingray skin panels on the front and on the back belt loop. The dagger is retained with a tooled double strap and a nickel plated steel snap, and the entire sheath is hand-stitched with polyester sinew, lacquered and sealed.
A great primary edged weapon, with both tactical and legacy style and accessories.
Thanks, C. S.!
I got the knife. My personal reactions:
1. Whoa, bigger than I had imagined!
2. Filework: Ok, I see what you were doing with it now with the wing design. It photographed like crap but looks fine.
3. Jade: I really like it. Has a nice cool feel. It was absolutely the right choice for this knife.
4. Engraving: looks even bolder and better.
I'm quite happy with the knife. The engraving works better than I imagined, and the filework integrates nicely with it.
-C. S.
---
---