Flamesteed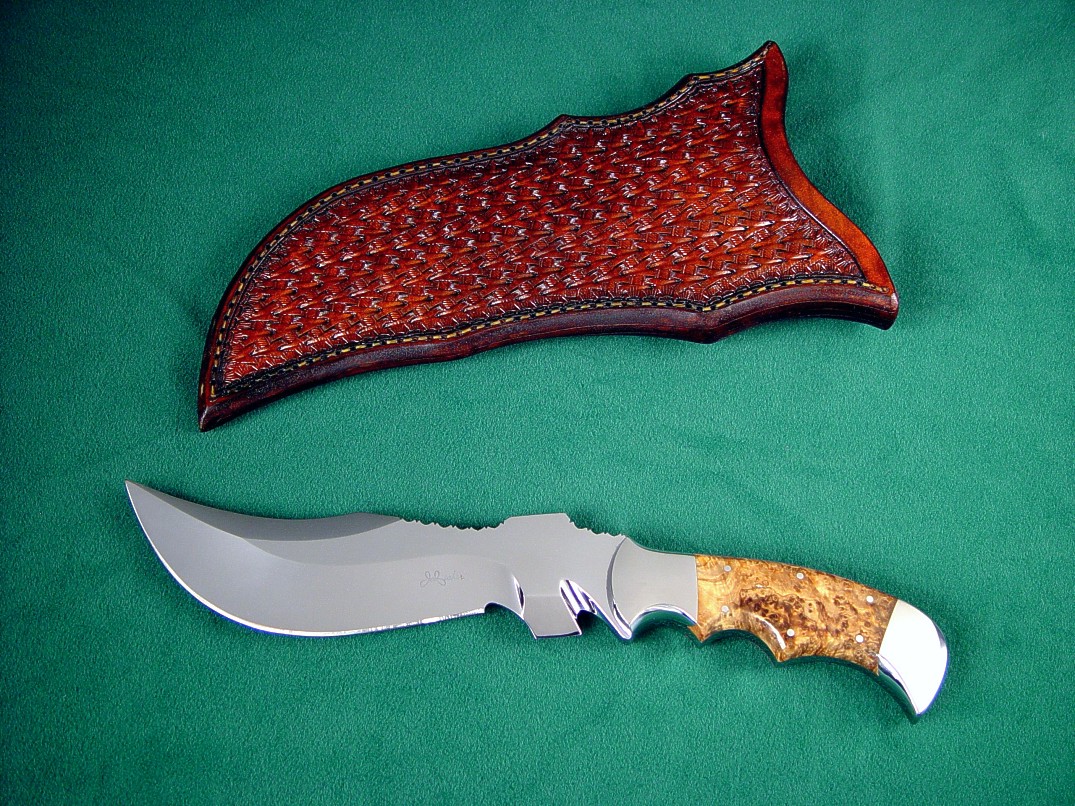 Flamesteed Tactical Survival Knife
Size: Length overall: 11.25" (28.6 cm), Blade Length: 6.75" (17.1 cm), Thickness: .265" (6.7 mm)
Weight: Knife: 16.5 oz. Sheath: 7.5 oz.
Blade: 440C High Chromium Martensitic Stainless Tool Steel, Hardened and Tempered to Rockwell C58, hollow ground and mirror finished
Bolsters, Fittings: 304 Austenitic Stainless Steel, mirror finished
Handle: Olive Burl Hardwood
Sheath: Hand-tooled leather shoulder
Knife: This is a versatile and specialized tool, designed in the shop with the direct input of the client (thanks Craig!). It is a combat tactical knife, capable of necessary survival use. The blade is highly corrosion resistant mirror finished 440C high chromium martensitic stainless alloy steel, and as you can see, the shape is unique and specialized. I started out with stock over 1/4" thick, and weighing in at over a pound, this is a very strong, meaty blade. The design has a trailing point with a deep belly for skinning and dressing chores as well as slashing, and with a top length swage to reduce the point profile, the blade can be used tactically for defense thrusting. The grind termination is a sweet curve, designed to preserve blade to handle strength, and at the base of the grind termination is a stout, sharp, flat chisel grind. Not as blunt as a cold chisel, it is directly below a broad flat "anvil" on the blade spine. This is where impact from a stout branch or heavy object will apply pressure to the chisel, for chewing through tough materials, even soft metals. On both sides of the anvil is a bit of deep sculpted filework, to help improve grip security of the thumb where it counts. Just to the inside of the chisel is a deep line cutter, handy for hooking and cutting small lines and tough monofilament with only one hand. The ricasso area is broad and thick, so the full tang handle is well supported, and the large front bolster is triple pinned. The bolsters are mirror finished all around, for zero care and superb corrosion resistance, the handle is clean with no filework to catch and hold debris. The dovetailed bolsters hold a bedded pair of Olive Burl hardwood handle scales, secured with half a dozen 304 stainless steel pins. The Olive is hard, durable, and natural in color. With multiple finger grooves, the knife is comfortable in both traditional or reverse (tactical) grip styles. The rear bolster is heavy and solid, balancing the significant weight of the knife.
Sheath: The client wanted a special leather sheath design, and I wanted it clean and durable, so I made this one of 10 oz. leather shoulder, hand stamped and tooled, dyed and highlighted, and lacquer sealed. The tooling is a very complex basket weave "weave and tuck") pattern, and took many hours to tool. I've included some special close-ups of this unique style of tooling below. The broad sheath is heavy, with thick welts, hand-stitched with polyester sinew, and the large, full belt loop is double-stitched for extra security.
A knife for any situation, the Flamesteed is a unique, robust, and versatile weapon and tool!
Thanks, C. P.!
Transcript of a voice message:
"Jay, this is C.P., and I just got the Flamesteed. Let me tell you what: you see it on the website all the time, but it was worth the 14 month wait... well worth it. That knife is gorgeous. I actually did not think it would look so awesome... its balance... I'm beside myself; I'm giddy! Anyway, I thought I'd give you a quick buzz and... it's awesome, just awesome blade... I love it. I almost don't even want to use it, but I definitely will; it's going to be my deer knife, and whatever else knife. Awesome... exquisite!"
---
---