Dagon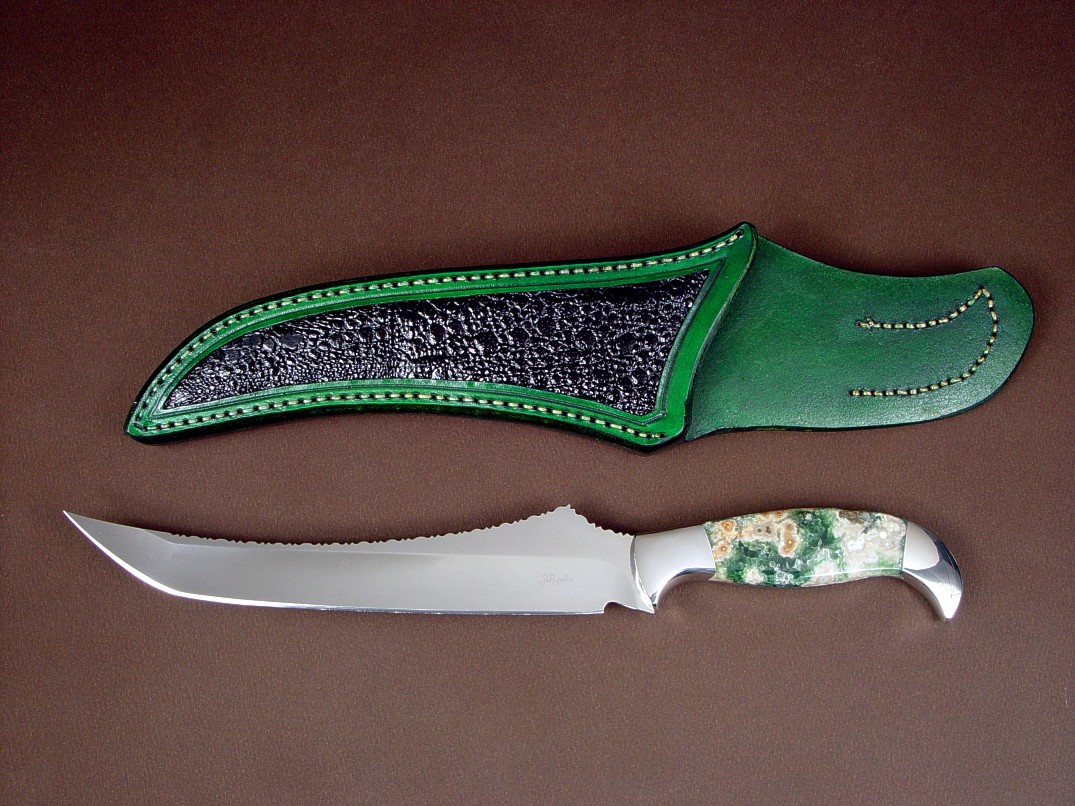 "Dagon" Custom Fillet, Boning, Chef's, Carving Knife
Size: Length overall: 12.5" (31.8 cm), Blade Length: 7.8" (19.8 cm), Thickness: .1225" (3.1 mm)
Weight: Knife: 8.7 oz. (247 grams) Sheath: 6.0 oz. (170 grams)
Blade: 440C High Chromium Martensitic Stainless Tool Steel, Hardened and Tempered to 57HRC
Bolsters, Fittings: 304 Austenitic Stainless Steel
Handle: Green Orbicular Jasper Gemstone
Sheath: Hand-carved Leather inlaid with Black Frog Skin
Knife: Named for an early Sumerian god of fish and fishing, Dagon the knife is custom made for the task of fillet, boning, carving, or chef's fine work, and this one is suitable for collection. My client wanted a fillet knife based on my popular tanto designs, so I created the Dagon profile, slender and thin. The knife is made from very thin stock, and is tempered to 57HRC to limit flex and still provide toughness and high wear resistance. The hollow ground blade is well-matched in the grinds, terminations, and lead offs, with a good thickness of spine along the blade for support. The point is devastatingly sharp, and the trailing point style offers smooth and tight cutting capabilities. Since 440C has the highest corrosion resistance of any martensitic stainless tool steel, with the mirror polish, this one will resist corrosion very well. The thumb rise offers support, and the fully tapered tang balances the weight right at the forefinger. The client wanted a bit of purchase along the spine, so I executed some nice filework there. The handle is clean and smooth and is bolstered by zero-care 304 austenitic stainless steel bolsters for great strength and durability. The bolsters bed a pair of brightly polished Green Orbicular Jasper gemstone which has areas of clear agate, deep green quartz, and floating orbs throughout. This hard crystalline jasper and agate is tough, durable and will outlast the blade. It feels comfortable and smooth in the hand.
Sheath: The knife has a commensurate sheath, made of 9-10 oz. leather shoulder, dyed black, hand-stitched with polyester sinew, lacquered and sealed, with panel inlays of Black Frog skin, knobby and unique in character. The sheath protects the keen blade while displaying the gemstone handle and even has inlays on the back, and in the large and long belt loop.
A beautiful and useful custom knife for the kitchen or for tasks requiring the thinnest, sharpest blades, suitable for a collection.
Thanks, J. M.!
Hi Jay,
I received the knife, Thank you. It's gorgeous as I knew it would be.
You say you miss it already? Don't worry, it's in good hands. Talk to you soon.
--J.
---
---