Cygnus-Horrocks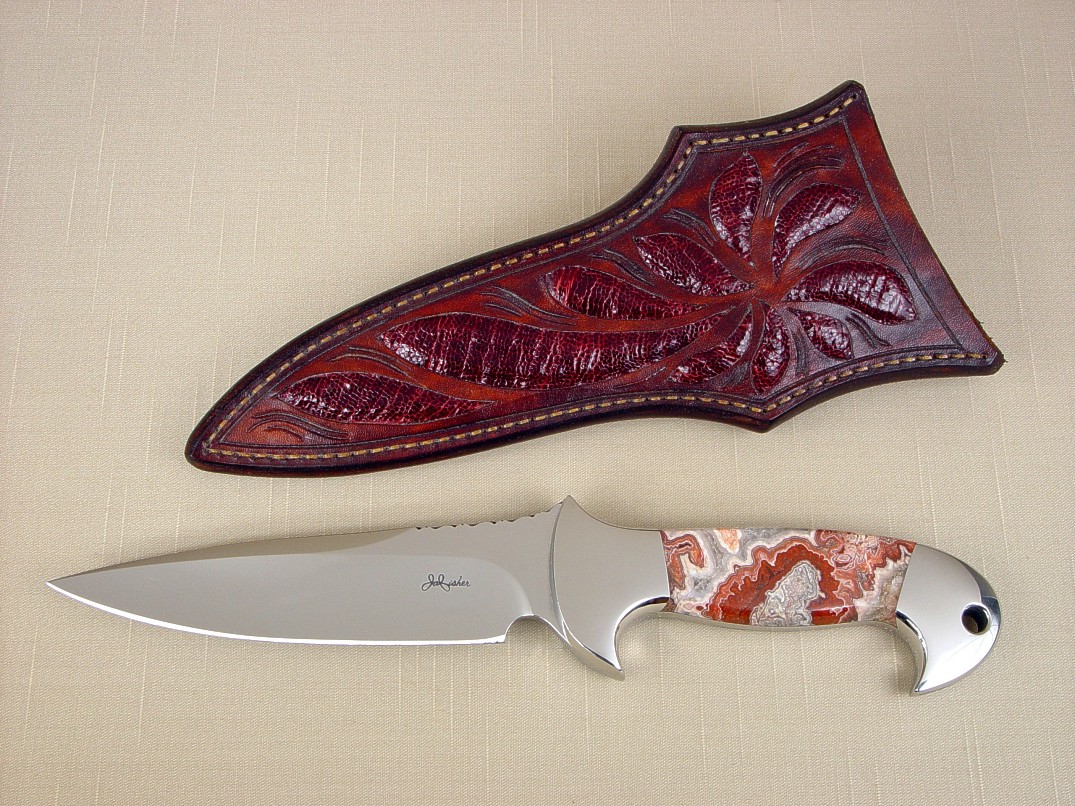 "Cygnus-Horrocks" Custom Knife
Size: Length overall: 11.75" (29.9 cm), Blade Length: 6.0" (15.2 cm), Thickness: .243" (6.2 mm)
Weight: Knife: 1 lb. 2.0 oz. (510 grams) Sheath: 6.8 oz. (193 grams)
Blade: ATS-34 High Molybdenum Martensitic Stainless Tool Steel, Hardened and Tempered to 61HRC
Bolsters, Fittings: 304 Austenitic Stainless Steel
Handle: Crazy Lace Agate Gemstone
Sheath: Hand-carved leather shoulder inlaid with Ostrich Leg Skin
Knife: The Cygnus-Horrocks is a popular pattern of mine, and this original custom knife was specially ordered by a great client. The blade is beautifully mirror polished ATS-34 high molybdenum stainless tool steel, which is an extremely tough, corrosion resistant steel, that has very high toughness at a high hardness. I tempered the blade to a hard 61HRC for an extremely wear-resistant blade with high longevity throughout. The blade is deeply hollow ground, with great lines, sweeping grind terminations, and a half-length top swage that reduces point profile without sacrificing spine strength. This is a very strong blade, indeed, with nearly one-quarter inch thick blade stock at the spine and significant mass. The blade spine is fileworked with a deep and distinctive cut of modified vine, extending along the spine through the fully tapered tang. The inside of the handle tang is smooth and comfortable. The knife is bolstered with my favorite 304 high nickel, high chromium austenitic stainless steel, a zero-care stainless that is used in stainless steel nuts, bolts, and fasteners. The bolsters are contoured, radiused and mirror polished, the front bolster has a beveled and polished front face; the rear bolster has a 5/16" chamfered through-tang lanyard hole. The bolsters are dovetailed and lock in a pair of dovetailed Crazy Lace Agate gemstone handle scales. This agate is tough and hard, with striking patterns, flow banding, and crystalline structures. This is an agate that offers more and more visual interest the closer and longer that you look at it, definitely a geological marvel. I've included several ultra-close up photos below for illustration. The agate is polished and smooth, and will well outlast the knife. Though stout, the knife balances right at the forefinger placement in forward grip style, and the knife feels smooth, inviting, and substantial in the hand.
Sheath: The sheath for this knife had to be a stand-out, so I made it in 9-10 oz. heavy leather shoulder, hand-carved and dyed medium brown, and hand-stitched throughout with polyester sinew. The sheath has 16 inlays of burgundy Ostrich Leg skin in a radial pattern and even the double-row stitched belt loop has the exotic skin inlays. The sheath is lacquered and sealed throughout, and holds the knife deeply enough to protect the blade and the wearer, yet offers easy extraction with the hawk's bill rear quillon.
This is a great handmade custom knife that was a pleasure to make!
Thanks, T. S.!
The knife is gorgeous; the vine pattern file work appears alive, the hawk's beak quillon, the exquisite and balanced blade grinds extending to the devastating tip, the mirror polish, and the stunning gemstone handles, the knife possesses a spirit brought alive by your mastery over the materials. You can see it in the great pictures, however, they do neither the sheath nor the knife justice! Holding it my hand, feeling it's spirit, and seeing it with my own eyes, absolutely incredible, the handle sticks to my hand, a perfect fit.
Thank you Jay!
--T. S.
---
---