Cygnus-Horrocks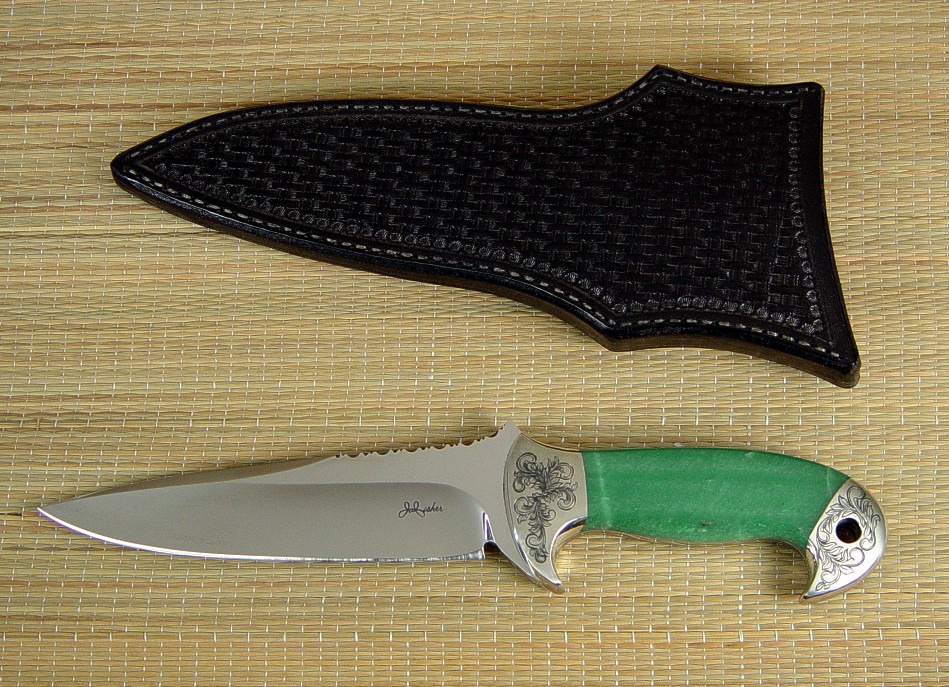 Cygnus-Horrocks- Collector's grade tactical knife
Size: Length overall: 11.0" (27.9 cm), Blade Length: 6.125" (15.5 cm), Thickness: .250" (6.3 mm)
Weight: Knife: 16.0 oz. Sheath: 6.7 oz.
Blade: ATS-34 High Molybdenum Martensitic Stainless Tool Steel, Hardened and Tempered to Rockwell C59, hollow ground and mirror polished
Fittings/Bolsters: Nickel Silver, satin finished, hand-engraved by Jay
Handle: Polished Aventurine Gemstone
Sheath: Hand-Stamped Black Basketweaved Leather
Knife: "Cygnus-Horrocks" is a hybrid style, with my "Cygnus" spearpoint blade pattern married to a smaller version of my "Horrocks" handle pattern: thus the name. This knife came out so great that I had to give it its own pattern on my patterns page, and it's a style I'll be making again. The first thing you notice in this knife is, of course, the bright apple-green Aventurine gemstone handle. Aventurine is a granular aggregate quartz, spangled with minute flakes of gold-colored muscovite. This is a compact, tough gemstone, striking and bold. Since the Aventurine is monolithic slabs with uniform pattern, I wanted a nice contrast to in the bolsters, so I hand-engraved them with a nice, elegant leaf and scroll design. The nickel silver is a low corrosion alloy for low maintenance and a warm color, and the rear bolster has a 5/16 through-tang lanyard hole. It's satin finished to make the engraving stand out. The eye is then drawn to the blade, a substantial piece of hard, super-tough high chrome-molybdenum ATS-34 stainless steel, a full quarter-inch thick, deeply hollow ground and razor keen beautifully mirror finished. I've fileworked just the top of the blade spine with a bold vine pattern, yet left the tapered tang in the handle clean and polished for a very smooth feel. The pictures can not emphasize how hefty and strong this blade is; you can see by the weight at one pound that this is a meaty, serious piece of steel! The handle shape has deep finger quillons for a very secure grip, and is not as large as the original Horrocks, so a medium-sized hand fits snugly inside. A very smooth, clean, and elegant knife with a stout feel.
Sheath: I wanted a clean, uniform sheath, not overbearing, to let the knife stand out. I went for a wide and deep, clean and classic black basketweaved design, a three inch belt loop, made of 9-10 oz. leather shoulder, hand-stitched, lacquered and sealed.
Thanks, D.T.!
Jay, I received the Cygnus-Horrocks yesterday. Once again, you've created a knife that exemplifies your mastery in bladed weaponry and artistic greatness! To hold this knife and to look upon it, reveals itself to me as a most formidable weapon with its beautiful steel blade, hand-carved bolsters, and green, green Aventurine gemstone. It is a great addition to my Jay Fisher Knife Collection! THANKS!
--D.T.
---
---