Carina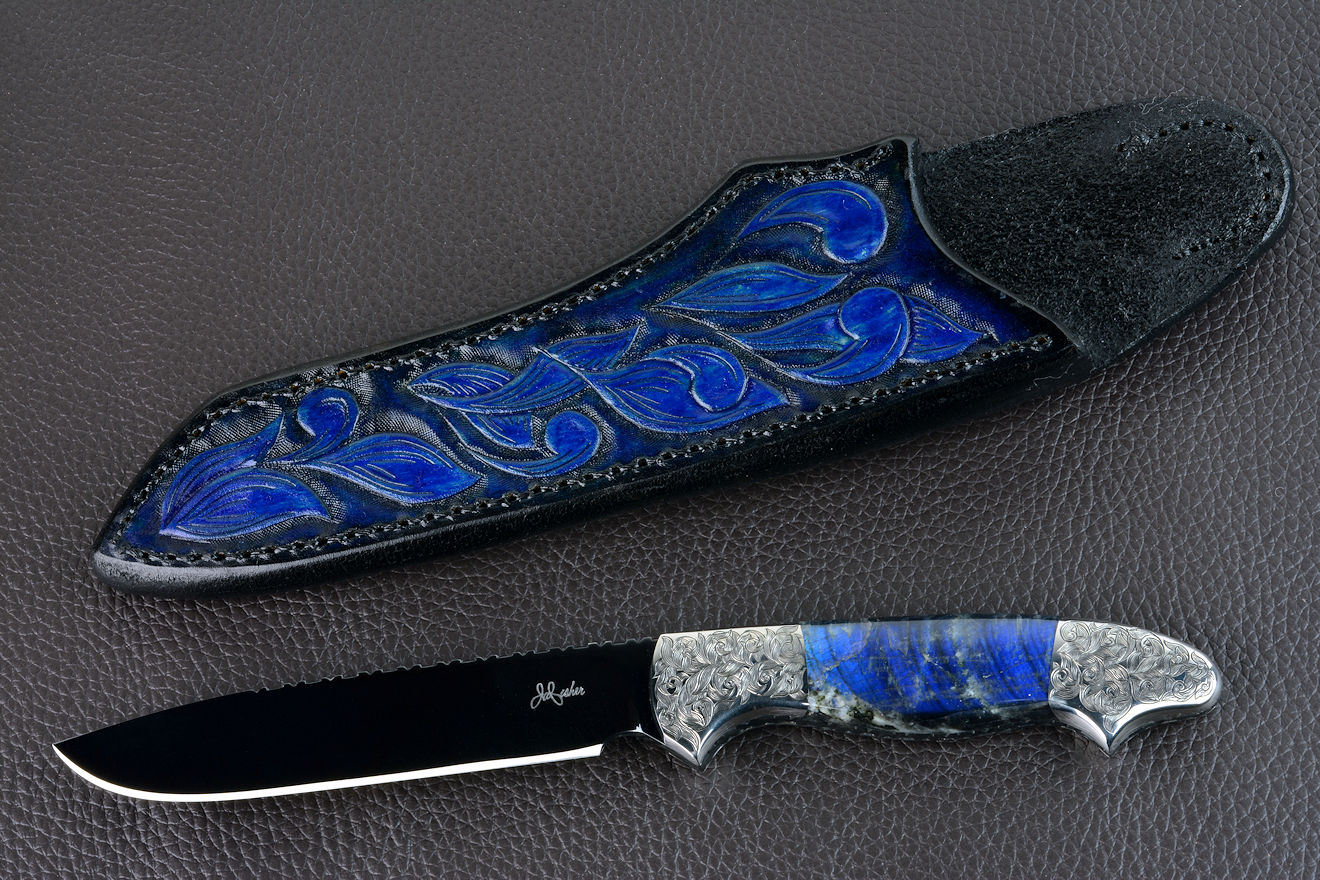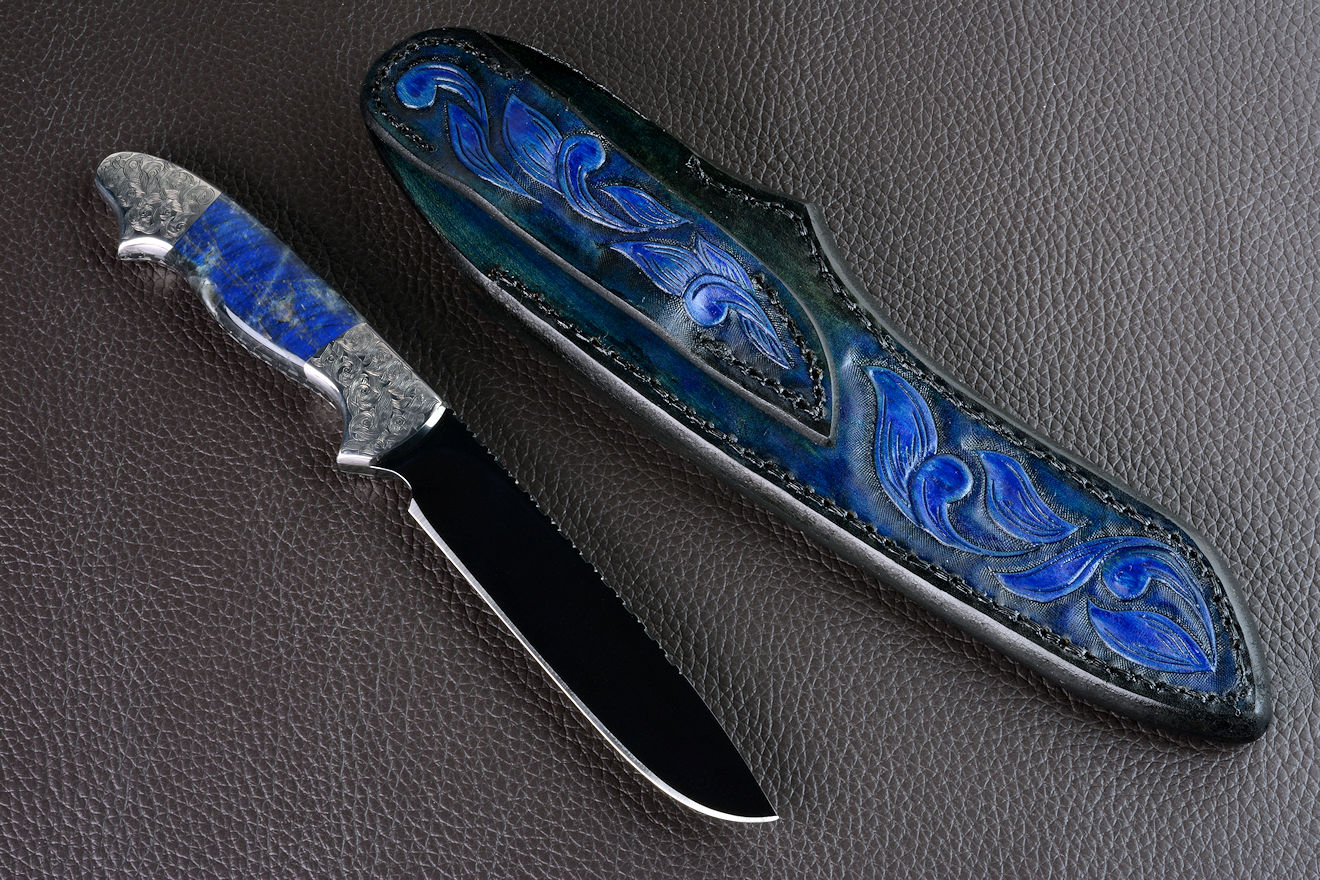 "Carina"
Size: Length overall: 8.75" (22.2 cm), Blade Length: 4.5" (11.4 cm), Thickness: .184" (4.7 mm)
Weight: Knife: 6.0 oz. (170 grams) Sheath: 3.7 oz. (105 grams)
Blade: O1 high carbon tungsten-vanadium tool steel, mirror polished, hot-blued, hardened and tempered using cryogenic process to 59HRC
Bolsters, Fittings: 304 Austenitic Stainless Steel, hand-engraved
Handle: Labradorite gemstone, Labrador, Canada, Tabor Island
Sheath: Hand-carved leather shoulder, hand-dyed
Knife: The Carina is named for a constellation in the southern sky, and the Latin word for the keel of a ship. It was a navigation point for the southern peoples, notably the Maori who called it "first light," due to its prominence. I tried to honor this name and idea in a simple drop point knife design with a splendid and unique presentation. The knife is noticeable in a jet black, shiny, mirror polished blade of O1 high carbon tungsten-vanadium tool steel. I took this blade to its maximum as I heat treated and quenched and aged this steel with shallow cryogenic process, with deep cryogenic cycling between multiple tempers. This results in an extremely wear-resistant and tough blade, an improvement of 400 percent better wear resistance than a conventionally heat treated blade in the same steel, with even higher toughness! This is just about the best this steel can be, and it's ground with a smaller contact wheel for a tight radius. What this means is that though the steel behind the cutting edge is very thin, the spine is significantly thick for this size of knife, providing great strength. The drop point aids in easy sheathing, and the blade is long and elegant in this size. I fully fileworked the blade with a small regimented pattern, and the tang is fully tapered for balance. I bolstered the knife with zero-care 304 stainless steel, a high nickel, high chromium tough austenitic stainless that is used to make stainless nuts, bolts, and fasteners. The bolsters are rounded, contoured and mirror polished and then I engraved them with a very tight and fine design of leaves and scroll. The bolsters are dovetailed and bed a pair of unusual handle scales. This is labradorite, a feldspar with good hardness, and some unique and striking characteristics. It is actually a dark stone, and changes dramatically in various lighting, angles of light, and angles of viewing. The unique play of light is like nothing else on our planet, and so has its own scientific term called labradorescence. This is a metallic, multi-colored, prismatic play of glinting light with vibrant spectral hues, only visible as the stone is moved through specific positions. In the photo set, I tried to angle the lighting, camera, and knife so that you could see just what the result is, but like many plays of light in gemstone, this is not fully visible in the camera. I found that in photographing this property, the light itself would confuse the camera's interpretive software, and flare the image, even though it wasn't bright, a strange artifact of the intense light play at various angles. The color of the gemstone varies between a gray transparent hue, to a darker cloudy crystal, to bright and intense royal blue with hints of green and even reddish tints! This is a fascinating stone, and one I get asked about a lot. The really good labradorite is getting harder to find, and much of it is too small for knife handle scales in higher quality. The schiller or iridescence is caused by a grid-like lamellar structure, and repeated twinning of crystal forms. There are also minor inclusions of magnetite and you'll see some metallic-looking polish in those areas along the tang. This stone has to be carefully oriented when cutting, and I took considerable time and care to work up my slabs from rough to get the most material at the brightest angles. The stone has plenty of surface seams that look like fractures, but are solid and secure. While labradorite can be a bit brittle, it's also fairly hard, at 6.5 on the MOHS scale, so in a small knife, it's right at home. With the black blade, this is a striking and unique knife, and the hand-engraving adds a lot to the intricacy of the bold piece. The balance point is right at the forefinger position in forward grip, and the three and a half finger handle is light and comfortable in the hand.
Sheath: The sheath for this Carina had to match the knife well, which was a bit of a challenge. I designed the same leaf and scroll pattern I did in the engraving for the sheath, and hand-carved and tooled it in 9-10 oz. leather shoulder. I then took considerable time to hand-dye the sheath pattern, trying to reflect the iridescent blues in the handle with a rich royal blue color wash against a black background. The sheath is hand-stitched with polyester, tooled front and back, and sealed with acrylic for longevity.
A unique work of art, great in any collection.
Thanks, K. S.!
---
Hi Jay.
I received the Carina yesterday, and thank you!  It is breathtakingly beautiful.  An amazing work of art, thank you.
Cheers,
K.
---
---