Calisto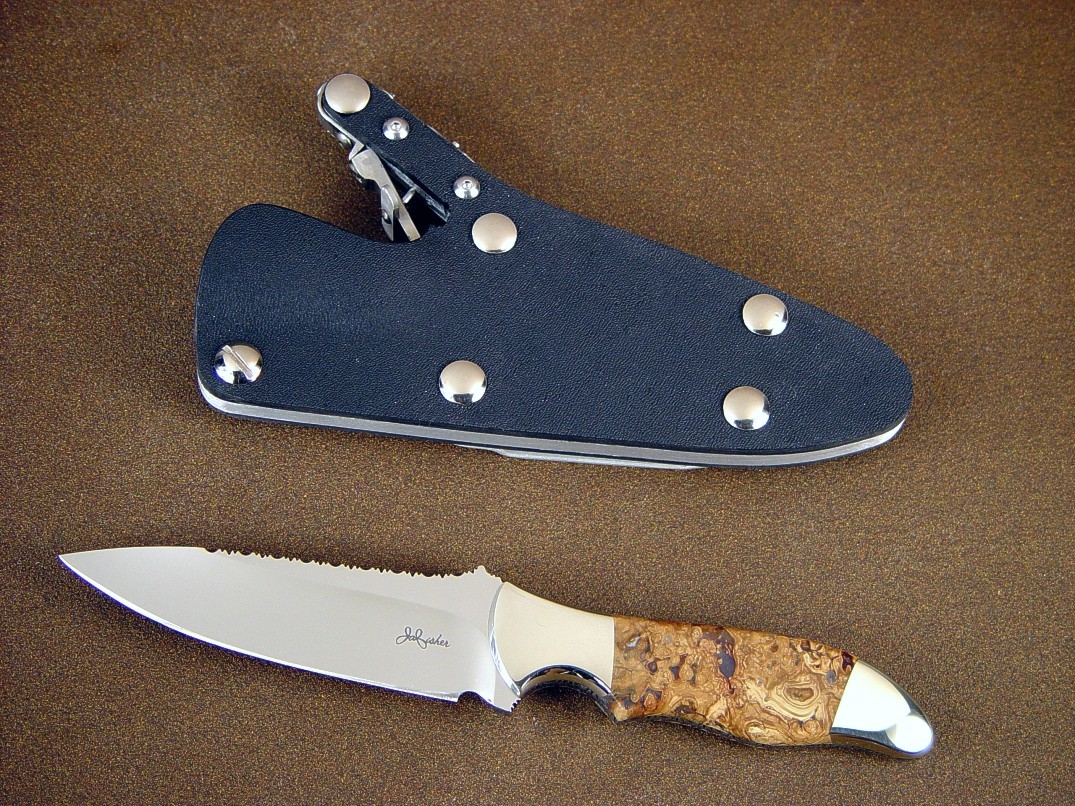 "Calisto" Custom Knife
Size: Length overall: 8.0" (20.3 cm), Blade Length: 3.75" (9.5 cm), Thickness: .191" (4.8 mm)
Weight: Knife: 6.6 oz. Sheath: 8.1 oz.
Blade: 440C High Chromium Martensitic Stainless Tool Steel, Hardened and Tempered to Rockwell C59, Mirror Polished
Bolsters, Fittings: Nickel Silver
Handle: Fossilized Cretaceous Algae Gemstone
Sheath: Locking, Kydex, Aluminum, Stainless Steel, Nickel Plated Steel
Knife: A great knife for a great client, the Calisto is a neat design, custom made to his specifications. The blade has a useful, thick and strong drop point curvature with plenty of belly and a deep, matched and mirror polished hollow grind. The steel is 440C high chromium stainless steel, and when mirror polished is the most corrosion resistant of the stainless tool steels. I hardened and tempered the blade at 59HRC, for a hard, wear resistant edge. The blade has a fully tapered tang, with full filework and substantial thickness for this sized knife. The bolsters are warm nickel silver, dovetailed to bed a pair of polished Fossilized Cretaceous Algae Gemstone handle scales. This fossil is hard and tough jasper, calcium, and chalcedony, with fascinating patterns and visual interest, originating at least 65 million years ago. It's interesting to think that before this algae was replaced by minerals, it was alive in the time of the dinosaurs, when the abundant seas cut our continent in half. This gemstone is hard and tough, with smooth transparent areas and textured calcite jasper bands of tans and browns. The handle balances at the point between the first two fingers, and is comfortable to hold in a variety of positions.
Sheath: The sheath is one of my special locking models, based on the combat sheaths I make. In fact, it is no different except for its smaller size. The sheath body is double-thick kydex, thermoformed over multiple 5052H32 corrosion-resistant aluminum welts. The body is secured with nickel plated steel Chicago screws, and the locking mechanism is all 316, 302, and 304 austenitic stainless steels for strength and corrosion resistance. I included a pair of vertical 1.75" belt loops (standard) and a horizontal conversion plate, that accommodates horizontal belt wear. This is a super tough and useful sheath.
A great knife destined for years of use and interest!
Thanks, M.M.!
Hi Jay,
Wanted to let you know that I love the knife. Excellent workmanship! You obviously spent a great deal of time doing it. Love the fossilized Algae handle.
-M.M.
---
---