Bulldog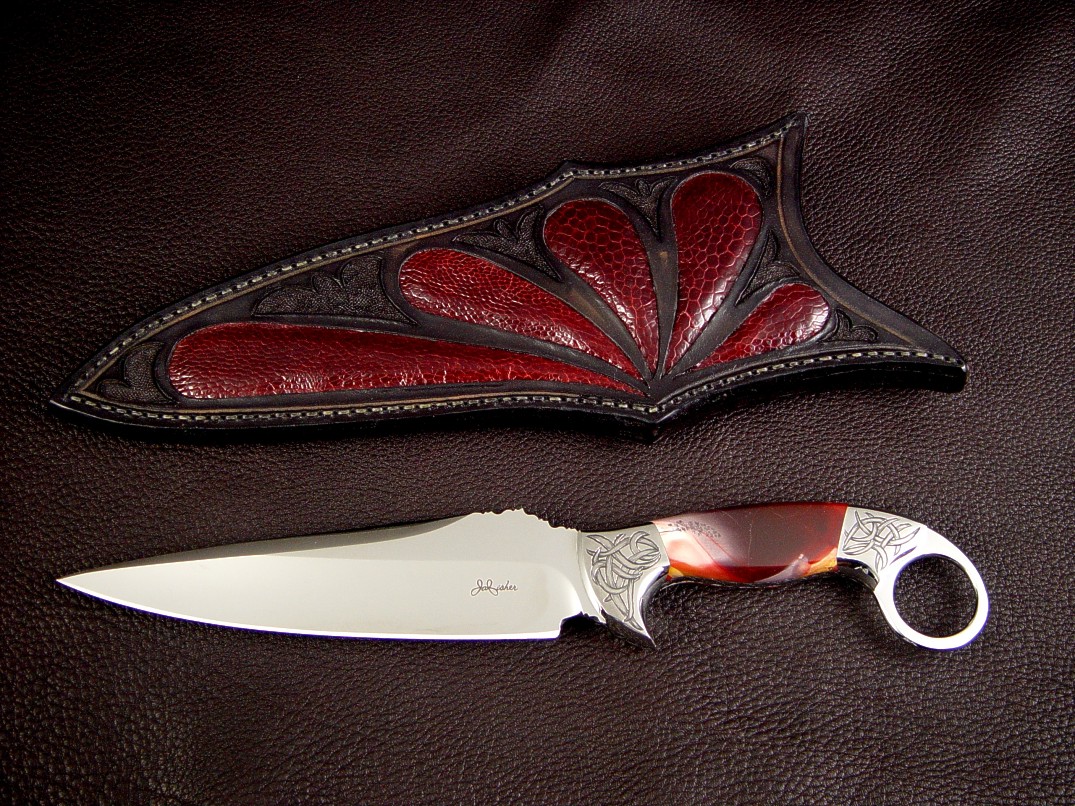 "Bulldog" Tactical Art Knife
Size: Length overall: 12.0" (30.5 cm), Blade Length: 6.75" (17.1 cm), Thickness: .240" (6.1 mm)
Weight: Knife: 14.5 oz. Sheath: 8.3 oz.
Blade: 440C High Chromium Martensitic Stainless Tool Steel, Hardened and Tempered to Rockwell C59, hollow ground and mirror polished
Fittings/Bolsters: 304 Austenitic Stainless Steel, hand-engraved bright finish
Handle: Polished Mookaite Jasper Gemstone
Sheath: Burgundy Ostrich Leg Skin Inlaid in Hand-Carved Leather
Stand: Hand-carved and finished American Black Walnut and Poplar Wood
Knife: The "Bulldog" is a serious, field proven tactical knife style of mine, and though most of my Bulldogs are made for combat use, this one is a fine collector's piece, unique and original. From a combat knife's prospective, the blade shape is a spear point, with a deep hollow grind from a 10" diameter wheel with a three quarter length top swage to increase piercing profile without sacrificing spine strength. So it is thin at the cutting edge and point, but with a thick spine that makes the knife very strong overall. Ground from quarter-inch thick stock, the spine and thickest part of the knife is a full .240" and has a wide front quillon and thumb rise for maximum safety to the user. The knife was designed to be unsheathed and held in a tactical grip style but is also comfortably held with a traditional grip style. From the collector's exclusive standpoint, The 440C blade is finely ground and brightly mirror polished throughout, for long lasting beauty and high value with long term appreciation. The tang is fully tapered, yet has sufficient thickness to support the rear finger ring, which is beveled, smoothed, and polished throughout for a comfortable feel and gleaming look. The blade is fully fileworked, with a deeply sculpted modified vinework design, all the way to the deep choil. The bolsters are zero-care 304 austenitic high nickel, high chromium stainless steel, hand-engraved with a bold, finely cut, powerful intertwined blade pattern. They are dovetailed and frame two strikingly beautiful handle scales of glassy-smooth polished Mookaite Jasper gemstone, a super-hard, tough quartz chert with striking contrast in burgundy, wine, ruby, lavender, cream, yellow, and white with tiny seams of hematite. The Mookaite originates in Mooka Station, West Australia, and has fossiliferous inclusions of black dendritic (treelike) structures. This is one of the most stunning handle materials I've ever used, and everyone who sees it is floored
Sheath: A knife of this quality deserves a significant and commensurate sheath, so I inlaid this 9 -10 oz. leather shoulder with 12 pieces of matching burgundy Ostrich leg skin. I hand-carved florid accents, and the sheath is dyed a deep brown-black, hand-stitched with polyester sinew, lacquered and sealed. It has a belt loop that will accommodate a 2.5" wide belt. This is a full, large, and deep sheath, made to fully protect the knife blade and handle, yet leave the finger ring extended for easy draw. Made for right side wear edge back, or left side wear edge front (tactical).
Stand: The client also asked for a suitable artistic display stand, so I created this one from American Black Walnut and Poplar. The Walnut is rich and smooth, tough and beautiful, and I hand shaped, carved, and finished it in a graceful shape that would wrap around the knife and sheath, yet offer plenty of the knife for display. The stand alone is a piece of sculpture. The Poplar base sets off the walnut curves and interesting figure. It's oil-sealed and hand-waxed and polished for a warm natural look.
Thanks, D. E.!
Hi Jay,
The Bulldog, sheath and stand arrived safely and I am totally blown away. You have really outdone yourself. The whole ensemble is really a piece of fine art, and it occupies a place of honor on my credenza. I cannot get over your vision--how the stand cradles the knife and the sheath with just the right curvature and yet displays them both to maximum advantage. The knife itself is exceptional, as are all your works. The engraving is amazing, and the gemstone handle is breathtaking. The file work completes the package to perfection. Sometimes I just sit and look at it, which I suppose is an appropriate tribute to any fine piece of art or sculpture. Thank you once again for the opportunity of owning something so special.
--Dave Evans
---
---