Artemis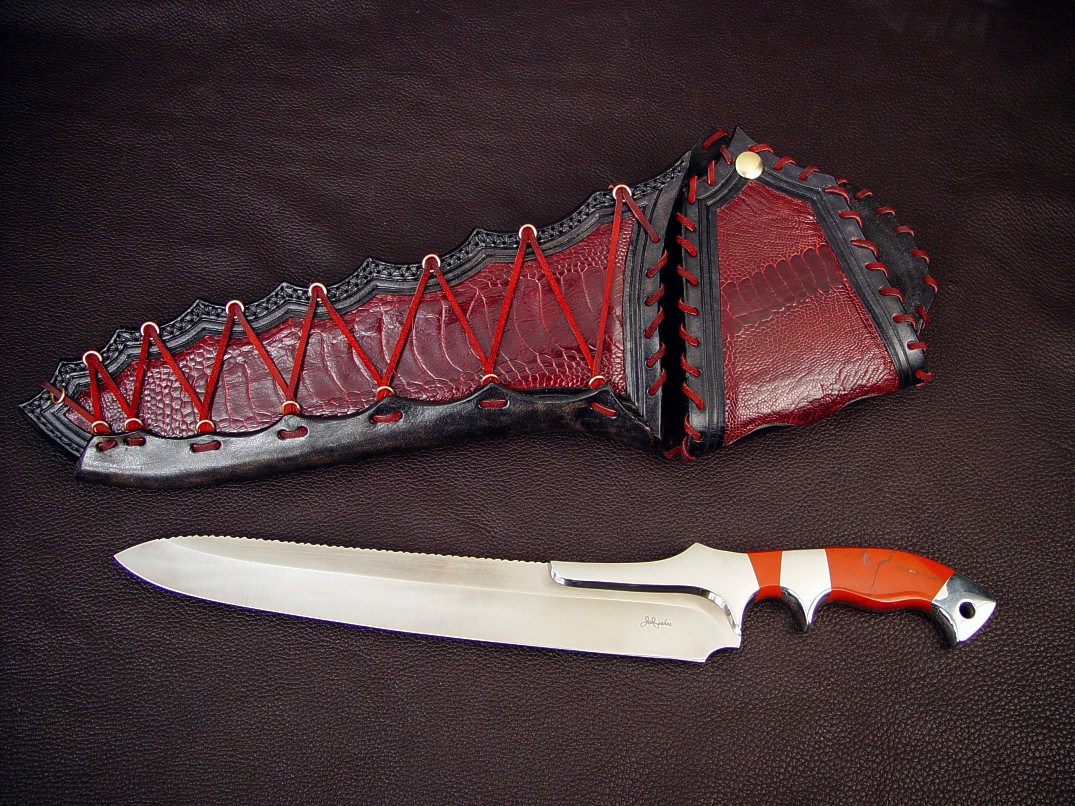 "Artemis" Fine Hunting Butcher's Knife
Size: Knife: Length overall: 16.75" (42.5 cm), Blade Length: 11.75" (29.8 cm), Thickness: .170" (4.3 mm)
Weight: Knife: 1 lb. 6 oz. (624 gm.) Sheath: 1 lb. 5 oz. (595 gm.)
Blade: CPMS30V High Vanadium Powder Technology Stainless Steel, Hardened and Tempered to Rockwell C59
Bolsters, Fittings: 304 Austenitic Stainless Steel
Handle: Red River Jasper Gemstone (India)
Sheath: Burgundy Ostrich Leg Skin inlaid in hand-carved Leather, Suede tension bindings, Copper, Brass
Knife: Named for the Greek goddess of the hunt and wilderness, Artemis is a stunning knife. Custom designed with my client for butchering large game at the hunt, the blade design is the venerated historic Hamburg pattern from Germany, with a long straight cutting edge and a narrowing belly with a strong dropped point. The steel he chose is CPMS30V high vanadium crucible particle metallurgy stainless tool and die steel for tremendous wear resistance and high corrosion resistance. I hollow ground it extremely thin at the cutting edge for a superb slicing geometry and razor keen action. The steel is hardened and tempered to a hard, tough 59HRC, and has a useful satin finish for easy cleaning. The blade has a fully tapered tang for good weight control, but there is no denying that this is a large knife. The client wanted a nice vine filework on the spine only for increased tactile grip, and none on the handle for easy cleaning. The balance point is just behind my maker's mark. For improved control when necked up in close cutting chores, I extended the front bolster about three inches, which gives a great place to grip in chopping or dicing. The sculpted and polished bolsters are all 304 austenitic high chromium, high nickel stainless steel, mirror finished for zero care with the high toughness and extreme corrosion resistance. Three sets of bolsters mount on the nicely contoured handle of the knife, with the central pair at the mid-quillon for durability. The rear bolster has a 5/16" through-tang lanyard hole for security and hanging. The handle is tight, bedded, and sealed, smooth and polished, with dovetailed bolsters and brightly polished Red River Jasper gemstone from India. This jasper is one of the toughest and hardest I use, with bits of hematite inclusions and fine veins. It's solid and comfortable and the color is strikingly natural red.
Sheath: You can bet this special knife would have a stunning sheath, so I created this unique art in leather and skin. The sheath body is 9-10 oz. leather shoulder, tough and durable, hand-carved with inlay areas to set the burgundy Ostrich Leg skin. I used broad, bold pieces of the skin, designed to accentuate the large scale pattern nicely. The sheath profile and belt loop shape echo a hunting bow form. The massive belt loop and edge welt are stitched with tough black nylon in a zigzag pattern for great strength and to match the tension bindings on the sheath. The bindings are red suede leather, mounted to hint at Artemis' bow strings, accented with hand-formed copper rings. The sheath has a brass snap at the flap, which secures and completely covers the knife handle for protection. The sheath is dyed, lacquered, and sealed. I knew the owner would want to keep the sheath pristine, so I made and included a custom matching embroidered and double-stitched cotton-poly blend storage bag for the convenient carry.
Artemis will have many great adventures and turn many heads, custom made for a great client and fellow artist.
Thanks, E. S.!
...Artemis, branded with Jay's mark, is destined to endure through generations. A great chef's knife is not a tool, but more an extension of a chef's hand; Jay's immortality transitions through Artemis into culinary artistry; indulging thousands of palates by crafting countless feasts.
--E. S.
---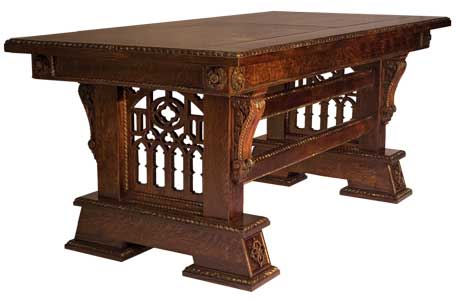 Artisans of the Valley
This knife was commissioned and designed with input from Eric Saperstein, master artist and craftsman with Artisans of the Valley. Please take a look at his phenomenal work and website, as well as his blog and writings. Eric is a rare find, and Artemis suits him well.
---
---