Arctica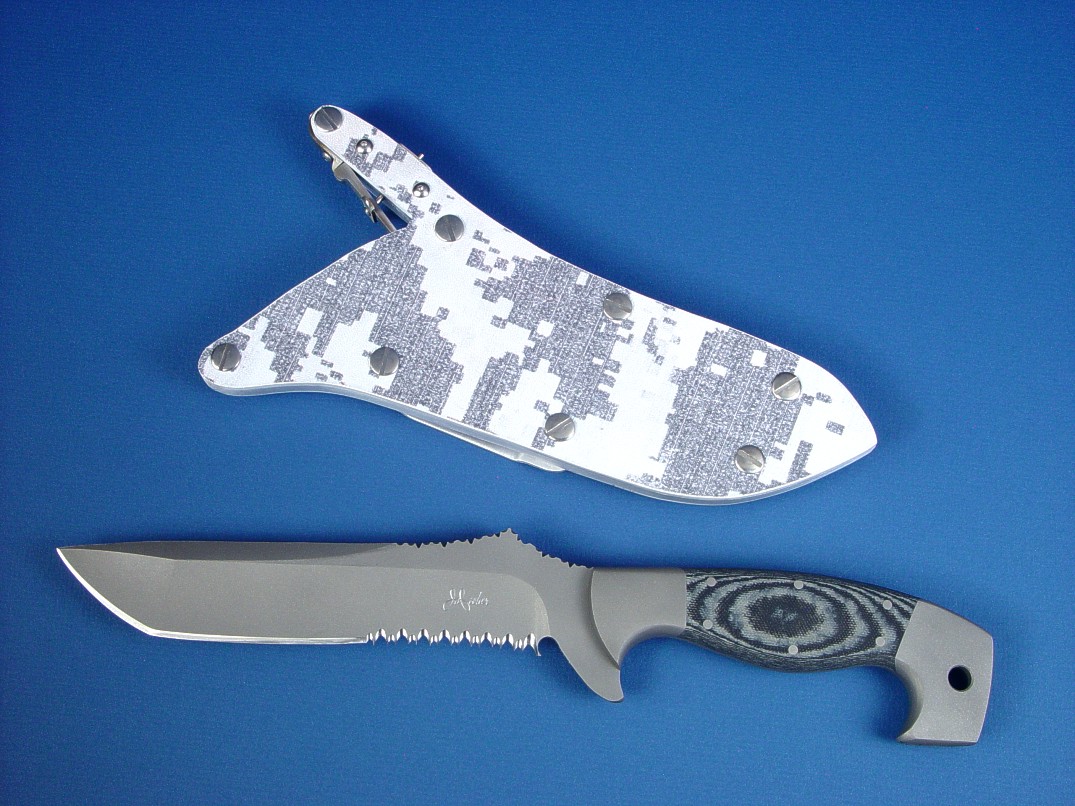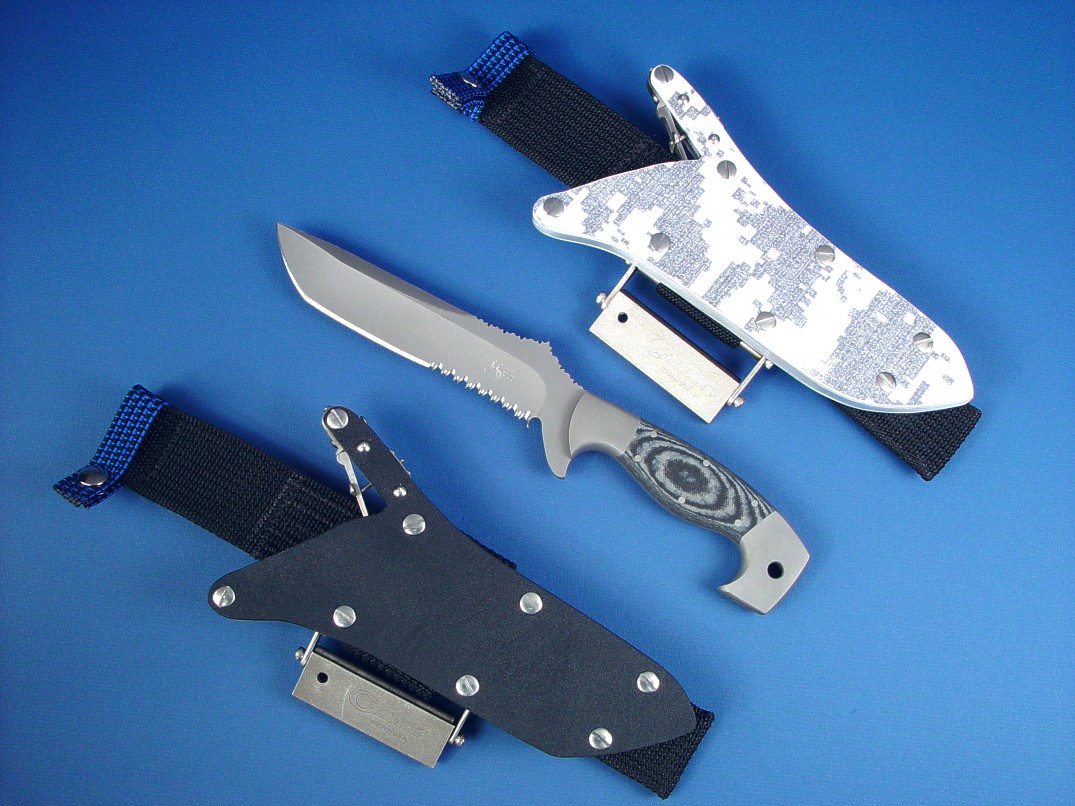 "Arctica" Tactical Combat, CSAR, Survival Knife
Size: Length overall: 12.75" (32.4 cm), Blade Length: 7.25" (18.4 cm), Thickness: .264" (6.7 mm)
Weight: Knife: 1 lb., 3.5 oz. (553 grams) Sheath (Polar digital camouflage with Extender and Accessories): 1 lb., 1 oz. (482 grams), Sheath (Black Kydex with Extender and Accessories): 1 lb., 1 oz. (482 grams)
Blade: 440C High Chromium Martensitic Stainless Tool Steel, Hardened and Tempered to Rockwell C59, Bead Blasted
Bolsters, Fittings: 304 Austenitic Stainless Steel, Bead Blasted
Handle: Gray and Black G10 Fiberglass/Epoxy Laminate Composite
Sheath 1: Locking, Polar digital camouflage Pattern Kydex, Aluminum, Stainless Steel, Polypropylene and Nylon belt loop extender with Firesteel/Magnesium fire starter, Coarse DMT diamond pad sharpener
Sheath 2: Locking, Black Kydex, Aluminum, Stainless Steel, Polypropylene and Nylon belt loop extender with Firesteel/Magnesium fire starter, Fine DMT diamond pad sharpener
Knife: Answering requests for an extreme duty professional combat, survival, search and rescue and brutally tough and durable versatile knife and sheath combination, I designed and built the Arctica. I wanted to make a knife that was suitable for the most extreme of environments and duty, a bulletproof ice-shattering design. I used as my inspiration the rigid and unyielding ice breaker squared geometries of ships that clear the arctic shipping lanes and the name of an ancient continent formed early in the earth's age in what is now the Canadian and Siberian shields. I started with a tough blade design carefully based on my proven and popular combat search and rescue PJ and PJLT tanto blades, but with some slight curves in the profile and some seriously thick blade stock. The deep hollow grinds are crisp and defined, yet I left plenty of thickness behind the single bevel cutting edge for great edge strength. The point of this knife is very strong, one of my strongest, and a two-third's length top swage helps narrow the point geometry for piercing potential. I made this Arctica in high chromium 440C martensitic stainless tool steel for super corrosion resistance so the knife can endure wet environments and hardened and tempered the knife to HRC 59 for increased wear resistance and substantial hardness. I added over 2 inches of my Vampire rip teeth serrations for tough ripping chores and a thick quillon at the forefinger to prevent the hand from moving on to the blade. The knife has a well-defined thumb rise for control, and the thick spine and fully tapered tang are fileworked with one of my heterodyne patterns, bold and striking. I wanted an extremely durable butt on this knife handle, so I only slightly tapered the tang to leave a good thickness there, and mounted a seriously stout, thick, and meaty large rear bolster in 304 stainless steel, secured with four 1/8" stainless steel zero-clearance pins. This is a rear bolster you could break ice with, and the large radius quillons can accommodate most hands wearing gloves. The bolster has a 5/16" large through-tang lanyard hole for extra security, and the front bolster is tapered and radiused for easy cleaning. The bolsters are dovetailed and bed a pair of super tough G10 fiberglass/epoxy laminate composite manmade handle scales in gray and black, mechanically secured with six 1/8" 304 stainless steel through-tang pins and bedded in waterproof compound. The handle is comfortable in a both forward and reverse grip styles; the balance point is at the junction of the front bolster and handle scale dovetail. This is one of the sturdiest, most durable knives I've ever made.
Sheaths (2!): Previewing my new Polar digital camouflage Kydex, in addition to my standard black kydex, I've made two of my fine locking, waterproof tactical models for this knife, the best tactical combat knife sheaths made anywhere. I know that this knife won't always be worn in the arctic, so I included one of my standard black kydex sheaths also. While most makers use a single thickness kydex (.060"), both of these are (.125"), twice that thick for strength, durability, stability, and longevity. The digital camouflage pattern is dye-printed into the surface of the white kydex which is hot-formed over a 5052H32 corrosion resistant, high strength aluminum welt frame, secured with solid 304 stainless steel Chicago screws and waterproof cement. The sheaths have all stainless steel locking components in 302, 304, and 316 austenitic stainless steel for low-care, high corrosion resistance, and durability while positively locking the knife in the sheath. Even the machine screws and reinforcements are stainless steel. 1.75" wide belt loops are die-formed, in high strength, corrosion resistant 5052H32 aluminum, and are reversible for versatile wear in any position. The belt loops can also be relocated at the sheath tail, for inverted wear in a variety of positions.
Accessories: I decided to go all out on these sheaths, and included two of my new survival, CSAR sheath belt loop extension accessories with new and added features and devices. The polypropylene accessory is waterproof, durable, and extremely stout, and allows the locking knife sheath to be worn in a more traditional belt position. The extension is mounted with 304 stainless steel straps and machine screws attached to the existing stainless Chicago screws, and the assembly is stiffened by multiple zigzag nylon stitching to prevent the extension from folding, bending, or collapsing when the knife is extracted from the sheath. The belt loop is over 2 inches wide for the widest of belts, and has a top placement shock cord with snap retention to prevent the knife handle from flopping around during active movements. The shock cord is not for retention of the knife; this is done with the stainless steel sheath lock. At the back of the extension I've created a custom fit pocket for a DMT (Diamond Machining Technology) Mini-Sharp diamond-nickel abrasive hone, to bring up the cutting edge in the field with ease. These are great tools that can re-sharpen or just touch up even the hardest tool steel edges, as they are surface bonded with diamond abrasives. I included a blue (coarse) grit sharpener as well as a red (fine) grit sharpener on these two extensions. The pockets for these tools are cleverly situated at the sheath back and against the body, and the sharpener can not be removed unless the sheath is off the body and the Velcro closure is open. I also added a specially modified critical survival component to this accessory: the Firesteel/Magnesium block with custom fittings. These blocks are waterproof and durable, with soft magnesium that can be easily shaved off with the knife blade, and a Firesteel striker to ignite the magnesium shavings when placed into tinder to start a fire. A unique addition to this commonly found block is the stainless steel rod guard. This minimizes the possibility of the Firesteel contacting any other metals and causing accidental sparks and ignition when worn or removed, guards the knife tip (or swage) when the blade is dragged over the Firesteel, helps concentrate and guide the spark direction, and offers a variety of mounting options, besides on the sheath extender's industrial strength Velcro straps. Being all 304 stainless steel, it will not corrode or rust. Learn much more about these critical accessories on a special page on my site. Mounting, care, and use instructions are posted there.
An extremely durable, strong, and tough knife for the most brutal of environments, with multiple accessory packages, devices, and wear options.
Thanks, P. K.!
Jay you need a section on your website that displays only "beasts" of this style. There is no way that you can accurately describe weapons of this style and be believed. Over the decades I have seen a lot of survival knives, military issue knives and knives made by self-proclaimed experts that are one time used and thrown away for all practical purposes. Your creations will last my lifetime and my heirs lifetime as well.
Thank you again!
Best always:
P.
---
---