Featured: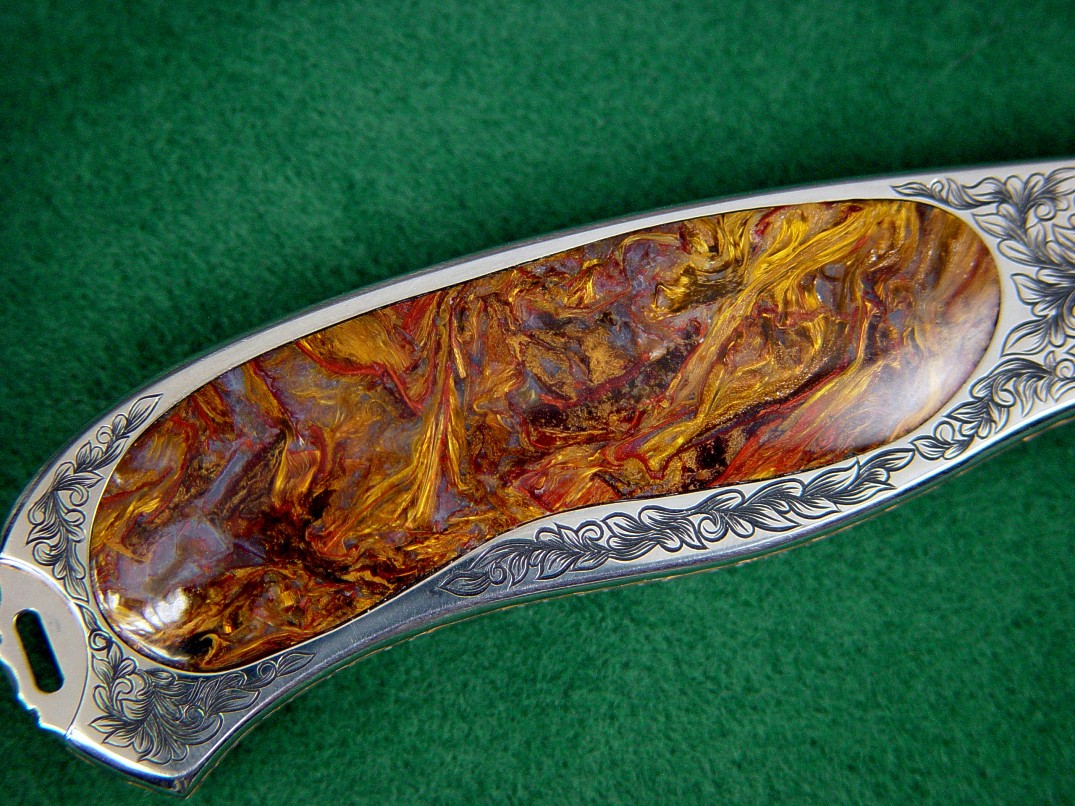 "Izar" folding knife with Pietersite gemstone handle
Just got the Izar today. Naturally, being a man of reason, I prepared a lengthy, detailed, articulate review of it. I took great care to remain particularly objective since it's the first time I've ever even seen one of your knives in person, let alone owned one. And here it is:
WOW!!!! This knife is exceptional, from the rich depth of the Pietersite agate to the impossibly intricate, near Lilliputian engraving on the liners. The sarcophagus fits and matches the knife perfectly. The level of detail, fit, and finish is truly breath-taking. If Hephaestus himself had a knife collection, there's no question in my mind that any fitting centerpiece would have to have come from you!
My only regret with the knife is that I neglected to film the reactions of the the other people who've seen it, as its already had a jaw-dropping effect on everyone.
Thank you for the opportunity to own one of your stunning knives. I look forward to adding more in the future- what kind of gentlemen would I be if I let a beauty like this get lonely? Not much of one at all, I'd reckon. :)
Thanks again!
--E.
---
A year and a half later:
The Izar folder basically lives a life of luxury and still looks brand new. I carry it whenever I get the chance to and I'm always happy to put it through its paces when a pocket knife's called for. Beyond the beauty of it, I've really grown to appreciate the weight, balance, and substance it carries. It really is functional art in every sense of the word.
--E.
---
--And three and a half years later:
The Izar folder still looks just as gorgeous as the day I got it, and there's been no dropoff in performance.
We should all age so well!
--E.
Endurance of the chef's knife or well-made kitchen knife blade is paramount. Please consider this: the chef's knife sees the longest, most active, most continuous and regular use of any knife made for individual use. There are industrial knives that don't see as much use as the common kitchen knife. The person who is an established chef, whether as a hobby, interest, or vocation will use this type of knife daily, with little exception. Imagine any other sort of tool or instrument that is used daily. Wouldn't it be built to the highest standards that the user can afford? Would not the longevity of the knife be a significant, determinant factor in the knife design, style, and purchase? Could it be that short, limited life is built into factory and manufactured knives so that future sales can continue?
Welcome! Quick Facts:
The best individual knife maker's site you will find on the Internet!
What this website is about and how to use it
First year of this site on the Internet:
1996: 26 years on the web
Number of active pages on this website:
690 pages, packed with pictures and great information!
Number of pictures and images on this website:
Now over 15,000 photos! (includes thumbnails and restricted pages)
2021's most visited pages on this site:
Knife Patterns, Ari B'Lilah, Knives for Sale, Knife Anatomy, Counterterrorism Knives, Tactical Knives for Sale, Blades, All Tactical Knives, Knife Grip Styles and Hand Sizing, Wood Knife Handles, Gemstone Handled Knives, Heat Treating and Cryogenic Processing of Knife Blade Steels, Featured Knives, Prices for Custom Knives, Folding Knives, Food Safety in Kitchen and Chef's Knives, Website Overview, Handles, Bolsters, Guards, Fittings, Knife Sheaths

Notable Milestone!

There are now over 525 individual custom knife patterns on my patterns page, the largest in history!
My first knife made in:
1979 (43 years experience)
Full time professional knifemaker since:
1988 (full time for 34 years!) This is my my real job, and my career!
Interesting thing you probably do not know about me:
I have a piece in the Tower of London, the only American who does.
Another interesting thing you probably do not know about me:
I make more real gemstone handled knives than any other single knifemaker in the world,

and in history!

Important point of sole authorship:
Every knife on this website that has only my maker's mark is made completely by me: blade, handle, sheath, stand, case, and embellishment.
Most Important Fact:
I am committed to making completely and clearly the best knives in the world. More
Critical Service:
I offer Professional Knife Consultation, in a wide variety of fields and topics.
Significant Data:
The detailed knife definitions section on my Knife Anatomy Page now has 330 specific terms!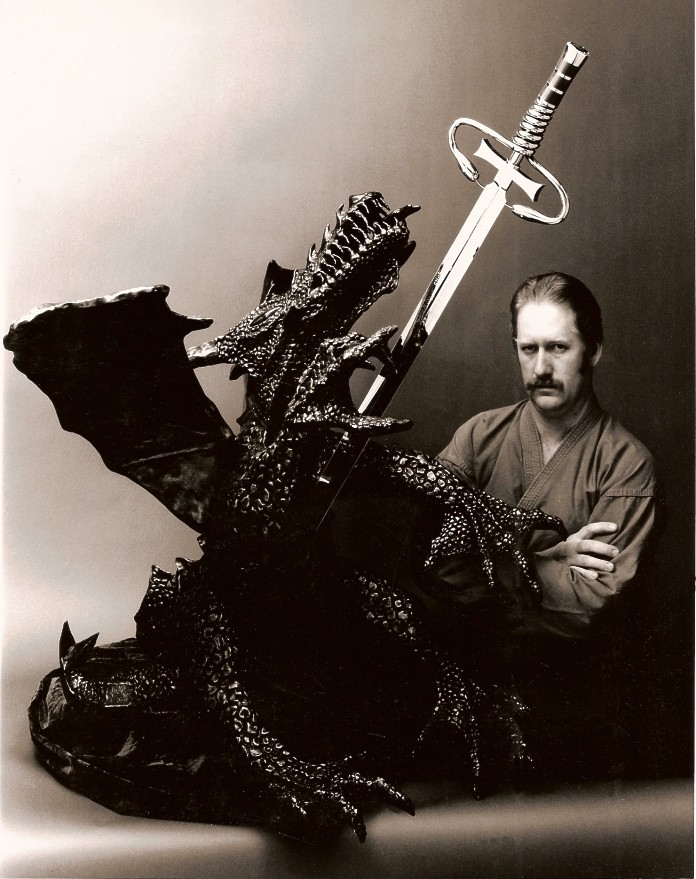 "
Dragonslayer
"
---
Tom Clancy is a name that many recognize. Tom was a friend and patron of mine, a great guy who was extremely well-versed in military history and process, and one of the greatest authors who ever lived. While the younger generation may recognize his name in the gaming and simulator field, his mastery of words, ideas, and literature was the absolute pinnacle of his genre. He wrote about many of the world's cold war and post-cold war military hardware, and I was hugely honored to have my work in his home, in his library, and as the inspiration for charitable causes. It is because of Tom that I have a piece in the Tower of London, perhaps the finest weapons museum in the world. In 1994, this is what he wrote about me and my work:
"You know, I never believed in decorous weapons until I met Jay Fisher. Where does one draw the line between a fighting knife and a work of art?
Jay Fisher is a throwback to the age when craftsmen were *all* artists, not mere producers of products, when every item that went out the door had a story and a purpose all its own, and when you went to a craftsman not because of what you wanted but because of who he was.
Jay is a guy who knows how to use the modern to serve the past. We really do make better steel today than we did a hundred years ago - the idea of cutting an ancient Samurai sword in two with a modern American knife does have its attractions - and the blend of old and new in his work is totally seamless. A knight Templar would not have hesitated a moment to take Fisher's steel on his Holy Quest. In fact, he would have thought the technological edge a gift from an especially attentive God.
I suppose that says it all. Jay Fisher is one of a kind, a man who knows the riddle of steel, and that the difference between a good weapon and a bad one is the combination of how you make it and to whom you give it."
--Tom Clancy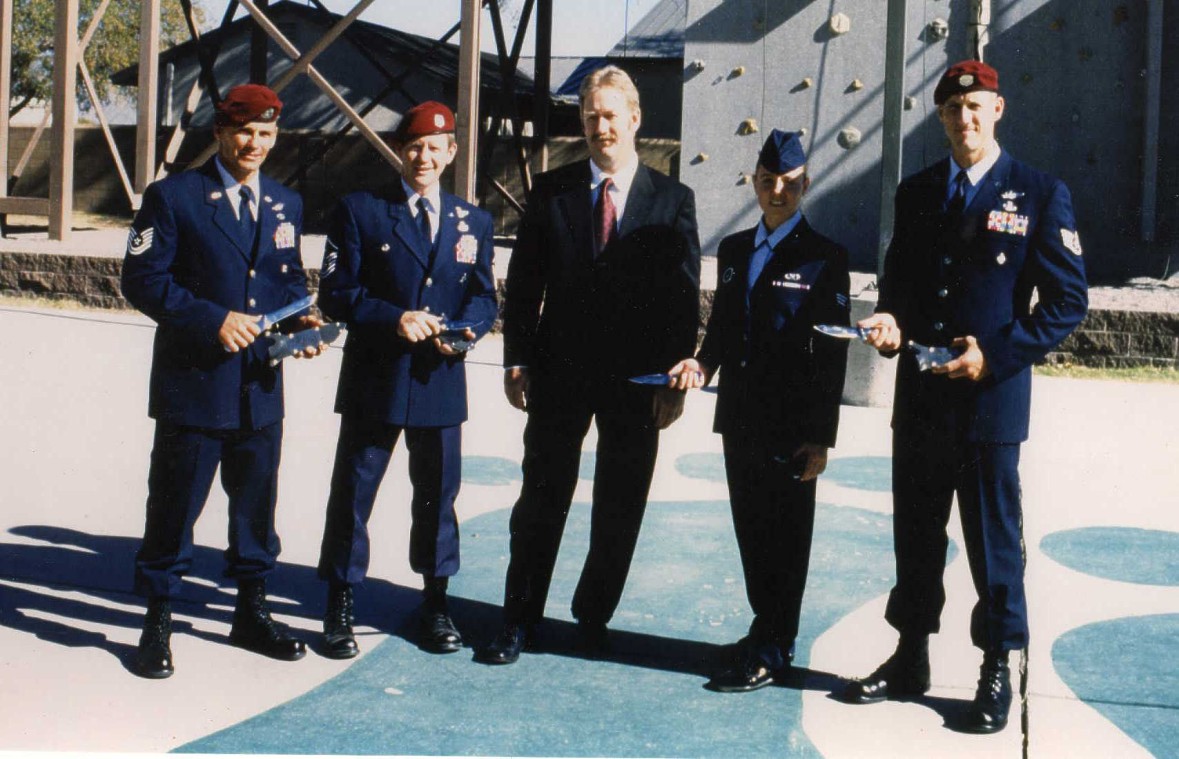 A Maker of Military Edged Weapons and Tools
"Jay Fisher is the best modern knife maker around, pursuing an ancient tradition but beautifully perfecting the craft by selecting the finest man-made and natural materials. Jay Fisher makes every type of edged steel weapon, fitting the blade to it's purpose. The world's elite clandestine rescue and tactical squads seek his weapons. Their lives depend on Jay Fisher Custom Knives- the best quality knives in the world."
--Bernardo M. Perez
Deputy Assistant Director - Ret.
FBI Laboratory
Washington, D.C.
A Fine Craftsman
Named "The Best Living Knife Maker" in the 2007 Best of the West Sourcebook by True West Publications
"Many fine knifemakers exist in the world. Some Excel at making weapons, others at creating art. At his Sharp Instinct Studio in Clovis, New Mexico, Jay Fisher does both. In the blade business since 1988, Fisher makes knives, many featuring gemstone handles, for collectors, museums and people who really know how to use 'em (101st Airborne, Special Forces, USAF Pararescue)."
--from the 2007 Best of the West magazine