Welcome to the home page of Professional Custom Knifemaker and Artist Jay Fisher
Made In The United States of America, World Class
Featured
More
about this "Izanagi" with Noreena Jasper gemstone handle
---
Excerpt:
The neat thing about how we are made is that God made each one of us entirely different. No one has seen the same thing, experienced the same thing, or has the same ideas. I don't believe He wants us to simply copy each other blindly; I believe He wants us to grow and flourish individually, on our own path. We have unique experiences with unique clients and patrons as well; this is not simply chance, but intention by forces greater than we can know. I do believe we are here for a reason, and whether that reason is to inspire, direct, or develop, these are certainties we all share. In having this relatively short gift of life, I believe we are expected to grow and contribute using our own unique being and connections as a guide. We are fortunate indeed, to be alive in a time when all of this is possible.
--from my "Knife Styles" Page
Welcome! Quick Facts:
The best individual knife maker's site you will find on the Internet!
What this website is about and how to use it
First year of this site on the Internet:
1996: 20 years on the web
Number of active pages on this website:
555 pages, packed with pictures and great information
Number of pictures and images on this website:
Now over 15,000 photos! (includes thumbnails and restricted pages)
May 2016's most visited pages on this site:
Knife Patterns, Knife Anatomy, Knives for Sale, Blades, Wood Knife Handles, Tactical Knives for Sale, Grip Styles and Hand Sizing, Featured Knives, Counterterrorism Knives, Knife Prices, Knife Handles, Bolsters, Guards, and Fittings, Manmade Knife Handle Materials, 440C Love/Hate, Folding Knives, Heat Treating and Cryogenic Processing of Knife Blade Steels
My first knife made in:
1979 (37 years experience)
Full time professional knifemaker since:
1988 (full time for 28 years) This is my real job!
Top May 2016 search terms that led you here:
knife designs, Jay Fisher knives, karambit, Jay Fisher, Jay Fisher knives for sale, knife templates, parts of a knife, knife parts names, knife patterns, knife design, knife holds, heat treating 440C, how do I get started as a knifemaker, technical hunting knife drawings
Interesting term used to access the site 44 times in May:
"usaf pararescue pjfz" Someone's very interested in my "USAF Pararescue FZ!"
Most interesting thing you probably do not know about me:
I have a piece in the Tower of London
Another interesting thing you probably do not know about me:
I make more real gemstone handled knives than any other single knifemaker in the world
Another interesting thing you probably do not know about me:
I'm a writer! Completed one novel, writing another, and writing a book on the modern knifemaker. Check it out here!
Important point (sole authorship):
Every knife on this website that has only my maker's mark is made completely by me: blade, handle, sheath, stand, case, and embellishment.
Most Important Fact:
I am committed to making completely and clearly the best knives in the world. More
Significant Data:
The detailed knife definitions section on my Knife Anatomy Page now has 300 specific terms!
I am committed to making completely and clearly the best knives in the world.
--Jay Fisher
---
---
Who is Jay Fisher?
My Bio and Background Here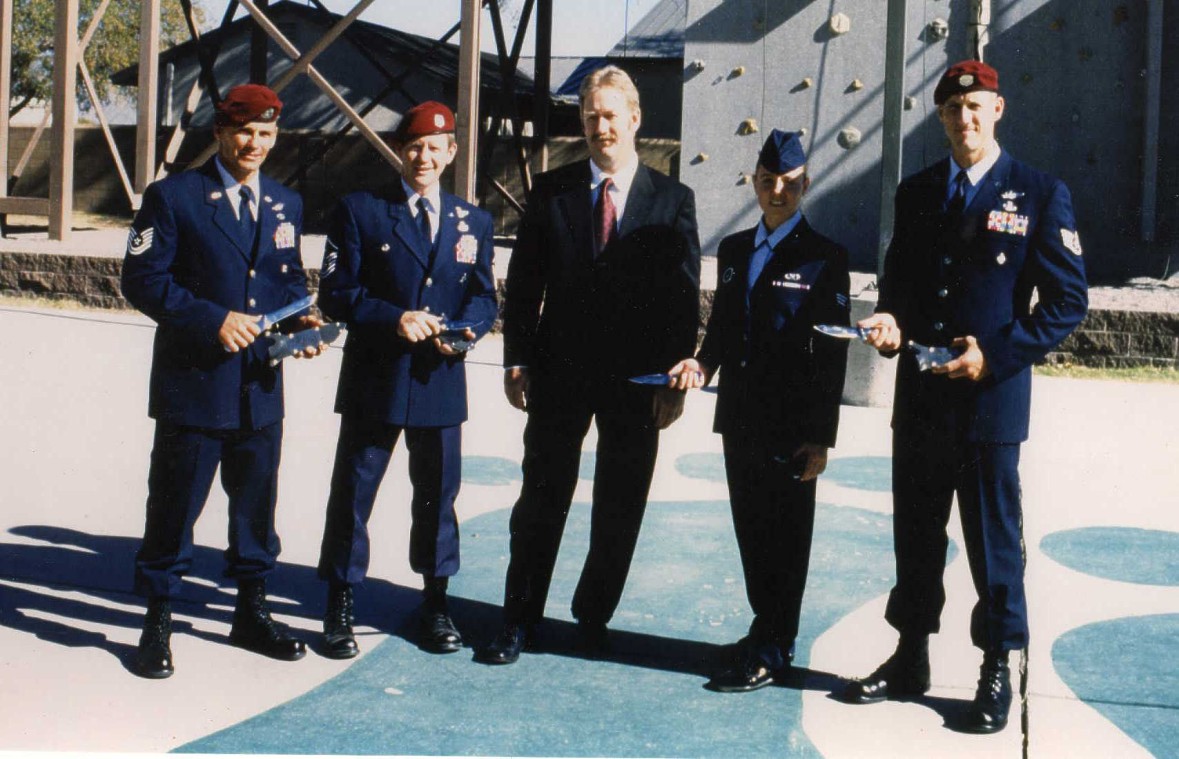 A Maker of Military Edged Weapons and Tools
"Jay Fisher is the best modern knife maker around, pursuing an ancient tradition but beautifully perfecting the craft by selecting the finest man-made and natural materials. Jay Fisher makes every type of edged steel weapon, fitting the blade to it's purpose. The world's elite clandestine rescue and tactical squads seek his weapons. Their lives depend on Jay Fisher Custom Knives- the best quality knives in the world."
--Bernardo M. Perez
Deputy Assistant Director - Ret.
FBI Laboratory
Washington, D.C.
---
A Fine Craftsman
Named "The Best Living Knife Maker" in the 2007 Best of the West Sourcebook by True West Publications
"Many fine knifemakers exist in the world. Some Excel at making weapons, others at creating art. At his Enchanted Spirits Studio in Clovis, New Mexico, Jay Fisher does both. In the blade business since 1988, Fisher makes knives, many featuring gemstone handles, for collectors, museums and people who really know how to use 'em (101st Airborne, Special Forces, USAF Pararescue)."
--from the 2007 Best of the West magazine
---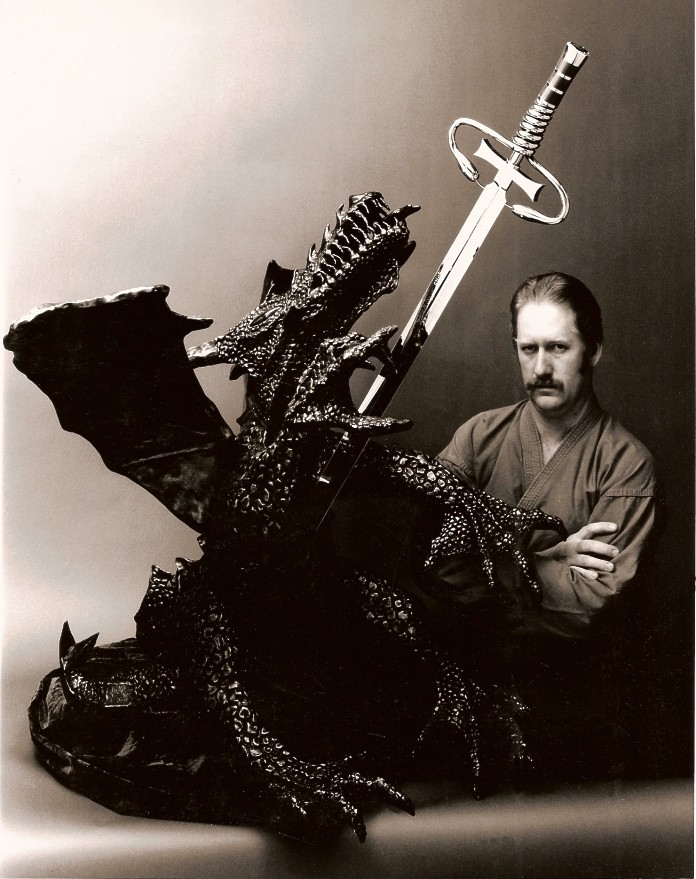 The worldwide best-selling author Tom Clancy says:
"You know, I never believed in decorous weapons until I met Jay Fisher. Where does one draw the line between a fighting knife and a work of art?
Jay Fisher is a throwback to the age when craftsmen were *all* artists, not mere producers of products, when every item that went out the door had a story and a purpose all its own, and when you went to a craftsman not because of what you wanted but because of who he was.
Jay is a guy who knows how to use the modern to serve the past. We really do make better steel today than we did a hundred years ago - the idea of cutting an ancient Samurai sword in two with a modern American knife does have its attractions - and the blend of old and new in his work is totally seamless. A knight Templar would not have hesitated a moment to take Fisher's steel on his Holy Quest. In fact, he would have thought the technological edge a gift from an especially attentive God.
I suppose that says it all. Jay Fisher is one of a kind, a man who knows the riddle of steel, and that the difference between a good weapon and a bad one is the combination of how you make it and to whom you give it."
--Tom Clancy
---
---