Macha EL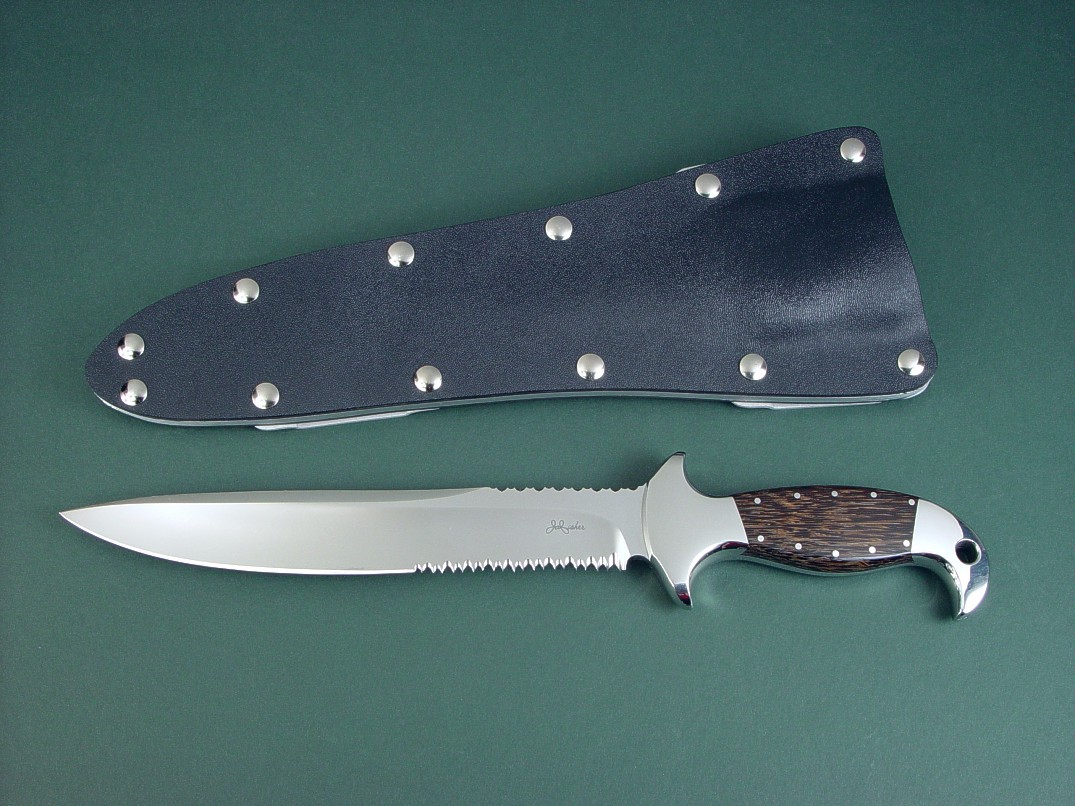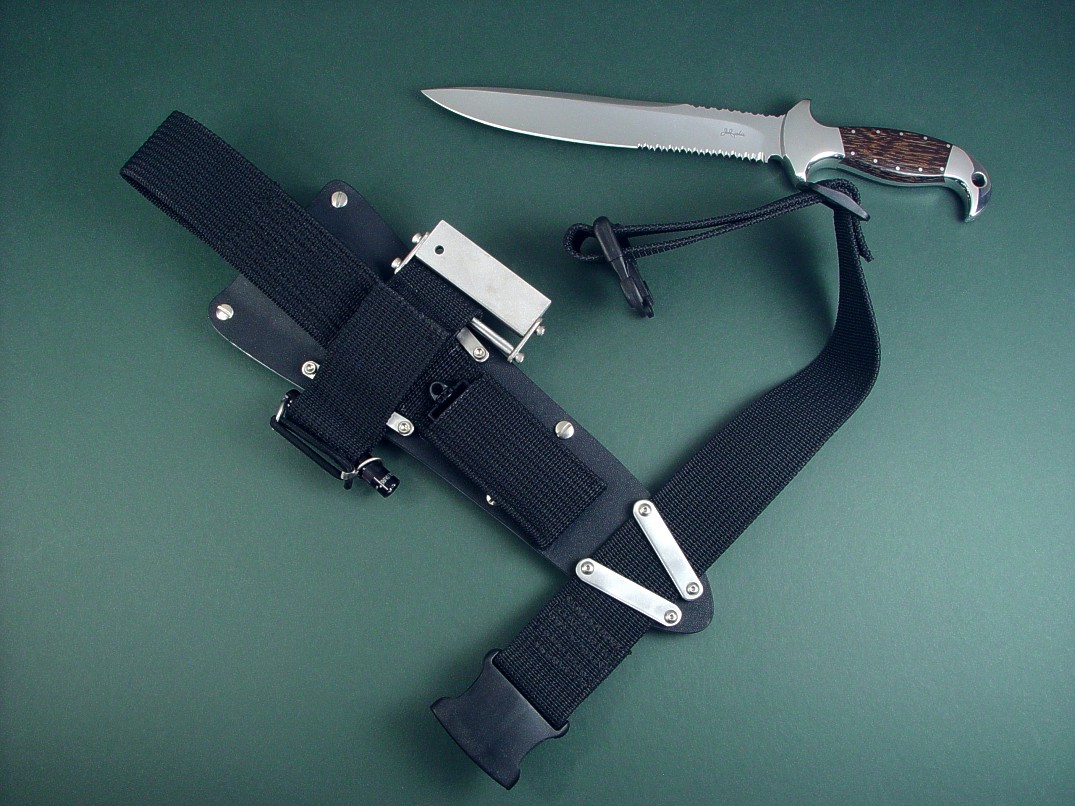 "Macha EL" Tactical, Combat, Survival Knife
Size: Length overall: 14.0" (35.6 cm), Blade Length: 9.0" (22.9 cm), Thickness: .243" (6.2 mm)
Weight: Knife: 1 lb. 2 oz. (510 grams) Sheath (with extender and accessories): 1 lb., 14 oz. (851 grams)
Blade: 440C High Chromium Martensitic Stainless Tool Steel, Hardened and Tempered to Rockwell C59, Mirror Polished
Bolsters, Fittings: 304 Austenitic Stainless Steel, Mirror Polished
Handle: Black Palm Wood Hardwood
Sheath: Locking, Black Kydex, Aluminum, Stainless Steel, Polypropylene and Nylon belt loop extender with Firesteel/Magnesium fire starter, coarse DMT diamond pad sharpener, Maglite Solitaire Flashlight, Thigh Belt retention
Knife: "Macha" (pronounced mak-kha) is named for the Celtic goddess of war. The original Macha is a design made for tactical combat, specifically for a PSD (Principle Security Detail) knife used in OIF. This is one of my very special Machas, one suited for tactical and survival use in the most demanding of environments, from marine salt water to jungles, from heavy forests to desert sands. It has a magnificent large and substantial blade, made to extra length (EL), a super strong blade that will withstand the elements, pull duty as a survival tool and ultimately, perform as a superior defensive tactical weapon. I made the blade in 440C high chromium martensitic tool steel and mirror polished it for the ultimate in high corrosion resistance. With this finish, this is as corrosion resistant as knife blade steels come, and I hardened and tempered the blade to a hard and durable 59HRC, which elevates the surface to an even higher corrosion resistance as well as superior toughness and excellent wear resistance. The blade has Macha's elegant and serious point and belly geometry, and the extended length allows for a 6.5" long top swage to reduce point profile, and 3 inches of my extremely aggressive Vampire rip tooth serrations, much longer than most of my blades. The blade has a deep choil and bold and spicy spine filework to help grip security and add a modern touch of classy hand-crafted flair. The shape features a full, wide bolster-guard geometry to secure and protect the hand extremely well. The large bolsters are mounted with multiple zero-clearance peened pins and are contoured and polished throughout. They are made of high nickel, high chromium austenitic 304 stainless steel for absolutely zero-care, and the ultimate in corrosion resistance. This is the same tough and hard stainless steel used to make stainless steel bolts, screws and high-tension fasteners. The rear bolster has a large and substantial hawk's bill quillon to make the knife easy to unsheathe, comfortable and solid, locking into the hand while adding a 5/16" through-tang chamfered and contoured lanyard hole for extra security if needed. The bolsters are dovetailed and bed a pair of rich, dark, Black Palm Wood hardwood handle scales which are smooth and polished, secured with ten through-tang stainless steel pins for high strength and durability. The Black Palm is the only palm wood that is hard and tough enough for a knife handle; it is dense, solid, and very strong with rich translucency and hints of orange in bright sunlight. The knife is serious, stout, and massive in the hand, with the balance point at the peak width of the bolster-guard, and feels great in either forward or reverse grip styles.
Sheath: The sheath is a professional assembly of the highest quality and durability, and an example of why I'm committed to making the finest combat tactical, and rescue knives and sheaths on the planet. It starts with double thickness (.125") kydex hot-formed over a 5052H32 high strength, corrosion resistant aluminum alloy welt frame, secured with 304 stainless steel Chicago screws for the ultimate in durability and corrosion resistance. The sheath is one of my proven waterproof models, with all stainless steel fasteners and components for the ultimate in reliability. The sheath includes die-formed, high alloy aluminum belt loops (top photo) that can be located in ten individual positions at both sides of the sheath and all along the welt frame, and are reversible for a variety of wear options. I've included two pairs for a custom and variable wear arrangement through a variety of strap and belt options when not using the belt loop extender.
Accessories: This knife and sheath include one of my great survival, combat, and CSAR sheath belt loop extension accessories with very nice custom features and devices. The polypropylene accessory is waterproof, durable, and extremely stout, and allows the knife sheath to be worn in a more traditional, lower position with the handle below the belt line (see photos below). On longer knives, this can be critical, as unsheathing a long bladed knife that is mounted high can be uncomfortable and awkward, and can interfere with other gear you may have mounted in Tac vests, body armor, on PALS webbing, and the belt. Wearing the knife in a lower position also frees up critical real estate in this area. The extension is mounted with 304 stainless steel straps and machine screws attached to the existing stainless steel Chicago screws, and the assembly is stiffened by multiple triple zigzag nylon stitching to prevent the extension from folding, bending, or collapsing when the knife is extracted from the sheath. The belt loop is three inches wide for the widest of belts, and since the sheath is a deep, tension fit model, it does not flop around. At the back of the extension I've created a custom fit pocket for a DMT (Diamond Machining Technology) Mini-Sharp diamond-nickel abrasive hone, to bring up the cutting edge in the field with ease. These are great tools that can re-sharpen or just touch up even the hardest tool steel edges, even on this high chromium carbide tool steel, as they are surface bonded with diamond abrasives. I included a black (coarse) grit sharpener on this extension and other grits are available. The pocket for this tool is cleverly situated at the sheath back and against the body, and the sharpener can not be removed unless the sheath is off the body and the Velcro closure is open. The sharpener will be there when you need it. I also added a specially modified critical survival component to this accessory: the Firesteel/Magnesium block with custom stainless steel fittings. The block is waterproof and durable, with soft magnesium that can be easily shaved off with the knife blade, and a Firesteel striker used to ignite the magnesium shavings when placed into tinder to start a fire. A unique addition to this commonly found block is the stainless steel rod guard. This minimizes the possibility of the Firesteel contacting any other metals and causing accidental sparks and ignition when the accessory is worn or removed, guards the knife tip (or swage) when the blade is dragged over the Firesteel, helps concentrate and guide the spark direction, and offers a variety of mounting options, besides on the sheath extender's industrial strength Velcro straps. Being all 304 stainless steel, it will not corrode or rust. The 304 stainless steel is extremely tough; the firestarter will be there for you when you need it. I've also included a Maglite® Solitaire, a small and durable flashlight that is waterproof, with o-ring seals and made of black anodized machined aluminum. I custom-make a stainless steel retention ring mount for locking the light in its dedicated sleeve for security yet "up front" access in the package. The ring design is extremely secure and the mount to the extender is solid. You will not lose this flashlight to a drop, bump, or tumble. This long knife sheath also includes a very heavy duty thigh belt that is secured to the sheath with all stainless steel fasteners and link bars, counter-bored and with rounded heads that won't dig into the thigh. This belt will not move on the sheath, and the quick-release buckle is up front, away from brush and obstacles the owner may encounter, and is adjustable and easily released without changing the length adjustment. There are much more to these accessories; learn about these critical accessories on a special page on my site at this link. Mounting, care, and use instructions are posted there.
Special note: Please examine the details in the annotated photos below; there are plenty of features and details in this package.
This is a magnificent professional tool, weapon, and adjunct ready for heavy work in any environment.
Thanks, G.L.!
---
First and foremost, I am absolutely delighted with the Macha EL !! While indeed gargantuan in proportions, its lines, curves, and finish nonetheless convey (to me) a certain feeling of elegance and sophistication. Putting aside the sheath & accoutrements for a moment (which betray its true purpose), the knife itself is the sort of implement I might expect a proper English gentleman to carry while strolling through dangerous or uncertain environs. And, though I'm sure some hardcore warrior types may deem it incongruously decorous, I really love the file-work on this knife, as well as the mirror finish. The leg-strap at the base of the sheath was an excellent addition as well. And, as with the Imamu, the light, Mg firestarter, and honing device are invaluable additions.
The balance is excellent, the knife feels very light & maneuverable in the hand, despite its size, and the handle & quillon accommodate my hand-grip comfortably & securely. It really doesn't "feel" as though it weighs 18 ozs. I find the contrast between the design of this knife and the Imamu interesting - while both are designed for similar purposes, many aspects of their styles are radically different, almost at opposite ends of the spectrum. Certainly, both rate highly on the "intimidation scale" - believe me, I'm counting on this benefit in the interim until I can become properly trained in the defensive use of knives during an assault. The only thing that would save my bacon right now would be for a potential assailant to flee at the first sight of one of these knives (and with the presumption that he is not armed with a firearm - can't do much worse than to bring a knife to a gunfight, unless you're Bruce Lee or Chuck Norris.)
--G. L.
---
---