Welcome 27th Air Force Special Operations Command!
Welcome, 19th SOS!
(previously the 16th Special Operations Wing)
Welcome USAF 27th Special Operations Wing from Hurlburt Field Florida to Cannon AFB in Clovis, New Mexico!
The new wing has now been re-designated as the 27th Special Operations Wing, to honor the history of the 27th here at Cannon Air Force Base, when it was a fighter wing. I'm glad to also hear that there will be a special tactics squadron of foreword combat controllers assigned to the base. There is even a mention of a "terror-rescue" airmen group... could this be Pararescuemen, our nations top military rescue service? Rumor has it that the PJs will indeed be arriving here, which is fantastic news! For those new arrivals, welcome to our modest town in Eastern New Mexico. We are proud to have some of our military's finest professionals relocating to our community in the coming years. Cannon Air Force Base has been a focal point of our area, and it is the reason that my family located here. My father was with the 2040th Communications Squadron from 1954-1964, and when he was stationed at Cannon, our family found it so pleasant and comfortable, they decided to stay. A lot of Air Force families have settled here. I grew up in Clovis, in the shadow of Cannon AFB, hearing the jet engine "sounds of freedom" and having friends from all over the world via the United States Air Force. With the honor of having a close affiliation with USAF Pararescue professionals, and making knives and friendships with Special Forces, Combat Controllers, Special Operations, Special Forces, Army, Marines, and all sorts of professional law enforcement, SWAT, EOD, Emergency Response, and other types of defenders of freedom, I am excited about having the 27th SOW coming here! Whether your stationed or TDY at Cannon, you'll be seven miles from some of the finest military combat professional knives on earth, knives for special ops, combat controllers, pararescuemen, aircrews, airmen, and any other CSAR, CQB, SERE, or rescue professionals. These are some of the best professional knives made on earth. My knives have a proven record in combat and rescue operations, and I'm proud to serve military needs.
These are not factory junk knives or knives with a tactical look. These are real tactical and combat knives that are designed by combat and rescue professionals for serious military use. I invite military professionals into my shop to design their dream knife, the way it needs to be made, with the finest materials and construction available. I also make all the fittings, sheaths, and accessories you could possibly want for your primary edged weapons. Please come to the studio to swap stories, have a cup of coffee, browse knives and patterns, or design your very own ultimate primary edged weapon. See a tremendous amount of my military knives through the tactical, military, combat, and professional knife portal on this website here.
Links to sites of interest:
Welcome to 34°23′54″N, 103°19′40″W
Here are some clips and information about the Cannon assignment:
16th Special Operations Wing [Now the 27th]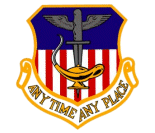 The 16th Special Operations Wing consists of approximately 7,000 highly trained military professionals who stand ready to conduct special operations missions at a moment's notice. The wing is the largest Air Force unit assigned to the U.S. Special Operations Command, a command responsible for conducting special operations worldwide.
The 16th SOW specializes in unconventional warfare. At the direction of the National Command Authorities, the 16th SOW goes into action with specially trained and equipped forces from each service working as a team to support national security objectives. Special operations are often undertaken in enemy-controlled or politically-sensitive areas and can cover a myriad of activities.
The 16th SOW's motto is, "Any Time, Any Place." The wing stands ready to go worldwide to conduct unconventional warfare, counterinsurgency, or psychological operations. Through special operations, the United States is able to protect its interests in low-intensity conflicts throughout the world.
The 16th Special Operations Wing at Hurlburt is the oldest, largest and most seasoned unit in AFSOC.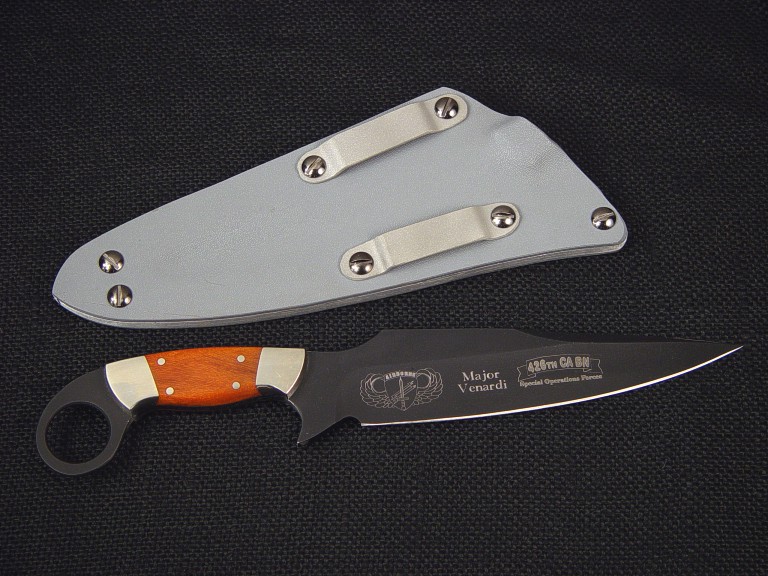 Featured: "Special Operations Forces Bulldog"
The Bulldog is a well though out, serious combat knife. The knife is made to be pulled out of the sheath with the free hand, immediately and quickly by the finger ring, which is secured by the index finger. The long, sharp, stout blade is instantly in the combat defensive position, and any enemy behind or beside is vulnerable to its spear point razor keen edge, and with seven inches of blade length, the point has lethal reach. The spine top has a half length swage to decrease point profile without sacrificing strength. The meaty thickness of the spine not only supports the hollow ground blade, it offers protection at the forearm. The deeply ground and sculpted front quillon and handle belly assures excellent grip security. This particular model is O-1 high carbon tungsten-vanadium oil hardening tool steel and is custom engraved (many field models also have a mirror finish). The bolsters are corrosion resistant nickel silver, and are dovetailed to hold a beautiful pinned handle of Australian Blackwood exotic hardwood. The sheath is one of my fine combat tactical models, with double thickness gray kydex sides and a corrosion resistant aluminum welt frame secured with steel Chicago screws. See more of my fine tactical combat model knives by going through my military, combat, tactical knife portal here
Cannon AFB to make change to special ops mission
by AFSOC Staff Report
6/21/2006 - AFSOC NEWS SERVICE, HURLBURT FIELD, FLA. -- The Department of Defense announced Tuesday that Air Force Special Operations Command will accept ownership of Cannon Air Force Base and Melrose Range in New Mexico beginning in October. The announcement comes after months of studies to find a suitable location for AFSOC operations to expand toward the west coast.
As part of the expansion, the 16th Special Operations Wing at Hurlburt Field will move to Cannon AFB and the 1st SOW will stand up at Hurlburt Field. The AFSOC expansion to Cannon offers special operators a western U.S. base to enhance support for its operations in the pacific theater. Additionally, the Melrose Range and the surrounding region open up new and unrestricted training opportunities AFSOC does not currently experience, to include joint and composite training with other services and nations, as well as mission training opportunities.
Initially, the 16th SOW will partition its assets to support the mission at Cannon. During the next few years, AFSOC will experience some growth as a result of the increased special operations mission as outlined in the Quadrennial Defense Review. The growth in weapons systems and people will be divided between the two bases. New airframes, to include the CV-22 Osprey and light support aircraft, will be assigned to Hurlburt as well as Cannon. Along with the aircraft, some jobs will transfer to Cannon AFB.
The expansion of the AFSOC mission to Cannon AFB will take the base off of the Base Realignment and Closure List. Cannon AFB was targeted for closure in the latest round of Base Realignment and Closure recommendations. Under BRAC, the 27th Fighter at Cannon will begin drawing down in spring of 2007.
16th Special Operations Squadron "pectre" 16 SOW, Hurlburt Field, FL; flies the AC-130H gunship. Unique equipment on this highly modified C-130 enables the crew to provide surgically accurate firepower in support of both conventional and unconventional forces, day or night. Primary missions include close air support, armed reconnaissance and interdiction. The weapon system can also perform perimeter defense, forward air control, surveillance, command and control, and overland or water escort.
Flying Low
The United States is able to best enemy forces by making extensive tactical use of night vision gear. But before you can fight at night you need to get on the ground without announcing your arrival. AFSOC's airborne capabilities are provided by the 16th Special Operations Wing, which is based at Hurlburt Field in the United States, and by Special Operations Groups at RAF Mildenhall, England, and Kadena Air Base, Japan. Arriving at the 16th Wing's 20th Special Operations Squadron (SOS), we climb into the front of one of the MH-53M Pave Low helicopters for a briefing on the platform's capabilities. "It's the most sophisticated helicopter in the world," Capt. Rob says. "We can put this thing low and jerk it around pretty good. That's what's unique about our mission. The fighter guys have to worry about threats but they don't have to deal with the stress of possibly killing themselves. We go out at night at 50 ft. or lower, on a black night, with night vision goggles, and it's a daily worry about whether or not you're going to fly into a small house or a small tower. With terrain-following [and] terrain-avoidance radar, in really bad weather, I have to climb up to 100 ft. And then it's the system that's giving us our cues. But if you can actually see out there with the goggles you can put this thing really low and make some pretty tight turns."
The squadron is in the process of converting most of its fleet of MH-53 "J" Models to the latest "M" designator. However, current plans have the squadron replacing some of these helicopters with the Air Force Special Operations tilt-rotor CV-22. Air Force planners project initial operational capability for the first six CV-22s at Hurlburt Field sometime in 2008.
Spooky And Spectre
AFSOC's most fearsome weapons are its massive gunships, which are derived from C-130 transports. The Wing's 8th and 15th SOSes respectively fly the MC-130E and MC-130H Combat Talon and Combat Talon II. In addition to providing global, adverse-weather capability, day and night, Combat Talons can deliver the 15,000-pound Daisy Cutters that proved so deadly in Afghanistan.
Slightly more precise but equally devastating firepower is delivered by the 16th Wing's AC-130 gunships. The Wing has two models: the AC-130H "Spectre" flown by the 16th SOS and the AC-130U "Spooky" flown by the 4th SOS. With a sobering array of direct-fire weapons protruding from their left side, the gunships circle a target area, delivering overwhelming amounts of fire with television-targeted and computer-guided accuracy. On board one of the 4th SOS's "U" models, we notice that this newer version differs from the "H" model in being pressurized and in supplementing the earlier configuration's 105mm howitzer and 40mm cannon with an additional five-barrel 25mm Gatling gun. The weapon combination represents a mind-numbing lethality.
Rounding out the AFSOC air assets are the MC-130P Combat Shadow and the EC-130 Commando Solo. The Combat Shadow penetrates hostile lines to provide midair refueling for special operations helicopters, while the Commando Solo provides a sky-based radio and television station for psychological operations and civil affairs messages.
As the inside story of the war in Afghanistan begins to unfold in the months ahead, AFSOC will undoubtedly emerge as a pivotal reason for the United States' success. The array of advanced weapons that ST teams bring to the battlefield are only part of the story. The extraordinary men, distinguished by both their skill and their attitude, are the backbone of this unique force. "They're really just ordinary people," says AFSOC's Command Chief Master Sergeant Bob Martens, "but they're doing extraordinary things, day in and day out."
---