Fine Handmade and Custom Folding Knives
Folding Knives
While most of my knives are fixed blade, I also make folding knives. Also called folders, pocket knives, liner locks, lock backs, clip knives and other names, folding knives are simply knives with blades that pivot into the handle. Knives that have blades that slide, clip, or mount to the handle in other ways are excluded here.
Folding knives are great investment pieces. Some of the most elaborate embellishment, finest finishes and superior materials may be used on folding knives. While some of my folders are meant to be used, many are investment pieces for collectors. Some collectors are interested in only folding knives, just as there are collectors interested only in fixed blade knives. Most collectors like both types.
In the past, I've used various mechanisms for the folding knives, including lock backs, pin locks, and non-locking blades. Lately, most of the folding knives I make are liner locks. This is the most durable type of locking mechanism on most folding knives today.
---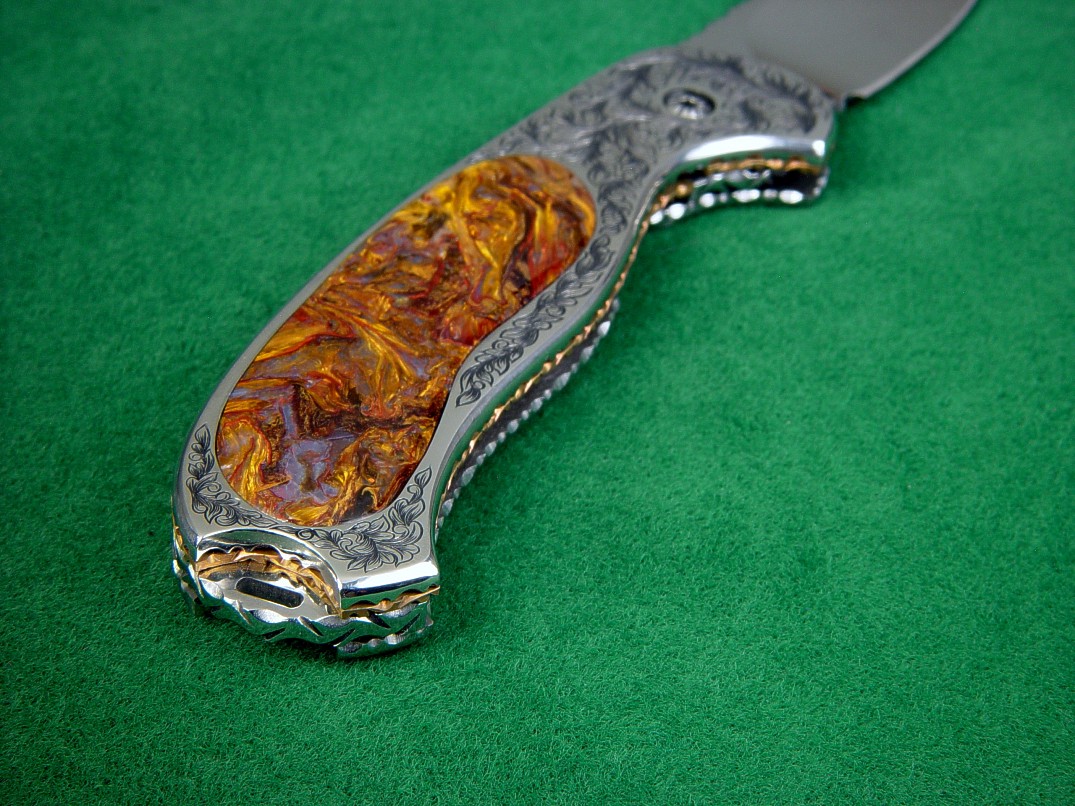 Links to Individual Folding Knife Pages:
---
---
It takes many steps to make a folding knife. Though many makers may purchase individual parts and components like thumb studs, pivot assemblies, and even blades and liners (in kit form), I make each component by hand, except the machine screws. Once in a while, I make custom machine screws for the folders too! You can see from the photographs below that folding knives are assemblages of many small parts, which have to be made, fitted, and then tuned to each other. Embellishment may take place before, during, and after fitting, depending on the project. Heat treating the components must also take place in a specific order of creation, as does the embellishment.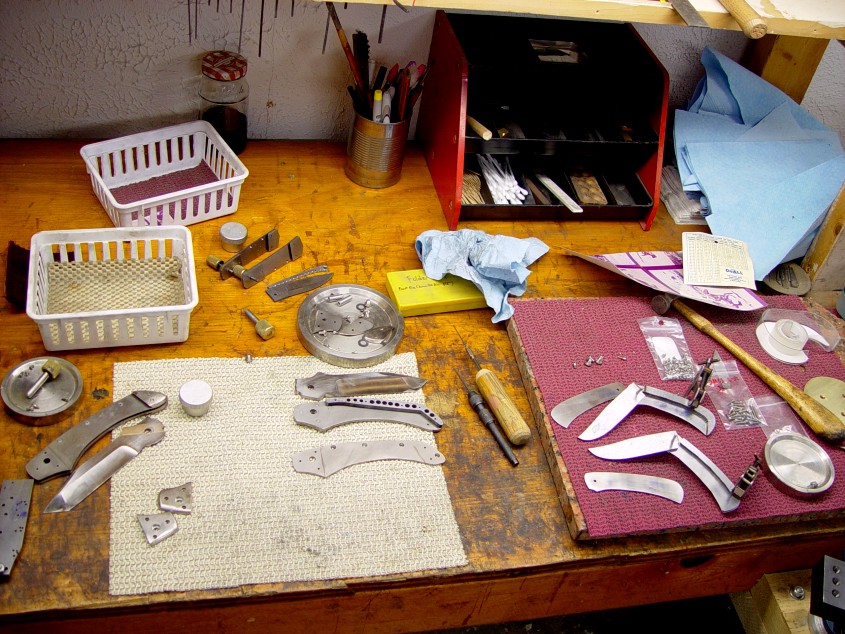 For years, I made a lock-back style of knife, and unfortunately, was not taking many photos of the knives at the time. So there are some of them out there but few pictures on this site. My lock-back folders usually have hardened, close-tolerance machined components, bushings, ball bearings, slides, and locks mostly made of stainless steel. Some also feature adjustable spring tension, adjustable lock tension, and replaceable springs. "Piñon" below is an example of a lock back.
Now I make mostly liner lock folding knives and have a quite few in production at any given time, so be sure to check back here, on the Featured Knives Page, and on my Current Knives For Sale Page.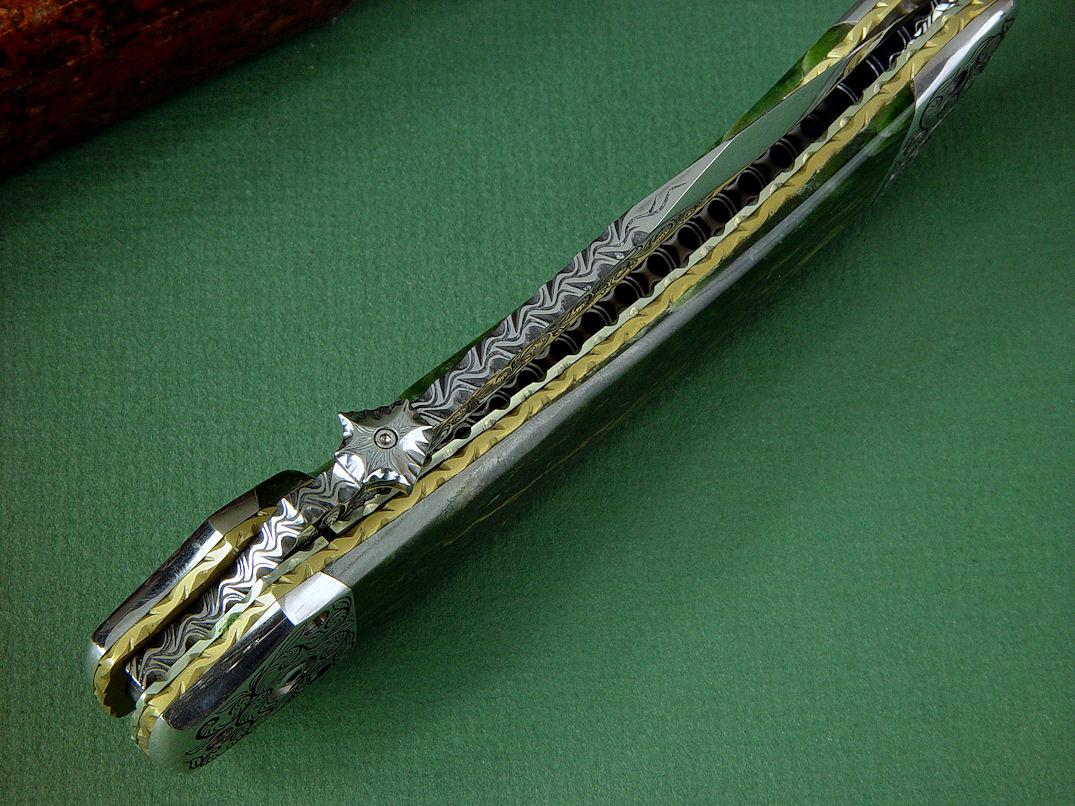 Jay, You have taken my breath away! They are absolutely beautiful, in fact I am lost for words, I am just sitting here with a stupid grin on my face, never in my wildest dreams could I have imagined such beautiful knives. The display stand is a masterpiece of functionality and elegance, Can't wait to get my hands on them!!!!!!
Thank you so very much, D. A.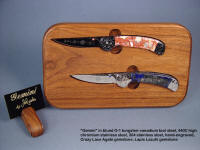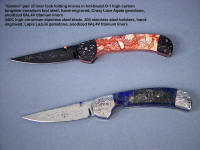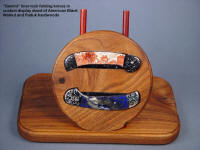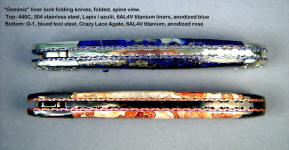 ---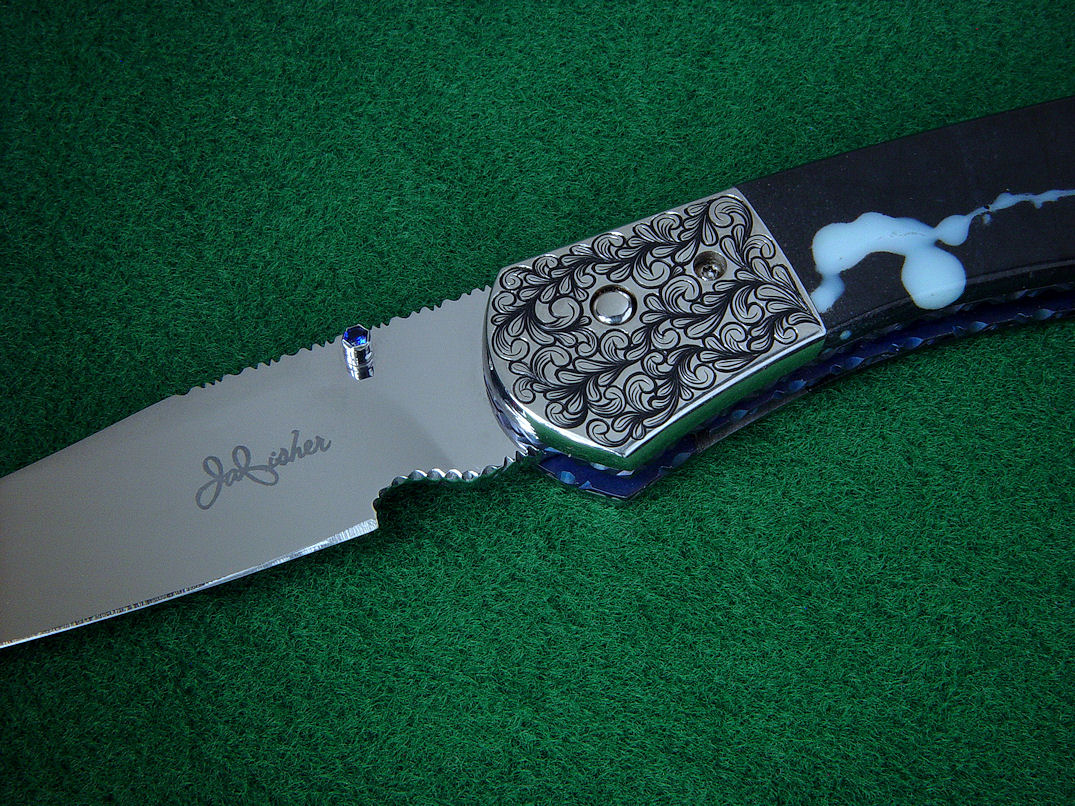 ---
Blade steels for my folders are the same wide variety as for the fixed blade knives. 440C is my most popular steel because it can be beautifully mirror finished, has very high corrosion resistance, and great longevity in a collection or for a working knife. When extra toughness (resistance to breakage) is required, I might opt for ATS-34 or CPM154CM. For high edge wear resistance, I'll use CPMS30V, CPMS90V, or D2. If a blade is to be blued, I'll use O-1 high carbon tungsten-vanadium tool steel. I also use a variety of pattern welded stainless steel damascus blade material.
Bolsters may be a wide range of materials. My favorite, as always, is 304 high chromium, high nickel austenitic stainless steel, chosen for its extremely high corrosion resistance, toughness, and longevity. I also use and have used carbon steel, nickel silver, mokume gane (diffusion welded and forged nickel silver, copper, and brass) and stainless pattern welded damascus.
Handle scale choices are not as wide ranging as on a fixed blade knife. Most hardwoods will work well, but gemstone choices are limited by the overall strength of the gem material, and the method used to mount the scales. If scales are to be mounted with screws, only very hard and tough gemstones can bear the point contact pressure of machine screws. Gems like agate, jasper, and jade are the best choices for this type of mount. If the handle scales are inlaid in metal (see Izar below and at the link box), then the choices are much wider, as the gemstone floats, bedded in a supporting liner of steel. Horn, bone, ivory, and shell (Mother of Pearl) can also be used and the type of mount plays a role in determining the type of material used, but my forte, and what most of my clients expect is gemstone. Chosen and executed well, the gemstone will outlast all of the metal components of the knife.
Liners depend on the application, the style of knife, and the mechanics. My favorites are 6AL4V titanium for its toughness and ability to be colorfully anodized, and 304 stainless steel for its high corrosion resistance and longevity.
Fasteners and Fittings are an easy choice. 304 stainless steel is a high nickel, high chromium austenitic stainless steel that is very strong and tough, and will require zero care. I'll frequently inlay thumb studs and pivots with faceted gemstones like garnets and sapphires.
Sheaths when used are made of 5-10 oz. leather shoulder, the thickness depending on the durability, weight and toughness required. Exotic inlays are also available.
Cases and stands are created on an individual basis. They may be made of hardwoods and metals, gemstone and granites. There is no limit to the possibilities of display case and stand construction. The case or stand is commensurate with the quality of the knife.
Jay, I received my two Gemini's this week but I have a problem. One is for me and one is for my good friend for a Christmas gift. We have been waiting for over a year for the knives to arrive. How do I tell him that I can't possibly break up the set and that he is getting a Starbucks gift card instead? Please help me!
Honestly, thank you so much for the beautiful knives. They will be a treasured part of my collection (whichever one I decided to keep for myself). Merry Christmas and May God bless you and yours.
--R.J.
---
---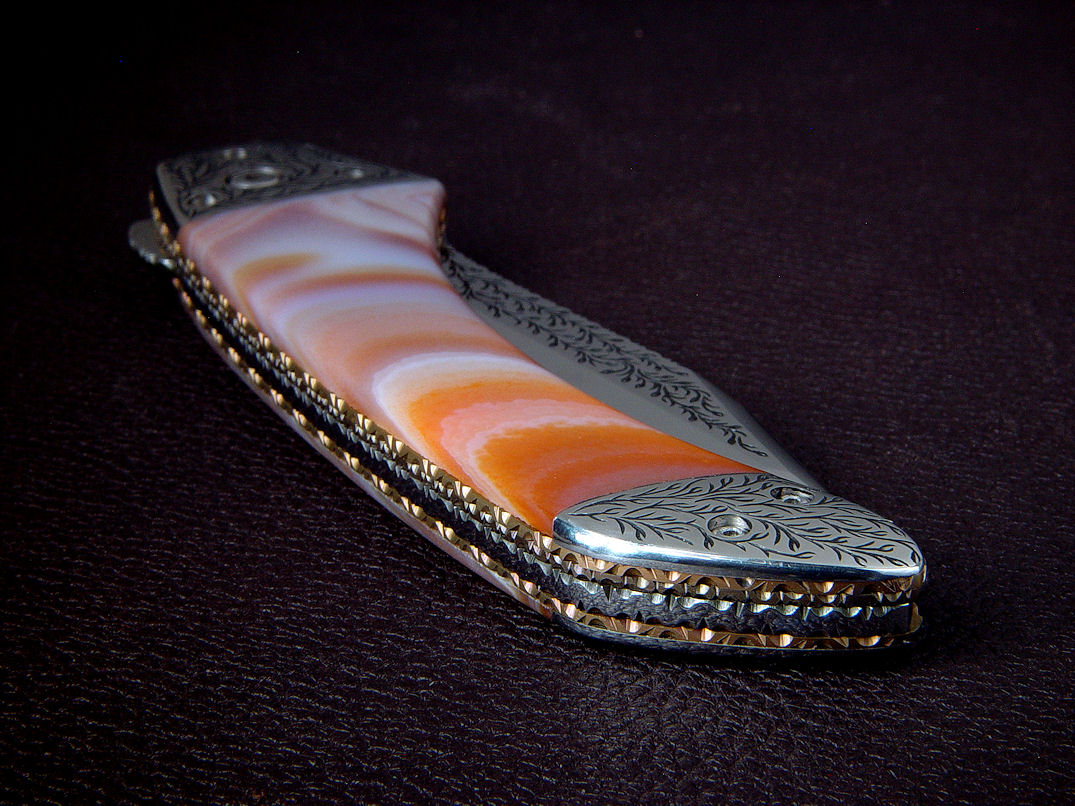 ---
As with all my knives and creations, the main difference is the style, materials, skill, and personal touch that I apply as an individual artist. Though it's possible to make folding knives like other makers, I like to create pieces that are unique and individual. In current times, many collector's grade folding knives are currently sporting heat-colored damascus carbon steel blades in sometimes shocking colors, with Mammoth or Mastodon ivory handle scales. So much of this type of knife has been made that it is almost a cliché. Why make knives like everybody else?
Since I make more gemstone handled knives than any other individual maker, you've probably guess that I make most of my folding knives with gemstone handles. I am not limited to gemstone though, and you'll see other handle materials on my folders. Materials used are just the start of any differences, and my patterns and styles are also unique. Embellishment like filework and engraving is usually enhancing the folding knife. The engraving that I apply is my own style, constantly evolving. Since I consider each folding knife an individual endeavor, the stand, case, or accoutrements are also unique and in my own style.
Just like fixed blade knives, the value of a folding knife is directly linked to the maker's name, his longevity, record, associations and affiliations in the business and career field of knife making. There are knife makers who specialize in folding knives; there are makers who make only folders. This has no bearing on a maker's price, value, or investment potential of an individual knife, though some makers claim "specialty" as their forte. The maker's name, the overall quality, individuality, and execution of each piece are more significant factors in the value, appreciation, and individuality of a folding knife.
For more information on value and originality of individual knives, please see my topic "What makes your knives different from other makers'?" on my FAQ page.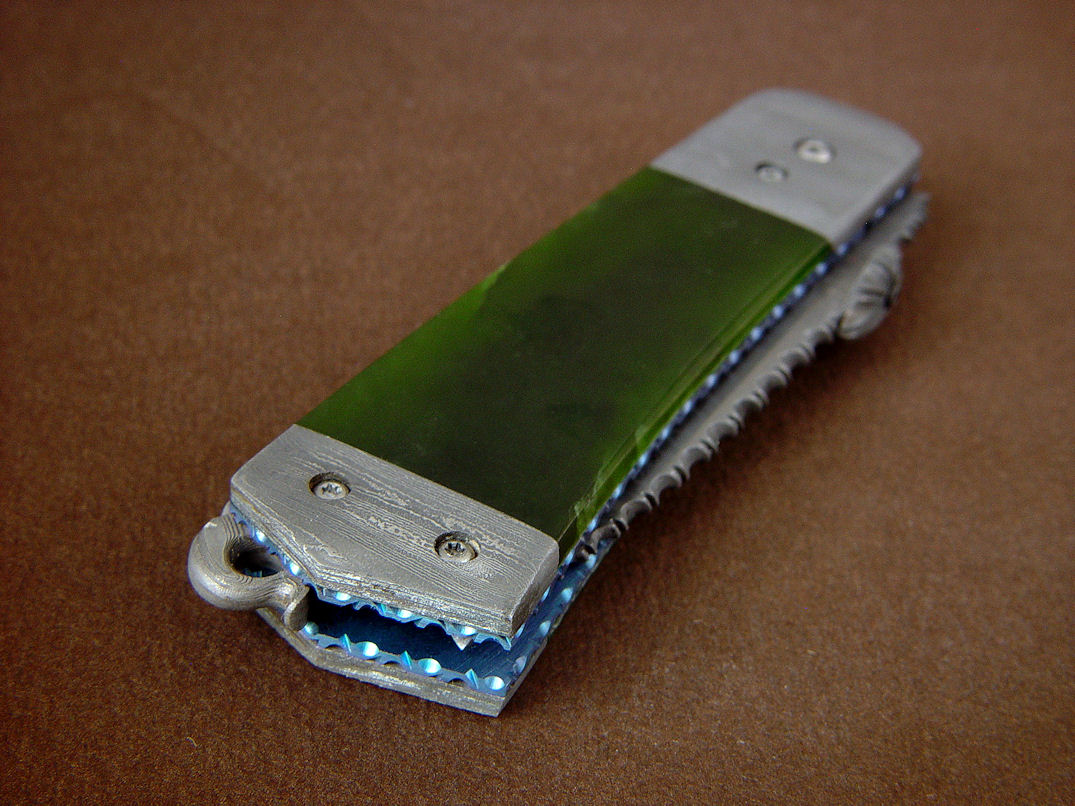 ---
Folding knives are usually chosen for their convenience in the factory knife or low end knife market. They're easy to carry, convenient, and offer a quick blade and point for cutting chores. This is usually not the reason to choose an expensive, elaborate, artistically made folding knife from a custom or handmade knife maker. In this realm, folding knives are truly works of art, and most of them are chosen for investment and collecting purposes.
Because folding knives have short and sometimes narrow blades, daily carry and use will "use them up." Repeated sharpenings, operations of the pivot and locking mechanism, and their smaller size tend to wear heavily on a folder, whereas a fixed blade has no moving parts, has a thicker, wider, and more deeply ground blade, and is larger and more robust, so the wear characteristics are much longer than a folding knife.
The value and cost of an investment grade folding knife is substantial. My folders start at $4,500.00 US (this is fairly modest by some maker's prices), so it may be unpractical to carry an expensive folding knife for common cutting chores. Continued use of an expensive folding knife will eventually wear down the blade, change the shape and profile, and affect the investment value of the knife. Though some clients are happy to carry this kind of knife, if the folding knife was purchased for investment, it can not retain high investment value if used and worn. Of course, this is the same for any investment or collector's grade knife, whether fixed blade or folding.
Some clients do prefer to carry my elaborate, well-made and custom folding knives, and even though the knives may be of high investment value, they are still built to the highest durability standards that folding knives can be. I cut no corners on any type of knife; all have hardened and tempered blades, and are made to be used, even though they may never leave the collection case or display.
Another reason for individual purchases of fine, high quality handmade and custom folding knives is one of personalization. Custom designs can not only be made to a client's specific needs, they can be personalized with custom etching, engraving, or embellishment. They may be designed with imagery, motifs, and arrangements of specific materials and styles that are chosen by the client, or chosen for the recipient of the knife. In this way, I can produce a unique item of value and meaning for the owner and the client.
The choice of ordering and/or purchasing a high quality folding knife from a custom or handmade knife maker is a personal one. Perhaps the knife client collects only folders, perhaps he has a variety of knives in his collection. Maybe he wants an extremely well made knife to carry. Maybe he has an idea for a dream knife, and just needs the right maker to create it for him. All of these are good reasons to commission a folding knife project from a custom knife maker. Additionally, he may see a folding knife offered by the maker that speaks to just his style, interest, or ideas, and falls in love with it. And that is the best reason to own any handmade knife!
Jay,
I received Gemini today. It's incredibly beautiful! The pictures didn't do it justice at all. The file work is impeccable, the style of the blade is perfectly curved, and the Siberian jade handle is shockingly green. The knife seems to have been made for my hand. I am pleased I made the decision to buy it. It will become an heirloom to be passed down for generations. Thanks for all your fine work.
Most sincerely, J.H.A.
---
---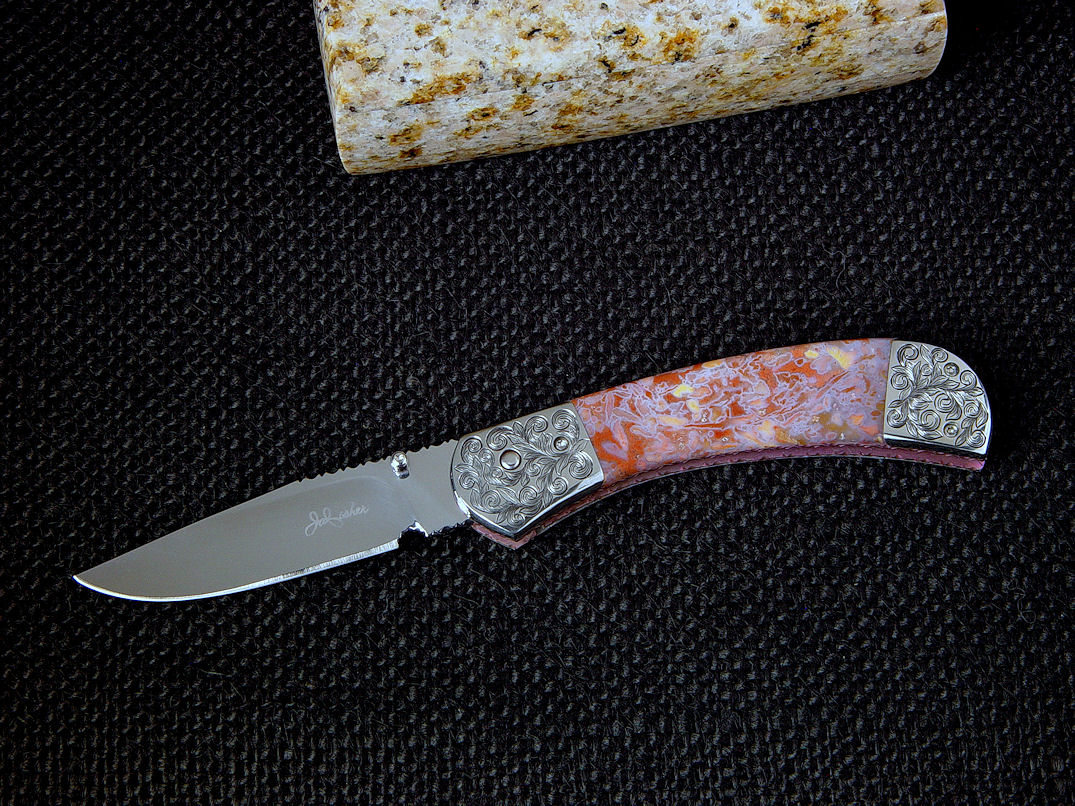 ---
Like any fine handmade or custom knife, the value and cost of a folding knife depends on the design pattern, the materials used, the finish employed, the embellishment, and the accessories (sheath, case, or stand). Folding knives may cost more per blade inch than a fixed blade knife, simply because so much work may be applied to the handle, liners, spacers, and mechanism. The investment grade folding knife is often finished inside the handle as well as the outside, and often has unique and sometimes elaborate additional parts (like openers and thumb studs) that add to the difficulty of construction and materials required to bring the knife idea to full fruition.
Currently, my folding knife prices start at $4500.00 US, for a basic, clean, and non-embellished folding knife. I don't make many of these, because if you're going to be gracious enough to commit to a project, I want to create a very fine, often elaborate and one-of-a-kind creation that is worthy of your money and my effort. It doesn't make much sense for a well-established knife maker to make plain, utility knives, whether folding or fixed blade. I go into this topic in detail on my FAQ page at this bookmark.
---
Then email me here, and let's discuss your project!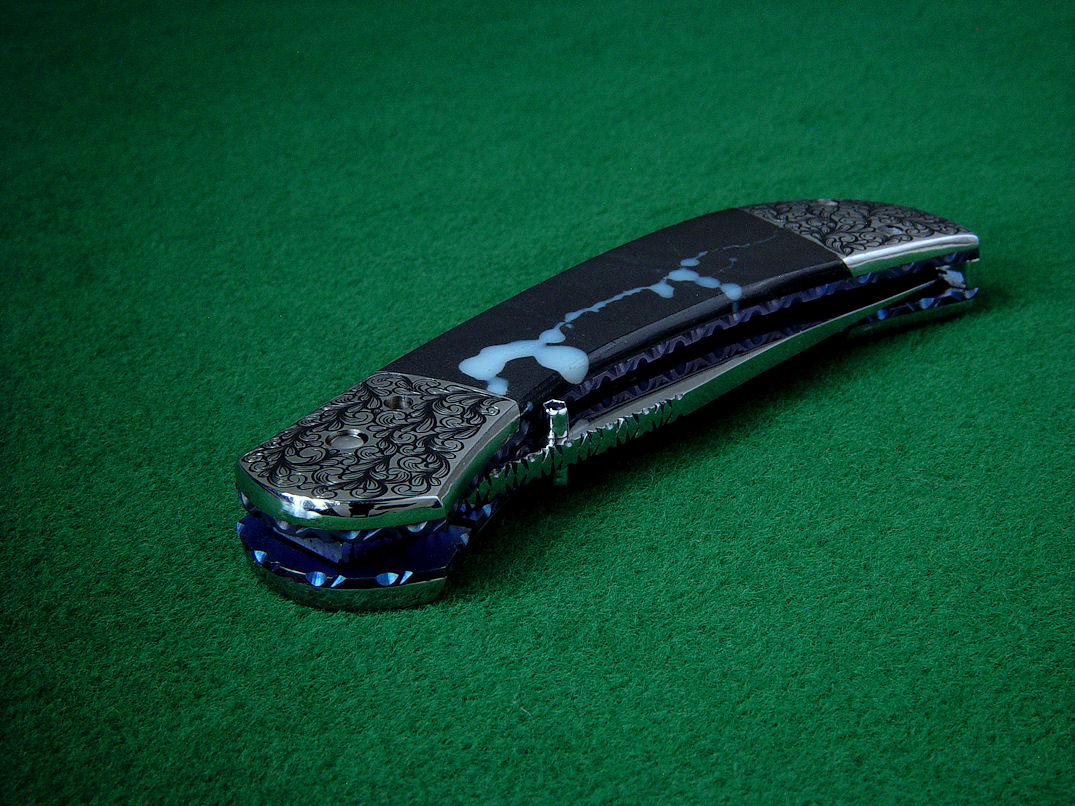 ---