"Krag" Counterterrorism/Tactical Knife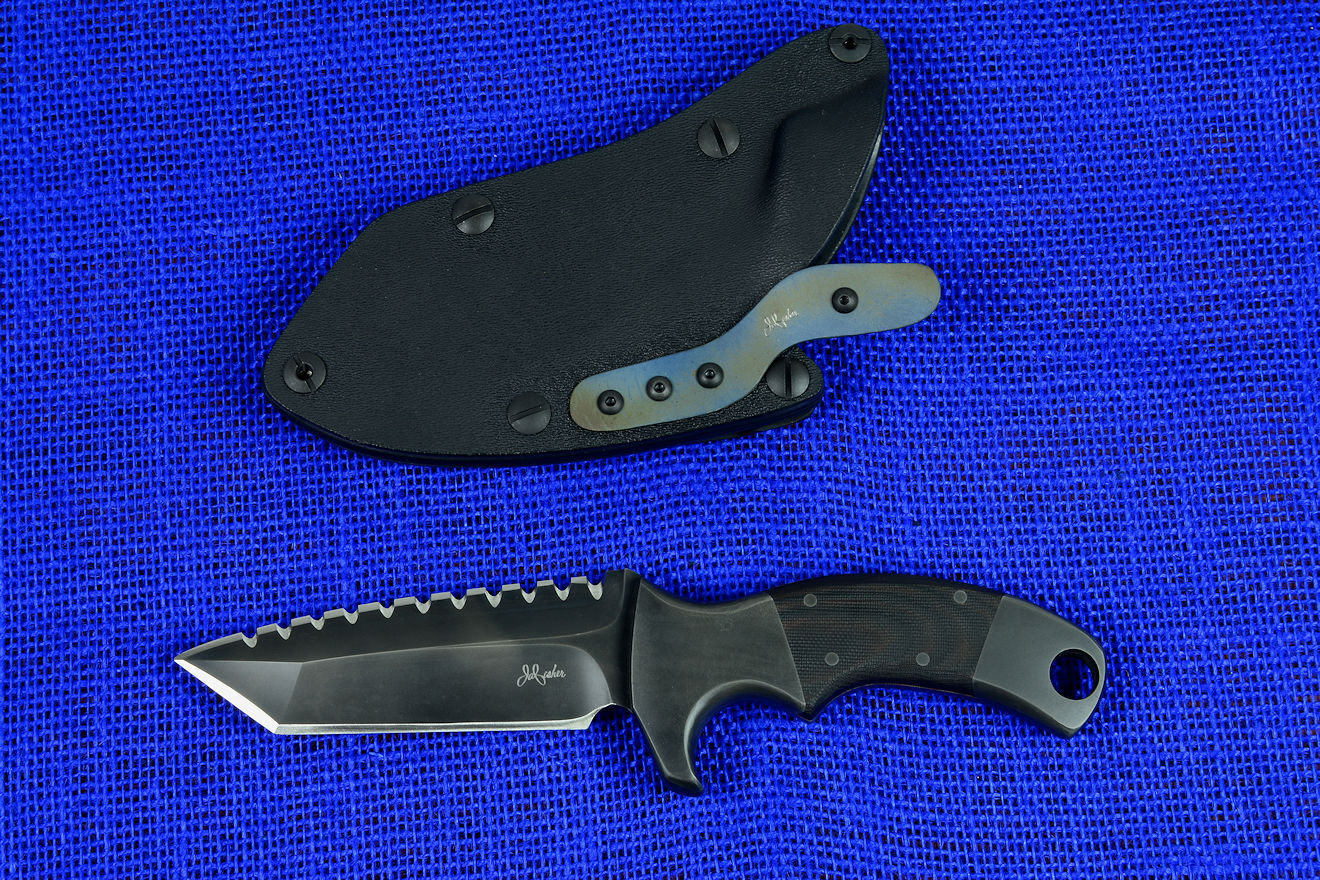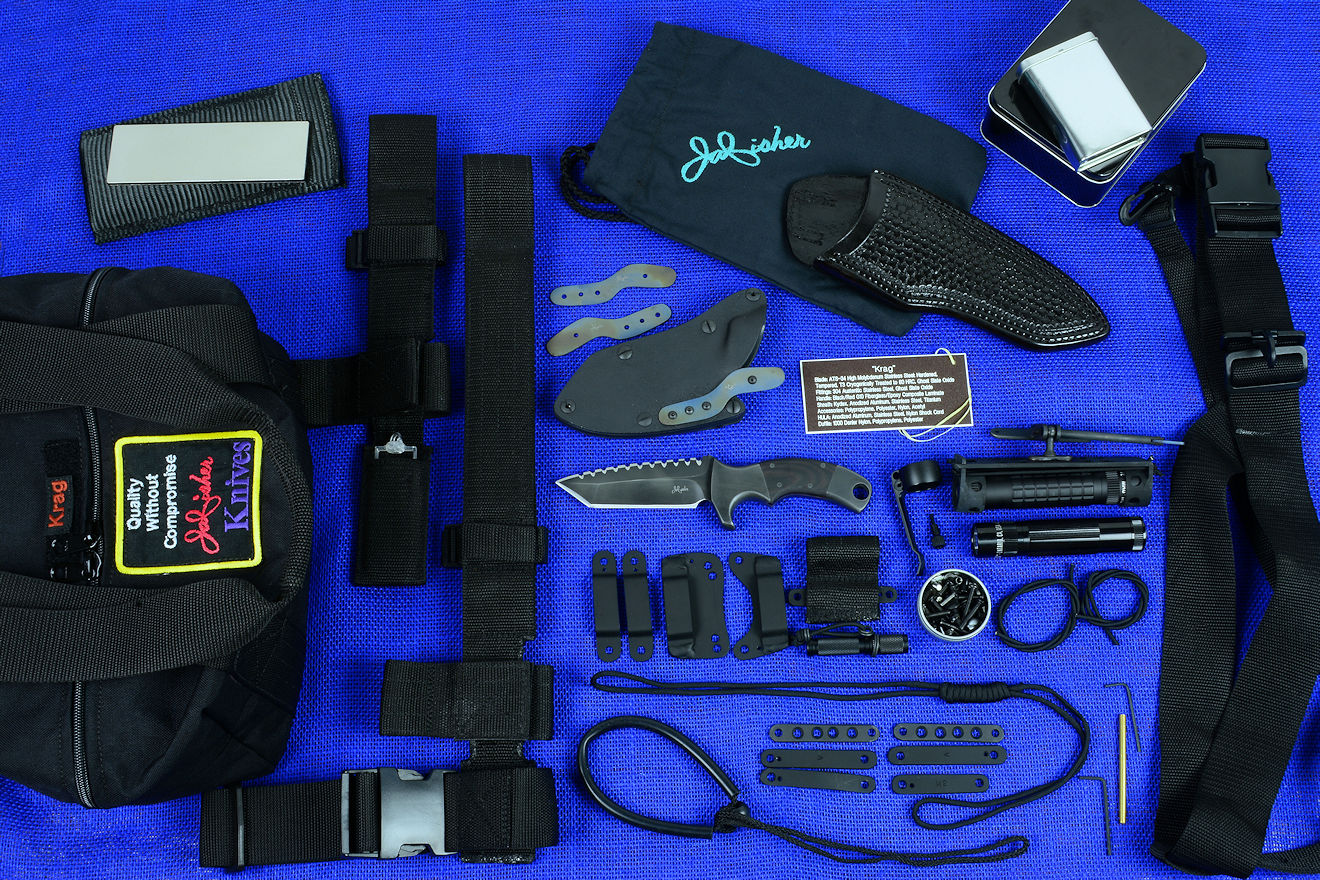 "Krag" Professional Grade Tactical Combat, Counterterrorism Knife (Shadow Line)
All Matching in non-reflective flat black camouflage

Size: Length overall: 8.8" (22.3 cm), Blade Length: 4.25" (10.8 cm), Thickness: .254" (6.5 mm)
Weight: Knife: 13.0 oz. (369grams), Leather Sheath: 6.0 oz. (170 grams), Locking Kydex Sheath: 8.0 oz. (227 grams)
Blade: ATS-34 High Molybdenum Martensitic Stainless Tool Steel, Hardened and Tempered, T3 Specialty Cryogenically treated to Rockwell C60, proprietary surface oxide treatment "Ghost Slate."
Bolsters/Fittings: 304 High Nickel, High Chromium Austenitic Stainless Steel, proprietary surface oxide treatment "Ghost Slate."
Handle: Black and Red G10 Fiberglass/Epoxy Composite Laminate
Sheath: Heavy 9-10 oz. thick leather shoulder, hand-stamped, black lacquered
Sheath: Hybrid Tension-Locking in Black Kydex, Black Anodized Aluminum Alloy, Blackened Stainless Steel, 6AL4V Titanium
Accessories:

Standard Belt Loops: accommodates .190" thick by 1.5" belt, black anodized 5052H32 high strength corrosion resistant aluminum alloy, anodized black at 1 mil thickness
High Profile Belt Loops: accommodates .250" thick by 1.5" belt, black anodized 5052H32 high strength corrosion resistant aluminum alloy, anodized black at 1 mil thickness
Vertical Flat Mounting Straps: accommodates up to 2.4" wide belt, web, strapping, or gear, clamps rigidly and vertically 90 degrees to the long axis of the sheath, black anodized 5052H32 high strength corrosion resistant aluminum alloy, anodized black at 1 mil thickness
Horizontal Flat Mounting Straps: accommodates up to 3" wide belt, web, strapping, or gear, clamps rigidly and horizontally (in line with the long axis of the sheath), black anodized 5052H32 high strength corrosion resistant aluminum alloy, anodized black at 1 mil thickness
Horizontal Belt Loop Plates: allows wear with the long axis of the sheath in line with standard belt, without rigid clamping, accommodates .250" thick by 1.5" belt, welded black anodized 5052H32 high strength corrosion resistant aluminum alloy, anodized black at 1 mil thickness
Vertical High Strength Flat Mounting Straps: allows rigid and high strength clamping of sheath to web, strap, or both belt loop extenders, made of drilled and milled blackened 304 high nickel, high chromium stainless steel
Ultimate Belt Loop Extender (UBLX): allows wearing with locking sheath and knife handle just below the belt line, with DMT folding pocket diamond abrasive sharpener, in black polypropylene, polyester, blackened stainless steel, DMT diamond sharpener, acetyl buckles. More about the UBLX on this dedicated page.
Extended Length Belt Loop Extender (EXBLX): allows wearing with locking sheath and knife sheath below the belt line, sheath tail just above knee, with 2" wide leg strap, in black polypropylene, polyester, blackened stainless steel, acetyl buckles. More about the EXBLX on this dedicated page.
HULA with Maglite MagTac + Maglite XL200: provides a primary, fully adjustable flashlight in removable holder, with a frame that can be aimed and locked in any direction, mounted on the sheath body no matter where the knife is worn. This is the very best, most durable flashlight holder made in the world today. More below.
Sternum Harness Plus: allows wearing of locking sheath upside down across sternum, handle down, in black polypropylene, polyester, acetyl buckles
Lamp Independent Mount Assembly (LIMA): Backup, emergency, safety LED programmable flashlight and independent web frame and mount, in polypropylene stitched with high strength polyester, anodized 5052 high strength corrosion resistant black anodized aluminum mounting bar, 304 stainless steel ring retainers, nylon elastic shock cord

,

with ThruNite Ti3 flashlight. More about the LIMA on this dedicated page.
Diamond Abrasive Sharpener with Pad/Sheath: Diamond abrasive sharpening stone, 2" x 6", double-sided (400G/600G), nickel bonded diamond abrasives over phenolic core, heavy nylon sheath to store and protect other gear from diamond abrasives; sheath doubles as work pad so diamond does not scratch surfaces, stitched with polyester, hook and loop closure
Lanyards: 550 Nylon Kernmantle Rope (Paracord) sliding noose lanyard, waterproof adjustable SCUBA lanyard with silicone rubber padding
Hardware and Fasteners: all in 8-32 standard thread, 304 (18-8) high nickel, high chromium stainless steel, blackened, all user-changeable with one size of hex wrench. This differs from my kits of the past, where two or three sizes of hex wrenches are needed. I've tuned up the fastener set so that, in this particular style of knife sheath, only one hex wrench (Allen wrench) is needed for all of the fasteners: 3/32". A smaller hex wrench (5/64") is needed to reverse the locking components of the hybrid tension-locking sheath. Also necessary is a simple flat bladed screwdriver (not included) to make up all of the typical hardware arrangements.
Duffle Bag: 1000 denier Cordura® ballistic nylon, waterproof polyurethane coated, nylon, polyester, polypropylene sling handles, closed cell foam bottom in 600 denier Cordura nylon bag for storage of papers, thin gear, protection from abrasion, embroidered patch, removable embroidered name patch with hook and loop

Knife: "Krag" is the Africaan word for strong and vigorous, and this knife epitomizes the toughest of designs and principles. The Krag is a compact, extremely stout counterterrorism and tactical knife and tool, and the design is incredibly durable, functional, and one of the sturdiest knives I make. It's designed to take anything professional counterterrorism, military, law enforcement, or tactical use can dish out, and cut, pierce, and rip without hesitation.

Blade Steel Alloy: The Krag blade is a special hypereutectoid, high alloy stainless tool steel, ATS-34. This steel is extremely high in molybdenum and chromium, and I call it a "chrome-moly tool steel on steroids." First, the carbon in this steel is extremely high at 1.25 percent, allowing significant development of martensite and forming of essential iron carbides. The second element is chromium, and at 14 percent, this is a true stainless steel with high corrosion resistance. High chromium also helps create extremely hard and durable chromium carbides adding to the wear resistance and overall strength and stability of the steel alloy. The third and most transformational element is molybdenum. ATS-34 has 4% molybdenum, providing a high concentration of molybdenum carbide particles, which are extremely wear-resistant and contribute tremendously to toughness. Molybdenum is a very important carbide-former, and it helps precipitate carbides at critical dislocation and grain boundary areas of the crystalline structure, stabilizing the structure against fracture, toughening it. Toughness is resistance to breakage, and since this is dramatically increased in this high molybdenum steel, it allows a very thin cutting edge and blade geometry with high strength. This means a thinner, sharper, and extremely tough, corrosion-resistant blade is possible with this steel.
Heat Treatment: This Krag has my T3 heat treatment, yielding an astounding blade in incredible condition through advanced processing protocols. How advanced is this treatment? It's a multi-stage cryogenic treatment, involving temperatures ranging in over 2000°F (1090°C) to -320°F (-196°C). The process is an evolution of my advanced heat treating processes, and consists of 33 dedicated and specific steps and takes 172 hours! This means that just to heat treat this blade takes over a week! The reason for this is scientific and critical, but yields the most stable, most wear-resistant, most durable and long-lived structure of this steel, profuse with fine multi-element carbides and a uniform and unbelievably robust structure. This is a testament to my determination to make the very best knives, steels, treatments and kits in the modern world. I know of no one else who has advanced the treatment to this level; it's unheard of in the metals and knifemaking field.
Blade Design: The Krag is a double-edged tanto design, painstakingly ground with a differential grind. This means that the hollow grinds in the blade have two different and complimentary geometric curves. The main straight cutting edge has a deeper, thinner grind for increased longevity. The top grind with the serrations has a shorter, thicker grind so that the four inches of my hammerhead serrations are extremely tough and difficult to break. Both grinds meet at an extremely well-supported point. The point geometry is enhanced by the tanto secondary grind, the short cutting edge length in front of the dividing line (yokote) which creates a tougher, wide-angled point for bearing down while cutting difficult materials. At over 1/4" thick, the blade has a very thick center spine for support and the entire blade is sharpened with a single bevel cutting edge, making it razor-keen throughout. This is a serious working grind and profile, one of the toughest overall grinds I make in a knife this size.
Blade Finish: The blade and bolsters (and all of the accessories) are in my "Shadow" line of counterterrorism and tactical knife finishes. Answering the request for completely subdued and non-reflective surfaces, I developed the Shadow Line with my Ghost Slate finish. This means darkening in a permanent fashion not only the stainless steel of the knife, blade, handle, and fittings, but all of the gear in the entire kit: the fasteners, the sheath parts, aluminum mounts, accessories and entire package. Read more about my Shadow Line and Ghost Slate finish on my Counterterrorism Knives page at this bookmark.
This is an extreme use, high wear resistance, highly tough, and extremely keen stainless steel blade with advanced heat treatment.
Bolsters: I bolstered the Krag with my signature zero-care, high nickel, high chromium 304 austenitic stainless steel bolsters, contoured and rounded for comfort of the hands, and shaped and radiused in the front face for easy cleaning. They are attached with multiple through-tang pins of 304 stainless steel, and the mounting is permanent, as well as extremely corrosion resistant. This is the same steel used for stainless steel nuts, bolts, and fasteners, and the bolsters are heavy, thick, and solid, giving great balance to the knife. The rear bolster has an incredibly large chamfered 7/16" (12 mm) through-tang lanyard hole for added security when working elevated or over water or in a debris field. This huge lanyard hole allows incredibly fast and easy threading and hitching of lanyards of any type. The bolsters are dovetailed to create a solid, seamless union with the handle material. The front bolster is rounded and extends over the extra-large front quillon, providing a wide surface area for the thumb to bear down, and full protection from the hand sliding forward onto the razor-sharp blade. The bolsters are treated in my "Ghost Slate" shadow line for reduced glare and match the rest of the knife and gear.
Handle: The scales for this knife are zero-care black and red G10 fiberglass-epoxy composite, laminated and fused into a solid scale. This material is extremely durable and the red is very dark and muted, matching the Ghost Slate darkened finish of the piece while giving it some individual character. The handle scales are secured with four 1/8" through-tang 304 stainless steel pins. They are bedded to the tang and locked under the bolster dovetails. This is an extremely tough material, durable, waterproof, with a toothy textured surface that grips the hand and requires no maintenance. The shape of the handle is features some advanced concepts. The front quillon is extremely large and robust. This provides great grip security and protection for the forefinger, and it's contoured, rounded and smoothed for comfort. The finger groove is deep and the forefinger bears down on the bolster. Above the forefinger placement is a thumb indentation. This could be called a "humpback" handle, but that doesn't really apply since the handle does not rise into a peak before or after the curve of the spine. I prefer to call this a "thumb drive." This indentation saves space normally required by a thumb rise which would add to the bulk and size of the handle of smaller knives. The thumb drive is bolstered, contoured, rounded and smoothed, and this allows tremendous pressure to be applied on the spine of the knife as well as a great deal of physical control of the cutting edge, via the thumb placement in a forward grip. In reverse grip, the thumb drive indentation accommodates the fleshy heel of the palm of the hand, while the large quillon prevents the small finger from the incredibly sharp cutting edge. The Krag has a large, multi-finger groove inside the tang for a comfortable, variable grip, and the handle is short enough to completely disappear in a large hand. The tang is fully tapered but left thick and supportive at the butt, and I've left out any filework for a smooth, clean feel and easy cleaning.
Balance and Feel: The unique handle shape, balance, thickness, and stout design of this knife makes it an incredible working tool. The knife has the meat to be weighty and aggressive, yet it's compact and reasonable, working with the rest of the kit. The best way to describe this is like a the word krag: strength, vigor, and force. This is a professional grade tool, super-tough, razor-keen, with a lot of great features. It feels fantastic in the hand, the blade light and strong with the balance point exactly at the forefinger placement.

Leather Sheath: I've included a heavy, tough, and solid leather sheath for the Krag in 9-10 oz. leather shoulder, hand-stamped and tooled. The leather is shoulder, from mature cows, and is twice as thick as most other knifemakers use. The hand-stamped and three-sided basketweave-tooled sheath design is deep, protecting the owner from the blade, but it allows plenty of the handle accessible for quick unsheathing. The sheath has a high back, to protect the wearer, and the orientation is right side, edge-back. There is a large belt loop, double-row stitched with heavy nylon for strength and moisture and rot resistance. The entire sheath body, front, back, and welts are double-row stitched for extreme durability. The sheath is dyed black throughout, with buffed edges in a water-resistant lacquer finish. Leather is irreplaceable in extremely cold or hot environments, and where absolute silence is needed in tactical operations with no clicking when in contact against objects, people, or gear. The leather sheath is also great for a "non-tactical" outdoors look in a more casual setting when a knife simply needs to be a tool.
Hybrid-Tension Locking Sheath: I've included my best hybrid tension-locking tactical sheath, the very best of its type made in the world today. It's made of double-thickness black kydex, bonded and sealed over a frame of black anodized 5052 H32 corrosion-resistant, high strength aluminum alloy. The near-ceramic hard coating on the aluminum is permanently dyed black and specially sealed against fading even in long-term ultraviolet sunlight exposure. The sheath is built with all black oxide 304 stainless steel hardware and fasteners, and with an extremely corrosion-resistant and tough blue-black 6AL4V titanium spring lock set for reliability, no matter what the sheath is exposed to. The sheath is sealed with waterproof bonding and the inside is permanently coated and prevents the blade steel from contacting any metal of the welt frame. The tension lock is quick and secure, solid and strong, so the knife can be worn in any position, even upside down. This is absolutely, positively, the very best hybrid tension-locking sheath made in the world. The sheath frame features my integrated spacing so that my accessories and mounts can be used (below). The sheath is entirely reversible for a huge variety of wearing options with the equipment included. I've even included three interchangeable dogleg titanium springs so the wearer can adjust the tension of the sheath release. If you're not familiar with my tension-lock, here's how it works: the knife is retained at the bolster thumb rise with the pressure of a ball-lock. The pressure can be removed by using the thumb to push out on the spring, or the knife can be pulled very hard, directly from the sheath, releasing the lock. The mechanism is light, adjustable, and completely reversible on the sheath allowing a tremendous amount of wearing options. And I've included three titanium springs of different strengths (heavy, medium, and light) so the owner can adjust the tension and retention strength to his preference.
Sternum Harness Plus: The sternum harness I've included is the result of input from my military and counterterrorism clients. It allows the knife to be worn, handle down, angled across the sternum, on top of any other tactical gear. This harness is made of polypropylene and stitched with polyester for rot-free, high strength longevity, and the buckles and straps are tough Acetyl plastic with 110 lbs. breaking strength. The harness can be donned and doffed quickly and simply, and the "plus" is the additional one-inch wide stabilizing strap and buckle that creates an "X" strap around the torso, to prevent movement in any position of the wearer, even while running and climbing. I've even included several snap hooks for extra gear, and these can be removed or placed at different points on the harness.
Ultimate Belt Loop Extender (UBLX): I included my ultimate survival, CSAR tactical, rescue, and counterterrorism sheath belt loop extension with outstanding and critical features and devices. The nylon and polyester accessory is waterproof, durable, and extremely stout, and lowers the hybrid tension-locking knife sheath to be worn in a more traditional belt position with the knife handle below the hip. The extension is mounted with 304 stainless steel straps and stainless steel cap screws attached to the existing stainless Chicago screws, and the assembly is stiffened by trapped acrylic stiffeners stitched in place with polyester. These prevent the extension from folding, bending, or collapsing when the knife is extracted from the sheath. The belt loop is 2 inches wide for standard tactical belts, and has a mid-placement 1" wide strap retained with acetyl buckles to prevent the knife handle from flopping around during active movements (running, climbing, crawling). At the lower back of the extension I've included a custom fit pocket for a DMT (Diamond Machining Technology) Mini-Sharp diamond-nickel abrasive hone, to bring up the cutting edge in the field with ease, and it works even on this high alloy wear-resistant blade. These are great tools that can re-sharpen or just touch up even the hardest tool steel edges, as they are surface-bonded with diamond abrasives. The pocket for this tool is situated at the sheath back and against the body, so the sharpener can not be removed unless the sheath is off the body and the industrial strength Velcro (hook and loop) closure is open. Read more about the UBLX at this link.
Extra Length Belt Loop Extender (EXBLX): Responding to requests, I've included an extended length belt loop extender in this kit. This works the same as the UBLX above, but it's even longer and has a 2" wide acetyl-buckle leg strap to secure the knife on the side of the thigh, just above the knee. The wide strap is very comfortable, over pants; it's adjustable yet can be quickly removed in an emergency with the squeeze-type acetyl buckle. This frees up critical space if the user is wearing body armor, load belt, or does not have room for the knife in the traditional location. Marines who wear and use my knives in combat have requested this critical assembly, since on the leg is the only real estate they have available! The neat thing is the HULA attached to the sheath with the EXBLX on the leg allows a blinding flood of light for breaching and entrance into enemy-infested buildings with maximum illumination and the associated disorientation necessary to quickly reach a tactical solution. Read much more about this critical accessory at this link.
LIMA Emergency Lamp (Lamp Independent Mount Assembly): An important lesson I learned from my military and counterterrorism clients is the addition of the emergency lamp. The LIMA is a special socket in thick and wide polypropylene, stitched with polyester for durability and rot resistance, and it accommodates the latest small lamp, the

LED ThruNite Ti3. This little, super-lightweight flashlight puts out an incredible 120 lumens and at lower levels can last for 115 hours on lowest setting. It can reach out 164 feet and give you enough light to get to safety, and the entire mounting assembly is extremely lightweight and waterproof to continual immersion. The flashlight even has an emergency strobe at high illumination that will get noticed. The LIMA webframe is secured with a lightweight anodized aluminum strap and stainless steel machine screws and mounts anywhere along the sheath welts where I have the standard 2.5" spacing. The retaining strap rings are also 304 stainless, and the 1/8" shock cord is easily replaceable if needed, and replacement shock cord is included. More about the LIMA on this dedicated page.
HULA (Holder, Universal, Lamp, Articulating) with Maglite Mag-Tac Flashlight and Maglite XL200 Flashlight: Included in this professional assembly is my HULA, the "Holder, Universal, Lamp, Articulating" (HULA), and my answer to a call for not just a backup lamp, but an actual primary or "key" professional grade tactical lamp and mount assembly. The lamps I included with this kit are the Maglite MagTac and the Maglite XL200, some of the brightest, most sophisticated flashlights made today, with multiple modes of programmable operation. The MagTac is a powerhouse, with ultra bright LED technology that is dependable and tough. The Maglite XL200 is a tremendous and durable daily lamp with many useful functions and excellent battery life. The only thing the lamps need is a reliable, adjustable, dependable and corrosion-proof way to mount, use, and carry it on the sheath, so I designed the HULA. This special holder will hold any flashlight that is 1" by 4.75" and accommodates both of the included lights. The lamp frame holder is made of welded 5052H32 high strength corrosion-resistant aluminum alloy, for the highest durability and corrosion resistance combined with low weight This aluminum is suitable for marine (salt water) environments, and to add to the already superior material, I've completely anodized the aluminum with a 1 mil thick surface, dyed permanently black. This is a near-ceramic hard surface that improves wear resistance, corrosion resistance, and adds tremendously to the longevity and durability of the metal. This same process is used in Maglite's aluminum-bodied flashlights. The lamp is held in custom-fitted socket with a retaining cap that is held in a T-slot lock by the elastic tension of replaceable shock cord straps. The T-slot lock can be negotiated even in the dark due to it's simple and clever design and construction. The lamp can be turned on and operated within the holder, and can even change selected modes while still in the retention of the holder. One of the best features of this assembly is my exclusive ball joint and pinch mechanism. This is a very old mechanism, dating back to 200BC, where a ball sits in a dedicated socket, and is held there by the tension of a pinch screw. The ball joint frame, ball, tangs, screw and mounting hardware are all welded 304 high nickel, high chromium stainless steel which is media-blasted and darkened with a permanent oxide finish for glare reduction. This is a very tough assembly that will probably outlast the knife owner. What it offers is an articulating adjustment, aiming and positioning of the lamp, while still mounted on the knife sheath, wherever the knife sheath is mounted on the body. In the traditional belt line position, the lamp can be aimed at the ground in front of the wearer (great for hiking or movement), or aimed at any object or person in front of the wearer, while freeing the hands for a weapon, tool, or carry. Having the HULA also eliminates the need for a headlamp, a device that has its own limitations (detailed at the link below). This HULA development has been highly popular with search and rescue and disaster response teams, as well as my counterterrorism knife users. If the wearer needs the light in his hand, he simply pulls up on the T-slot locking cap, pulls the lamp from the socket, and replaces the cap so it won't bounce around. I've done my research, and created simply the finest and simplest flashlight accessory made in the world today, custom made to mount to my locking sheaths, the best locking sheaths made in the world today. One more important point: the bolt pattern and arrangement on this particular knife sheath allows the HULA to be bolted to 4 positions and 8 orientations along the welts of the sheath. Talk about flexibility! There are much more to these accessories; learn about these critical accessories on a special page on my site at this link. Mounting, care, and use instructions are posted there.
Horizontal Belt Loop Plates: Answering the call of my counterterrorism and military clients, I've included a pair of horizontal belt loop plates for this knife sheath. These bolt onto either side of the sheath using included hardware, and are 5052H32 high strength corrosion resistant aluminum alloy, completely anodized and permanently dyed black with a near-ceramic hard surface. They are high-purity welded for durability, and light weight. They allow horizontal wear of any belt up to 1.5" wide, and the sheath runs inline with the belt.
Flat strap plates (horizontal and/or vertical): These have several uses: one is to mount the knife sheath rigidly clamped to the sternum harness, with no play. They also allow the sheath to be clamped on any gear (like PALS webbing) with a solid strap security and no sliding around (like on traditional belt loops). So they clamp the sheath to your gear with all stainless steel hardware. They accommodate any web strap up to over 2" wide. They are also 5052 H32 high strength, corrosion-resistant aluminum alloy, anodized with a permanent black color, and a near-ceramic hard surface.
High and Low-profile belt loops (footman's loops): I've included two pairs of anodized aluminum belt loops, one pair that accommodates 1.5" wide belts up to .250" thick and one pair that accommodates 1.5" wide belts up to .190" thick. They work with the integrated spacing so can be mounted in a variety of positions on the reversible sheath.
Lanyards, hardware, tools: The included paracord (550 Nylon Kernmantle Rope) sliding noose lanyard can be critical and necessary for retention of your knife when working in elevated locations or in marine environments. It's an adjustable type, a frequent request by my tactical combat professionals. I've also included a SCUBA-rated waterproof lanyard with silicone rubber abrasion-resistant sleeve and locking cord adjuster for adjustment. I've included all the tools, hardware, and necessary components to mount all or any combination of these accessories with your gear, on your person, and all of the hardware is blackened, non-reflective stainless steel in common American Standard Sizes. Included is screw top and snap tins for hardware storage. Also included is an archival engraved acrylic tag detailing the components with my contact information. Detailed Instructions and care information for the individual components are also included, and they nest well at the bottom of the duffle bag (below) in the padded sleeve. I've also included a list of video links that explain how to set up every single one of these accessories. This is an ultimate system, and demonstrates my commitment to actual combat, tactical, field, rescue, and counterterrorism knife service in my trade.
Leather Sheath Storage: I've included my black denim embroidered drawstring bag with this kit (see photos below). This is to store the leather sheath; it breathes and keeps the sheath from being scuffed or abraded, and I make these in heavy denim stitched with polyester, I embroider one side with "Jay Fisher Knives" and the other with my maker's mark. The drawstring is polyethylene and it keeps the sheath protected and clean even while in the duffle (below).
2" x 6" dual diamond sharpener and storage/pad: This is a new accessory, and one that I'll be including in all my newer kits. It's a double-sided diamond sharpener, with two grits, 400 and 600. Diamond is the only abrasive I recommend for sharpening, and it's important to have it available and included. Because diamond is the hardest known substance, it makes an excellent abrasive for the very hardest, toughest and most wear-resistant cryogenically-treated tool steels. Because diamond is so hard, special care must be taken in handling and storing the sharpener, as it absolutely will scratch every single surface it comes in contact with! This is why I've gone to the extra effort to create an incredible, tough, and durable pad/bag for it. The diamond pad is stored easily in the heavily-stitched thick nylon bag, and secured with industrial strength hook and loop. When the diamond pad is out of the bag, the owner can set it on top of the bag, using it as a thick, heavy, protective flat pad for sharpening his knives. He can even use it as an assembly pad for laying his knife on for adjusting, servicing, or cleaning. This is the heaviest, thickest piece of nylon you will find! A great addition to the kit!
Heavy 7" x 11" Duffle: It's important to keep everything together, safe, and accessible, and since no on makes a duffle heavy and stout enough for the job, I make these, too. I make them in 1000 Denier Cordura® ballistic nylon, coated on the inside with polyurethane for water resistance. This is some of the heaviest, toughest material available, and I've double-row stitched all of the seams with strong, waterproof, sunlight-resistant heavy polyester thread. I've attached stout metal #8 zippers and double pulls, and reinforced the zipper ends as well as the 2" wide polyethylene carry straps. I've even included a 7mm thick closed-cell foam inner base pad, wrapped in 600 Denier Cordura nylon in the bottom to prevent abrasion and wear. You can store paperwork, written or printed orders, and other items in the base bag to keep them flat and clean. The duffle is identified with my "Quality Without Compromise" patch. Because many of my clients have more than one knife, I've also include an embroidered knife name patch, which is removable and secured by hook and loop so knife owner can tell which duffle stores which knife. See photos below.
Archival engraved detail plate: As with all of my knives, I've included a co-extruded engraved acrylic detail plate. This identifies the knife, the blade, sheath, accessory materials, and the tested hardness of the blade. On the reverse is engraved my complete contact information with telephone numbers, email, and website address. This 2.75" x 4.25" plastic plate will last as long as the knife, and will verify the exact model design and materials indefinitely. It will never wear out, never discolor or fade, never be unreadable in any weather or exposure, unless it's completely melted—and then you have other problems! Seriously, this is much more than a piece of paper, and assures the information lasts as long as the knife and kit.
See more about all the features in this video of a PJLT (Pararescue Light) tactical combat and rescue knife. In the video, I describe the mounts, accessories, and interfacing wear assemblies that are included in this kit; the same as you will see in the PJLT kit in the video.
Designed by a professional for professional use, this is a top-of-the-line, brutally tough and ultimate corrosion-resistant, wear-resistant knife: a combat, rescue, and tactical counterterrorism knife , sheath, and accessory package that is simply the best made. This package is comprehensive, sturdy, dependable, and useable. NO OTHER SOURCE can supply what you see here, all finely handmade to work with your gear, your outing, your mission, and your excursion, no matter the situation and exposure. If you need one knife to last for many generations of usefulness, this is it.
Thanks, R. N.!
---
Jay,
...I opened the box and went for the knife immediately.
AHHHHHH!  Just freakin' perfect size for me and my particular needs. The sheath needs a better call-out than 'Wow! Nice!' but that will have to come later in a follow-up.
Fits my hand like it was crafted just for me. Balance is perfect. A couple of careful swipes towards some of the packing paper, and more Joy!  The proprioception and kinesthesia feedback was Just! Freakin'! Perfect!
That not-so-little item was a lottery. I am astounded that the fit is so good. I didn't expect it, but I'm so happy with the fit I could just do a Snoopy Happy Dance. That great big slug of serendipity will save me many hours of work. Dialing in a new handheld impact weapon isn't like the Aegean stables, but it's not nothing, either.
Thank you so very much, sir! This is a magnificent knife!
With my most sincere thanks, and deep regards,
R. N.
And later:
The Krag is a marvel. This is some seriously high-quality work, by an obvious expert.
---
And later:
Hello Jay,
I bought a Krag from you several weeks ago. It is wonderful. Built like a tank, a perfect example of KISS. It maybe isn't quite as lovely to look at as some of your other work, but I would expect gravity to fail before the Krag failed.
But this letter is not about the Krag. It's about the Hybrid Kydex sheath that came with it.
I don't know if my experience with what is normally considered 'a sheath', is out of the ordinary, but until I got your hybrid sheath I never, ever had any sheath that was sturdy enough, or dependable enough, out of the box, to serve in anything but casual wear.
I have modified or replaced or discarded almost all of the other sheaths I have used. The ones that made it to non-casual use usually had some duct tape or electricians' tape doing one-shot duty, or maybe a cotter pin added, or somesuch. 'Kludge' is a good description.
I am in awe of the design and the execution of your hybrid kydex holster. You have won the holster/sheath contest, hands down, and nobody else made it thru the qualification trials.  They can all go home and cry in their beer, because I don't think anyone is ever going to top what you have done.
Holster orientations of up, down, left, right, horizontal or vertical, use with different thicknesses of belt or strap, can all be selected just as one wants, and every single one of them is rock-solid dependable, not a hint of flaky or gimmick. Easy as can be to change in the field, is sorta a cherry tossed on top of a perfect piece of gear. Oh, and don't forget that the service lifetime of this holster looks to be long enough to outlive the user.
Perfect. It's just bloody Perfect.
Thank you again.
Regards,
R.
---
---
To see many more options for mounting, wear, and rigging, please visit these pages and look over their detailed photo sets. I've assembled and mounted the knives and kit accessories in a variety of ways, and most of the various arrangements are applicable to this knife as well.
---
---