"Shrike" Tactical/Working Push/Punch Dagger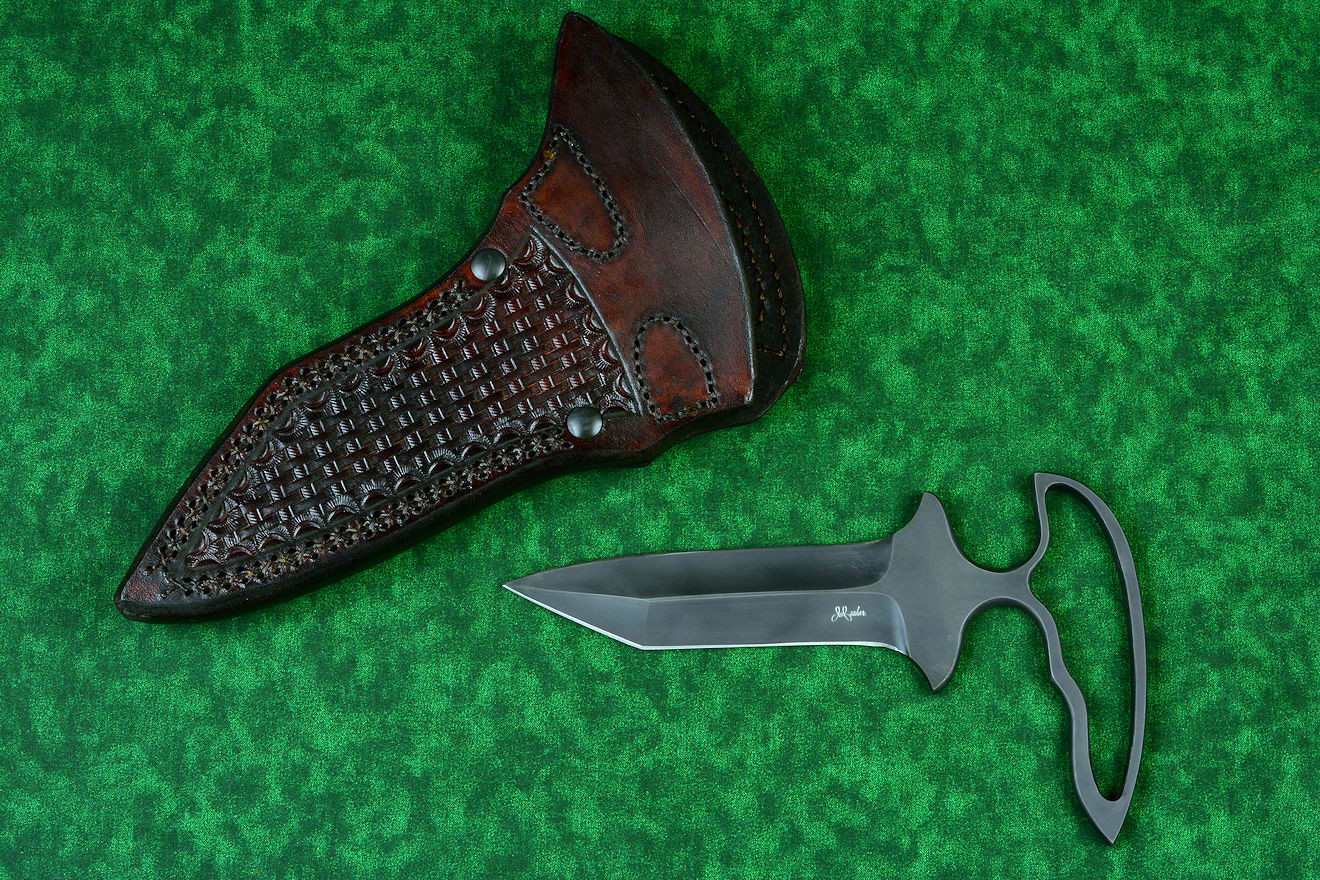 "Shrike" Tactical Combat, Working, Counterterrorism Knife (Shadow Line): Push/Punch Dagger

Size: Length overall: 7.7" (19.6 cm), Blade Length: 5.0" (12.7 cm), Thickness: .250" (6.4 mm)
Weight: Knife: 6.3 oz. (179 grams), Sheath: 8.7 oz. (247 grams)
Blade: ATS-34 High Molybdenum Martensitic Stainless Tool Steel, Hardened and Tempered, T3 Specialty Cryogenically treated to Rockwell C61, proprietary surface oxide treatment "Ghost Slate."
Handle: Skeletonized
Sheath: Heavy 10-11 oz. thick leather shoulder, hand-tooled and dyed in Bison brown basketweave, double stainless steel snap tab retention, ghost slate stainless steel Chicago screw reinforcement, X-stitched double row in polyester
Knife: Answering requests for an ultra lightweight yet tough and wear-resistant push-punch dagger that would function as a crossover between tactical/counterterrorism/combat use and daily working and carry, I designed my new "Shrike" pattern. The name comes from a carnivorous bird of the Laniidae family, which is latin for "butcher." It's a bird that wears a dark mask, and is also known as a "butcherbird," because of its aggressive feeding habits. It suited the knife pattern well.

Blade Steel Alloy: The Shrike blade is made in ATS-34, a high alloy hypereutectoid, martensitic high molybdenum stainless tool steel. In this steel, there are three significant alloys that work together to make an extremely tough and durable wear-resistant steel with high corrosion resistance. First, there is carbon, at 1.25 percent, allowing significant hardening and forming of carbides. The second is chromium, and at 14 percent, it's a true stainless steel with high corrosion resistance. The third and most effective is molybdenum. ATS-34 has 4% of molybdenum, allowing a very high concentration of molybdenum carbide particles, which are extremely wear-resistant and contribute greatly to carbide formation at grain boundaries, leading to overall stabilization of the microstructure and leading to higher toughness overall. This means that ATS-34, when properly treated, is highly; resistant to breakage, even at a high hardness. These three alloy elements combine to form very hard vanadium carbides and chromium carbides, particles so hard that typically diamond is preferred to sharpen this blade effectively.
Heat Treatment: This Shrike has my T3 heat treatment, yielding an astounding blade in incredible condition through advanced processing protocols. How advanced is this treatment? It's a multi-stage cryogenic treatment, involving temperatures ranging in over 2000°F (1090°C) to -320°F (-196°C). The process is an evolution of my advanced heat treating processes, and consists of 33 dedicated and specific steps and takes 172 hours! This means that just to heat treat this blade takes over a week! The reason for this is scientific and critical, but yields the most stable, most wear-resistant, most durable and long-lived structure of this steel, profuse with fine multi-element carbides and a uniform and unbelievably robust structure. This is a testament to my determination to make the very best knives, steels, treatments and kits in the modern world. I know of no one else who has advanced the treatment to this level; it's unheard of in the metals field. The result is an incredibly tough, very hard, very wear resistant stainless steel.
Blade Design: I double-hollow-ground the edges of this Shrike blade with a 3" contact wheel, something few, if any, other makers do, simply because it's very difficult to achieve. What this tight grind geometry produces is a blade that is extremely thin at the cutting edge, yet thick and substantial down the central spine, critical for support of a double-edged knife blade. This is a double-edged tanto design, so the secondary cutting apex of the tanto can be used to bear down when cutting in utility chores, and the tanto point is wide-angled and very strong, for the thin geometry. The blade has no choils to become trapped or snagged in any clothing, gear, or object being cut and the cutting edges simply taper to a stop in the grind for smoothness in motion. The blade has substantial quillons that are 2.5" (6.4 cm) at the widest that serve four purposes: one is to stop penetration of the blade at its limit, the second is to protect the fingers from any metal, edges, or projections, the third is to provide a smooth, rounded, contoured surface for the fingers for maximum grip security, and the fourth is to engage in the sheath retention method in the leather (described below). The blade is supported by a 1/4" thick and heavy central neck-ricasso to provide transfer of force from the hand to the blade edges and point, and the handle tang is full thickness in the palm for a solid, complete support.
Handle: I milled the tang in a skeletonized geometry, for ultimate weight reduction. The skeletonized handle tang is the lightest possible, and all surfaces are rounded, contoured, and smoothed for a comfortable, extremely lightweight grip. This type of handle results in a knife that is fully half of the weight of full tang punch daggers with handles. This results in a thinner, lower profile when sheathed, as well. The handle of the Shrike is designed with one of my "persuader" palm heel points, used in my "Guardian" and "Ari B'Lilah" popular models. The notable thing is that this one is comfortably concealed in the sheath, safe for the knife owner.
The balance point of the knife is exactly at the quillons, and the knife feels extremely lightweight, yet strong, molded to the hand when gripped in the fist. The fingertips engage the inside of the handle milling for extra secure grip, by design. This knife was designed for the wearer to be able to immediately put it in his hand, with the handle shank between the first two fingers, in closed-fist form, without elaborate grip technique, and to use or defend his life with simple punching and and thrusting motion natural to human movement. No matter where the enemy is attacking, the blade will yield an extremely aggressive point and razor sharp cutting edge with enough power behind it to drive through heavy clothing, around gear and equipment with tremendous force. The tanto design of the blade makes it a sure performer for daily carry and work as well.
This is an serious defensive and tactical weapon for the most critical of counterterrorism and tactical close quarters combat situations, while being a fully functional daily carry useful utility tool.

Sheath: I've created an upgraded leather sheath for this model, based on client feedback and necessity of strength for daily carry. My clients may typically wear a leather sheath for daily carry, so I wanted to create a leather sheath that was as close to indestructible as leather can be. I started with the thickness; this is 11 oz thick leather, about .2" thick, as heavy as leather armor, and the heaviest leather straps for rigging, and twice as thick as the leather on a saddle. I hand-stamped/tooled the sheath in a bordered basketweave design, and dyed it with a Bison brown dye. The first thing you'll notice is a very high front, protecting the knife blade and handle almost completely, protecting the wearer from the persuader point. It also shields the knife handle from view for privacy. On the front are two "D" shaped tab stitched points; these are the locations of the two D-shaped tab retention points that engage specific locations on the knife handle. These tabs have stainless steel (corrosion-proof and very strong) dot snaps that snap to the sheath back side. When the knife is in the sheath, these dot snaps are engaged, making an audible and tactile "snap" that assures the wearer that the knife is secured. When snapped, it's impossible for the knife to be removed, to fall, to vibrate out, or to even be forced from the sheath. This makes it a positively-locking leather sheath that can't be forced, even in the most violent and active situations. When the wearer wants to remove the knife, he pushes his fingertips into the handle, unsnapping and folding the front face of the sheath outward, unlocking the tabs from the knife handle. Because the front of the sheath folds, it's made of extra-thick leather and it's reinforced at that critical point with two 304 stainless steel Chicago screws, which go completely through the sheath front, welts, and back. This way, no stress is on the stitching at this point. What about the stitching? The belt loop I secured with double row stitching of polyester, for the greatest strength and durability. The belt loop will accommodate a 2.5" wide belt. On the welts, back, and front, I hand-stitched the sheath with X-stitches, the very strongest stitch type there is. The stitches not only create a dense binding field, they stitch over each other and reinforce the entire stitch bond line. The sheath is rounded, contoured, smoothed, and sealed with three coats of lacquer for durability. This is, simply put, the most durable leather sheath made.
Designed by a professional for professional use, this is a top-of-the-line, extremely tough and corrosion-resistant, wear-resistant defensive, tactical knife that crosses over the threshold of daily use and carry. The thin, hard, extremely strong and tough blade has the pinnacle of heat treatment and thus, performance, and the sheath is second to none. The package is comfortable and lightweight, a premium skeletonized weapon and tool.
Thanks, S. H.!
Sheaths and new knife turned out perfect!!!!
--S.
---
---