Sirara Tactical Combat Knife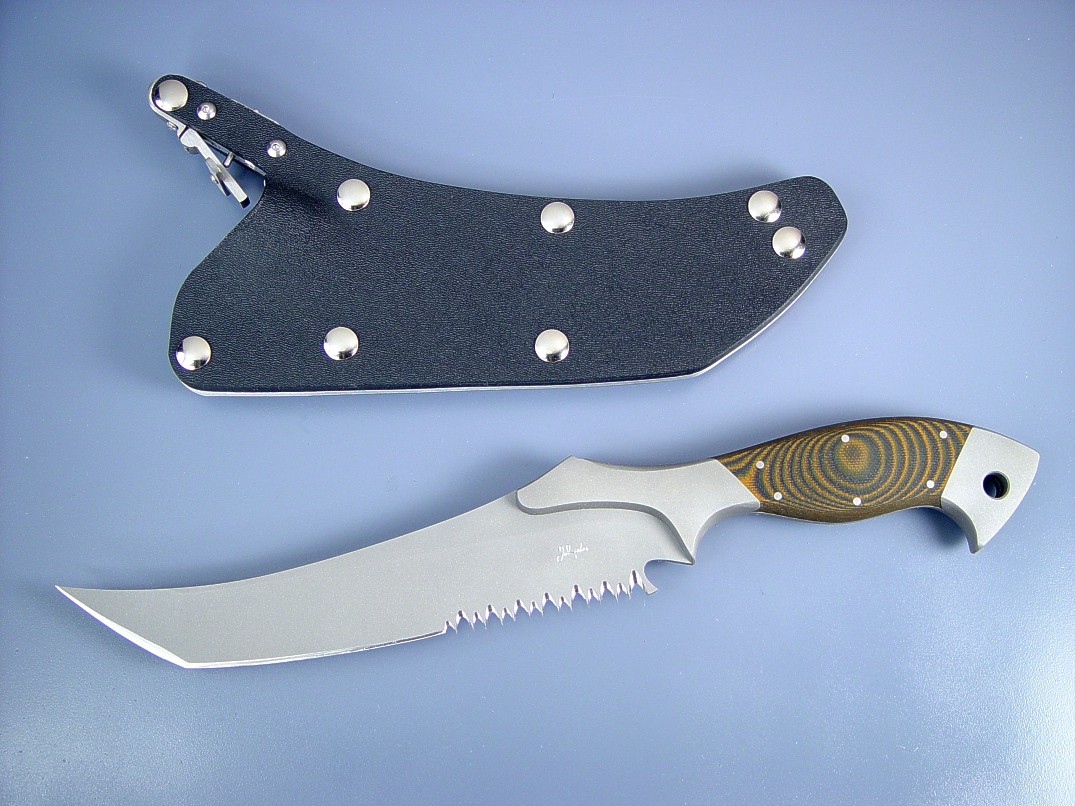 "Sirara" Tactical Combat Knife
Size: Length overall: 12.4" (31.5 cm), Blade Length: 7.4" (18.8 cm), Thickness: .240" (6.1 mm)
Weight: Knife: 16.5 oz. (468 grams) Sheath (with extender): 13.0 oz. (369 grams)
Blade: 440C High Chromium Martensitic Stainless Tool Steel, Hardened and Tempered to Rockwell C58, Bead Blasted
Bolsters, Fittings: 304 Austenitic Stainless Steel, Bead Blasted
Handle: Tiger Stripe G10 fiberglass-reinforced epoxy laminate
Sheath: Locking, Kydex, Aluminum, Stainless Steel, Nickel Plated Steel
Knife: Named for the goddess of the ancient Sumerian waters, the primary edged weapon Sirara has a unique and distinctive shape. This is not a knife for ordinary combat applications, as it is a trailing point tanto. Though it may be used for thrusting, its main application is in slicing or cleaving, as the upswept and curved blade shape dictates. Because it is trailing (the point ends higher than the spine), I did not include a swage, and left a very stout thickness in the spine behind the point for strength. The nearly 1/4" thick blade has a deep, accurate hollow grind for a thin and devastating cross section, to which I've applied a single bevel razor-sharp edge. Because of the curvature of the blade, I was able to add 2.5" of my vampire rip teeth serrations and still have plenty of traditional cutting edge on the knife blade. The blade is dependable 440C high chromium martensitic stainless tool steel, by far the most requested blade steel of all of my military clients. I've attached a heavy duty front bolster that is sculpted to extend beyond the thumb rise for additional strength and support, with multiple zero-clearance peened stainless steel pins for extra security. The rear bolster has a dropped butt to accommodate the heel of the hand and a stout rear bolster with a through-tang 5/16" lanyard hole if extra security is desired. The handle is snug on four fingers, comfortable in three fingers for an extra large hand. I kept it a bit lean because I didn't want to have too much overall weight. This is a stout knife as it is without any extra mass, and the balance point is right at the forefinger position at the front bolster. The knife feels good in the hand in reverse position, and the wide swells in the Tiger Stripe G10 fiberglass reinforced epoxy laminate fills the hand well and adds notable meat to the handle. The G10 is beautiful, durable, and waterproof, bedded and secured with six 3/32" stainless steel pins.
Sheath and Extender: I've made one of my fine locking, waterproof tactical models for this knife, probably the best tactical combat knife sheath style made anywhere. While most makers use a single thickness kydex (.060"), I use kydex that is (.125"), twice that thick for strength, durability, stability, and longevity. The kydex is hot-formed over a 5052H32 corrosion resistant, high strength aluminum welt frame, secured with nickel plated steel Chicago screws and waterproof cement. The sheath has all stainless steel locking components in 302, 304, and 316 austenitic stainless steel for low-care, high corrosion resistance, and durability while positively locking the knife in the sheath. Even the machine screws and reinforcements are stainless steel. 1.75" wide belt loops are die-formed in high strength aluminum, and are reversible for versatile wear in any position. Included with the combat sheath is my sheath extender, which lowers the knife for waist belt carry, and has a shock-cord retainer for anti-flop when highly active. This is a useful accessory, and I go into great detail about it on a special page on this site. It is reversible and removable also.
Note: Because this is a trailing point knife, care must be taken while sheathing, guiding the point into the sheath in a curved motion. Removal from the sheath is smooth and quick.
A very stout, unique tactical combat knife for the professional.
Thanks, J.W.!
Jay-
Wanted to let you know how much I am loving the Sirara! The knife feels solid in the hand, no worries about slippage and the balance is beautiful. The curvature of the blade really promotes a clean slicing cut, and I have been enjoying the vampire rip teeth! No trouble returning it to the sheath. I have perfected that! Also the locking sheath is brilliant, and I can't imagine a blade without one.
I had ordered a knife last year and knew that you had many other blades in your line up, so as usual when looking at your website for what's new I also look to see if I might purchase a finished blade while I'm waiting for mine to be completed, and I found the Sirara. So happy with the purchase. The quality, materials, attention to detail, and your love for your 'craft' is very apparent.
I look forward to the knife you are currently working on, and have already begun thinking of what I want next!!
You are a true artist, craftsman, and creator of the sublime. Many thanks!
Best,
--J.
---
---