Paraeagle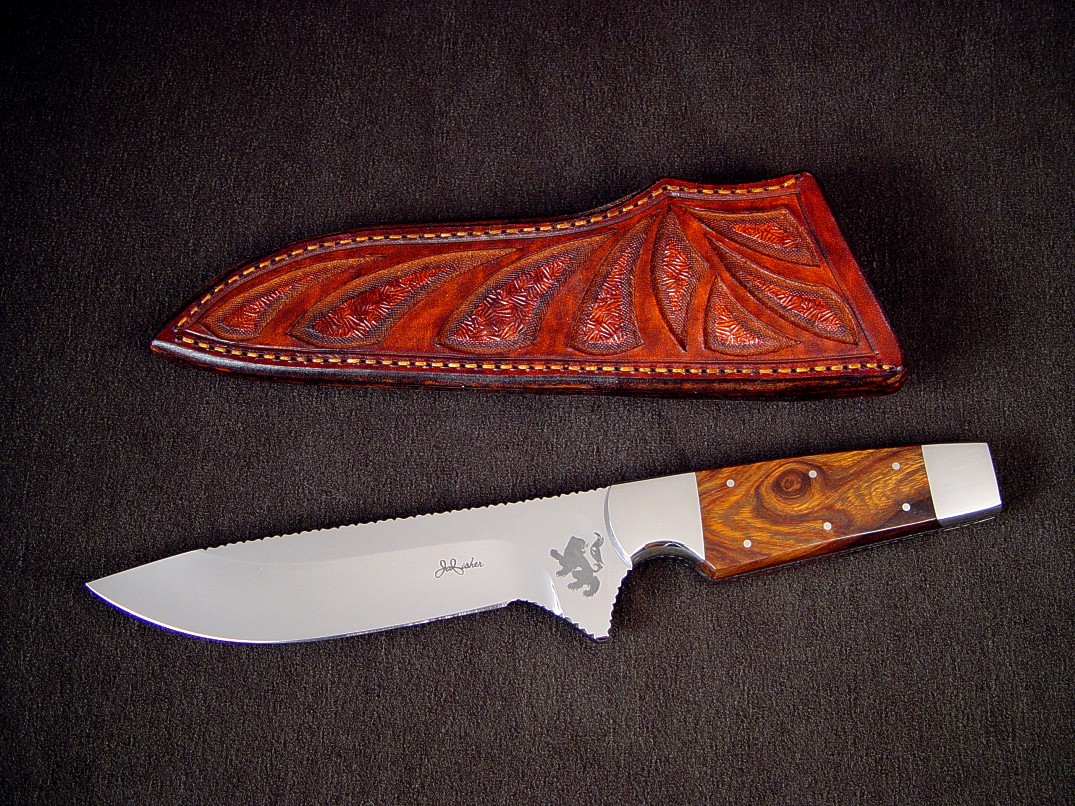 Paraeagle
Size: Length Overall: 11.0" (28 cm), Blade Length: 6.25" (15.9 cm), Thickness: .214" (5.4 mm)
Weight: Knife: 13.5 oz., Sheath: 4.5 oz.
Blade: 440C high chromium stainless steel, hardened and tempered to Rc59
Bolsters, Pins: 304 austenitic high nickel-chromium stainless steel
Handle: Desert Ironwood (Olneya tesota)
Sheath: Hand-carved and tooled leather shoulder
Knife: Commissioned by a great client and patron, this Parareagle design was originally created with the input of USAF Pararescuemen for their use in combat search and rescue (CSAR), close quarters battle (CQB) and all their tactical knife needs and activities. It's a thick, tough, stout blade design with plenty of deep hollow grind that leaves a very serviceable cutting edge with great longevity. The spine is heavy and wide, joining a hefty ricasso area for great blade to handle strength. Built into the ricasso is the deep forefinger quillon, into which my client had me etch a rampant lion in the mirror finished stainless steel. The blade is fully fileworked with a medium depth and density pattern and has a fully tapered tang for weight balance. The handle shape is straightforward, thick and boxy, with plenty of reinforcement at the critical areas with zero-care 304 high nickel, high chromium stainless steel, double pinned and peened with zero clearance stainless steel pins for strength. The bolsters are dovetailed to hold a pair of bookmatched Desert Ironwood handle scales, and half a dozen stainless steel pins secure the bedded scales to the tang. The knife is comfortable in a variety of hold positions, with a deep forefinger groove for security. Identical to models I've made that have proven themselves in combat, search and rescue, and SERE operations.
Sheath (Leather): The sheath is a clean design, made of 9 - 10 oz. leather shoulder, hand-carved in deep designs that reflect the curvature of the belly of the knife. The sheath is tooled, finished with red-brown dye, hand-stitched with polyester sinew, lacquered and sealed.
Sheath (Kydex): The client also requested a fine tension fit kydex tactical sheath, this one is made of double layered kydex over a 5052H32 corrosion resistant aluminum welt frame, secured with nickel plated steel Chicago screws and waterproof cement. A super tough sheath for a super durable knife.
Thanks, B. M. !
Jay
Love its balance, heft, authority. The etching is great- what detail- the claws!
B.M.
---
---