Knapp Trailhead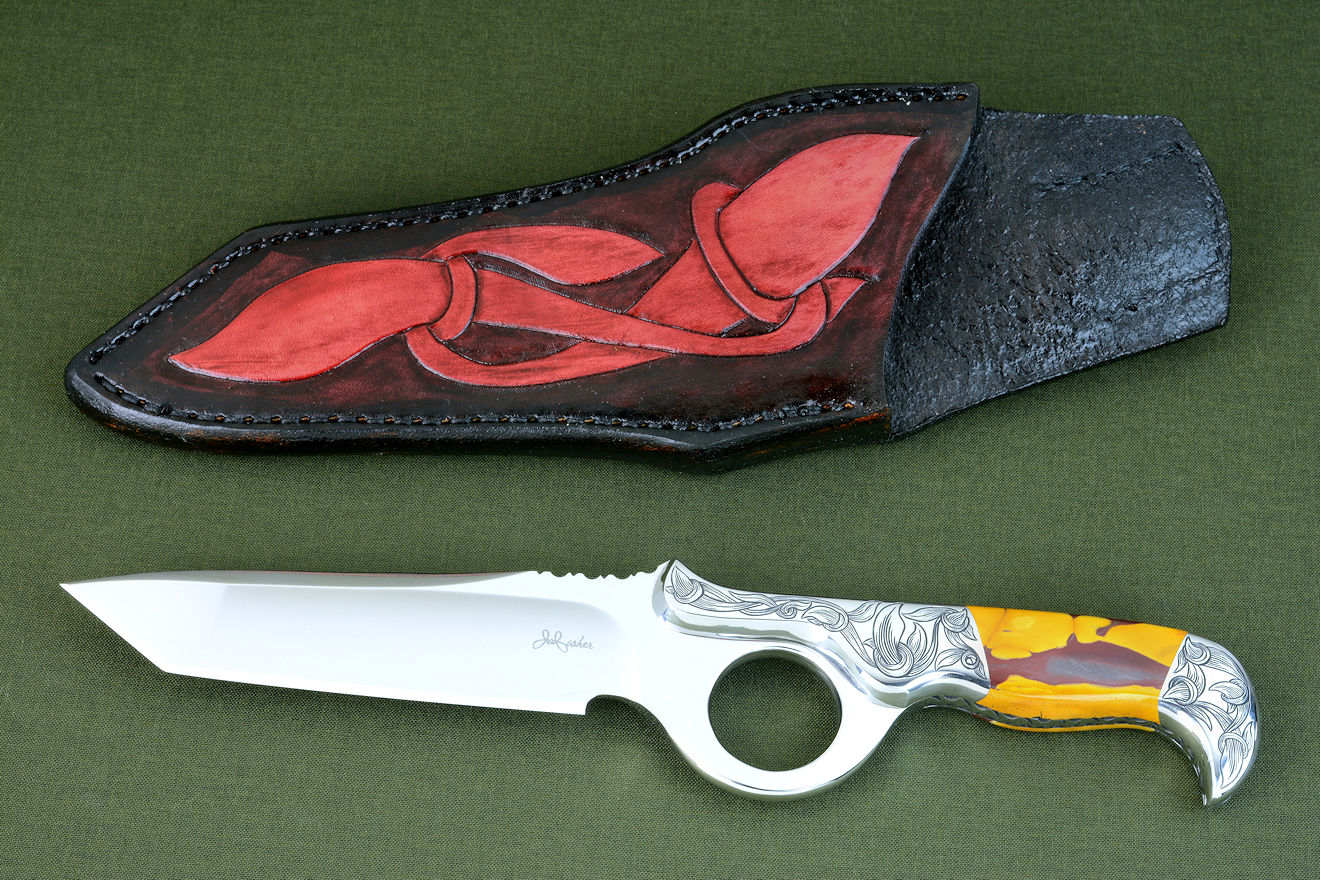 "Knapp Trailhead" Custom Knife
Size: Length overall: 10.6" (26.9 cm), Blade Length: 5.25" (13.3 cm), Thickness: .242" (6.2 mm)
Weight: Knife: 14.0 oz. (397 grams) Sheath: 6.3 oz. (179 grams)
Blade: 440C High Chromium Martensitic Stainless Steel, Cryogenically Treated, Hardened and Tempered to 59 HRC
Bolsters, Fittings: 304 Austenitic Stainless Steel, hand-engraved
Handle: Mookaite Jasper Gemstone, Australia
Sheath: Hand-carved, hand-dyed leather shoulder
Knife: This is a custom trailhead, an adaptation of an earlier trailhead so distinctive that it bears my client's name. He gave me a few particulars of the knife design, and I got to work. I made the blade in 440C high chromium, high carbon hypereutectoid martensitic stainless steel, for the ultimate in corrosion resistance and high toughness and wear resistance. I've performed by best heat treatment possible on this knife: full austenitization at 1950°F, and deep cryogenic quenching and aging for over 40 hours at -325°F for the maximum martensite conversion and maximum precipitation of carbides, with deep cryogenic thermal cycling and compression between triple tempering for the ultimate in wear resistance and toughness that is possible with this steel. This is a tough tanto style blade, and the deep hollow grind offers a very thin yet durable cutting edge and plenty of thick spine for support. The blade has a two thirds length top swage to reduce the point profile without sacrificing strength, and the large finger ring is a distinctive and bold feature of the knife design, positively locking the knife in the hand. The blade has a fully tapered tang for balance, with full filework, and is bolstered with zero-care 304 austenitic stainless steel bolsters, and the front bolster is sculpted and extends over the finger ring for full support up to the thumb rise. These bolsters are made of the same stainless used to make stainless nuts, bolts, and fasteners, with 18 percent chromium and 8 percent nickel; it's extremely tough and durable. I hand-engraved a nice pattern on the bolster faces, echoing the finger ring in the design motif, with ribbon-like leaf forms entering and exiting the rings, just like the finger moves into the handle. The bolsters are contoured and dovetailed and bed a pair of striking and bold Mookaite Jasper gemstone scales. This is an extremely hard and durable jasper from Mooka Station in Australia, a fossilized form with deep red and burgundy tones in a field of rich golden yellows. Nothing else on earth looks like Mookaite, and the gemstone is very tough and durable. It is actually radiolarite, a sedimentary fossil of radiolarians. You might think that radiolarians are some distant race from deep in another galaxy (ahem) but they are protozoa, some dating back to the Cambrian period over 480 million years ago. These algae-like protozoa produce silicate skeletons in their very short life span (2 to 6 weeks), and then they drop to the bottom of the ocean. In deep waters, the drop can take up to over a year! At the bottom of the ocean, they form "oozes" and clays of sediment, that become fossilized over time. This is how most flints are formed as well (as oceanic sedimentary ooze). Over millions of years, fossilization occurs, minerals impregnate and replace biologic remains. Specifically, the Windalia radiolarite is a Lower Cretaceous (Aptian) formation in Western Australia that contains abundant foraminifera, radiolaria and calcareous nanoplankton fossils. The varicolored opaline to chalcedonic radiolarite is mined and used as an ornamental stone termed mookaite. It is this fascinating geological process that makes these striking minerals the premium knife handle material, and keeps me looking for more! In this Knapp Trailhead, I chose a bold pair of Mookaite slabs, and they are ground, polished, and finished to a high luster, and the handle feels comfortable and strong in the hand.
Sheath: Of course the sheath had to match this bold knife, so I made a deep, protective one in 9 - 10 oz. leather shoulder, and I hand-carved the same design as I engraved on the bolsters, accenting the rings as a design component. The sheath is hand-dyed in mocha brown with dark burgundy highlights of the carving, stitched with black nylon throughout, and sealed with acrylic.
A bold, bright, unique custom creation for a great client; a real pleasure to make!
Thanks, P. K.!
---
Perfectly balanced, engraving and design layout are superb an the sheath brings it all together.
Total package.
Thank you
Best always:
P.
---
---