Kadi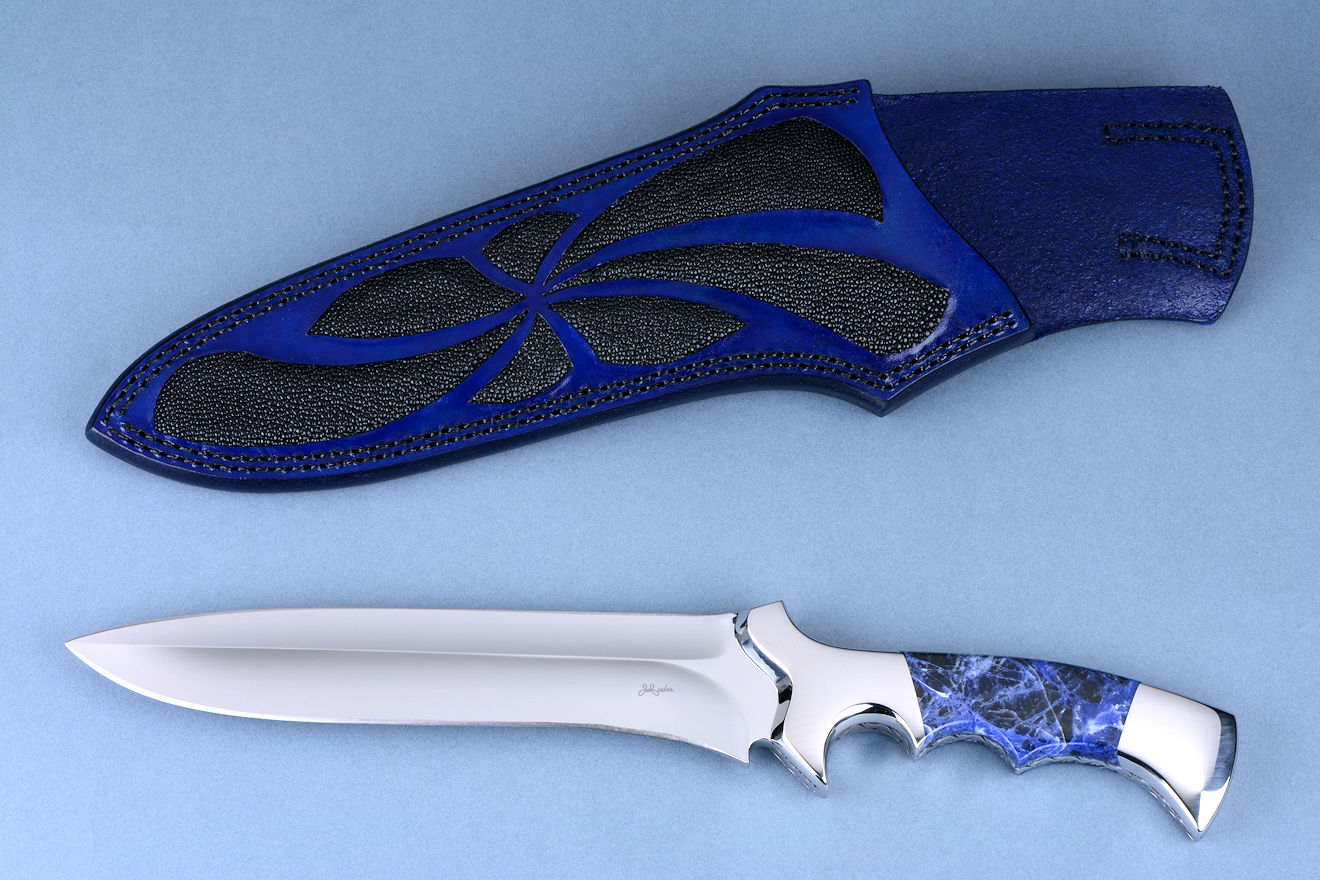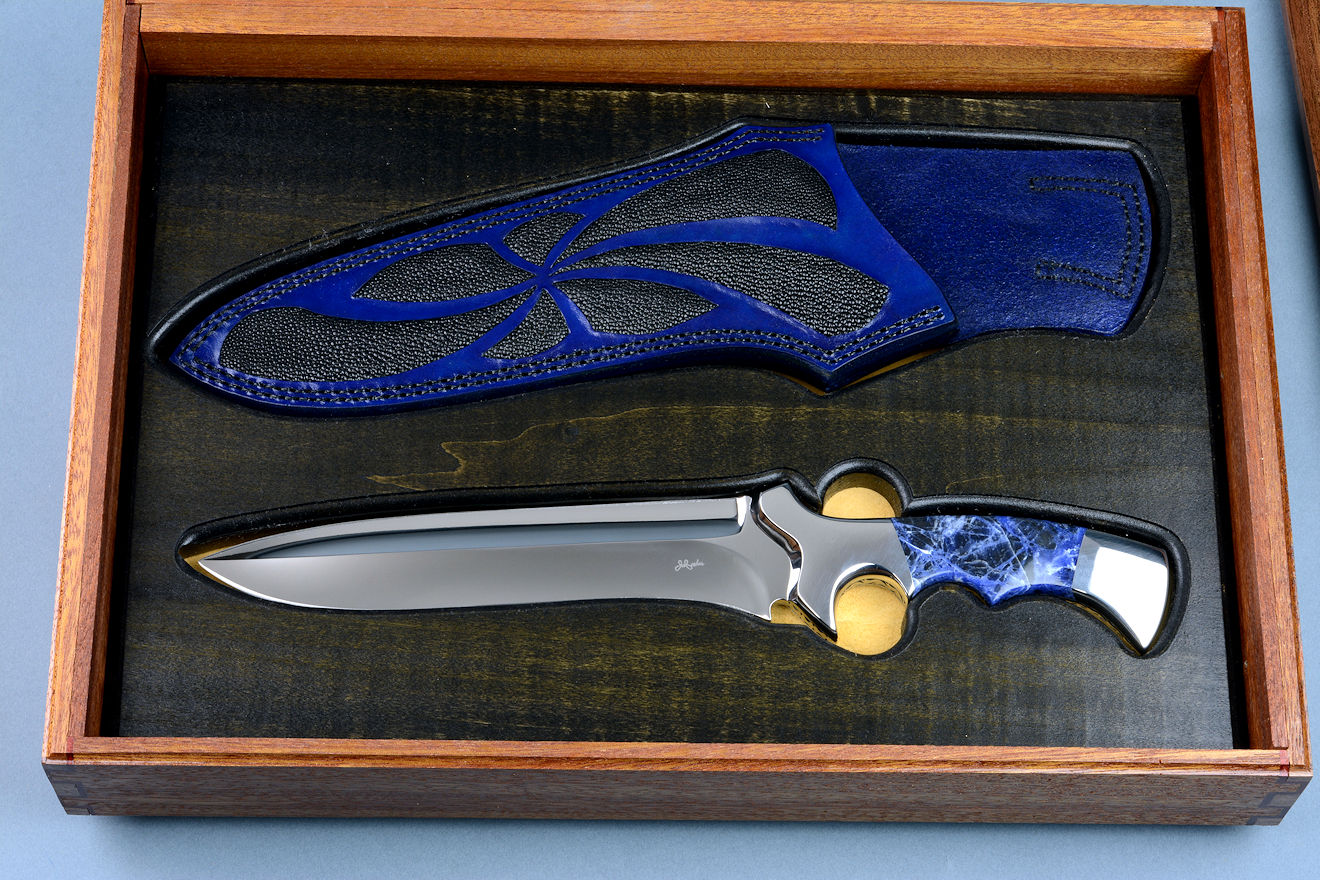 "Kadi" Fine Custom Knife
Size (Knife): Length overall: 14.0" (35.6 cm), Blade Length: 8.5" (21.6 cm), Thickness: .262" (6.7 mm)
Size (Case): 17.25" (43.8 cm) wide, 12.25" (31.1 cm) deep, 3.5" (8.9 cm) tall
Weight: Knife: 1 lb., 4.5 oz. (581 grams), Sheath: 10.7 oz. (303 grams), Case (with knife and sheath: 8 lbs., 12 oz. (4 kilograms)
Blade: 440C High Chromium Martensitic Stainless Tool Steel, Cryogenically Hardened and Tempered to Rockwell C62, mirror polished
Fittings/Bolsters: 304 Austenitic Stainless Steel, mirror polished
Handle: Polished Sodalite Gemstone (Brazil)
Stand: Lauan (Meranti), American Black Walnut, Poplar, Redheart, Red Oak, Neoprene Feet
Knife: The Kadi is named for an ancient Sumerian goddess of justice. This is a custom knife, made just for a client at their specific request, finish, materials, and style. I started with a blade of 440C high chromium stainless steel, a hypereutectoid alloy of steel high in carbon, chromium, and molybdenum. This steel is my most requested for a reason; it's a beautiful, low care, high performer, with a fantastic track record of value and durability. The blade I double-hollow ground, with a differential grind. This means that the knife is double edged, but with two different geometries in the grind. The main grind is done with an 8" diameter wheel, and the top grind is done with a 3" diameter wheel. This gives the double edges of a dagger, but with a pronounced and heavy off-center spine for great strength. This is no lightweight knife, and is made from thick and heavy stock, with a sizeable blade length. I cryogenically treated the blade for full martensitic conversion and with a long cryogenic soak for extremely high precipitation of carbides. The blade was double-tempered with cryogenic soaking between tempers, for the ultimate in thermal conditioning and high wear resistance, toughness, and corrosion resistance. The blade is very hard, 62 Rockwell on the C scale, and can maintain this hardness due to increased toughness created by the cryogenic process. I've mirror polished the blade to a beautiful finish, preserving the crisp grind lines and contours. The blade is fully fileworked with a bold complex vine pattern, throughout the precisely and fully tapered tang. The knife is bolstered with zero-care 304 high nickel, high chromium austenitic stainless steel bolsters, and the front bolster is sculpted in complex curves to accent the grind character. The bolsters are dovetailed and bed a pair of striking Sodalite gemstone handle scales, in natural blue with black and white regions and bold appeal. The handle shape is complex and extremely comfortable, with all surfaces smoothed, rounded, and polished, and the knife feels solid and formidable with the balance point exactly at the forefinger location.
The sheath had to match the gemstone handle, so I created this one in 9-10 oz. leather shoulder, dyed navy blue, and hand-carved to create areas to inlay 17 pieces of black rayskin. The sheath is bold and striking, and holds the knife deeply and securely with a high back to protect the wearer. The sheath is left-handed by the request of my client. I hand-stitched the entire sheath with black polyester, in double row stitching throughout for the greatest durability. The sheath is coated and sealed against the elements, and is an independent work of art.
My client also requested a custom case for the knife and sheath, so I made this one in lauan (meranti) hardwood, with American black walnut banding and accents, redheart accents and feet, a red oak bottom, and ebonized poplar insert. The knife and sheath rest on natural buckskin leather, and the turned hardwood feet are inlaid with neoprene foam inserts to protect any surface the case rests upon. The design of the piece is (like the knife) modern, with complex double-double box joinery in the corners and an inset lid, clean with no metallic hardware. The case is smooth and lacquered for a bright finish that brings out the richness of the various woods.
A beautiful and complete ensemble, and an honor and a pleasure to make.
Thanks, M. D. !
Jay -
The package arrived this afternoon. J. is seriously blown away and is SOOOO HAPPY!
Thank you so much!!! You are awesome!
I attached a pic of him opening the box; you can totally see how happy he is by the expression on his face. He took it downstairs to the basement...He keeps going down there to look at it. Lol
Wishing you and your family a very blessed and Merry Christmas and a Happy New Year.
Thank you again!
--M. and J.
---
---