Anzu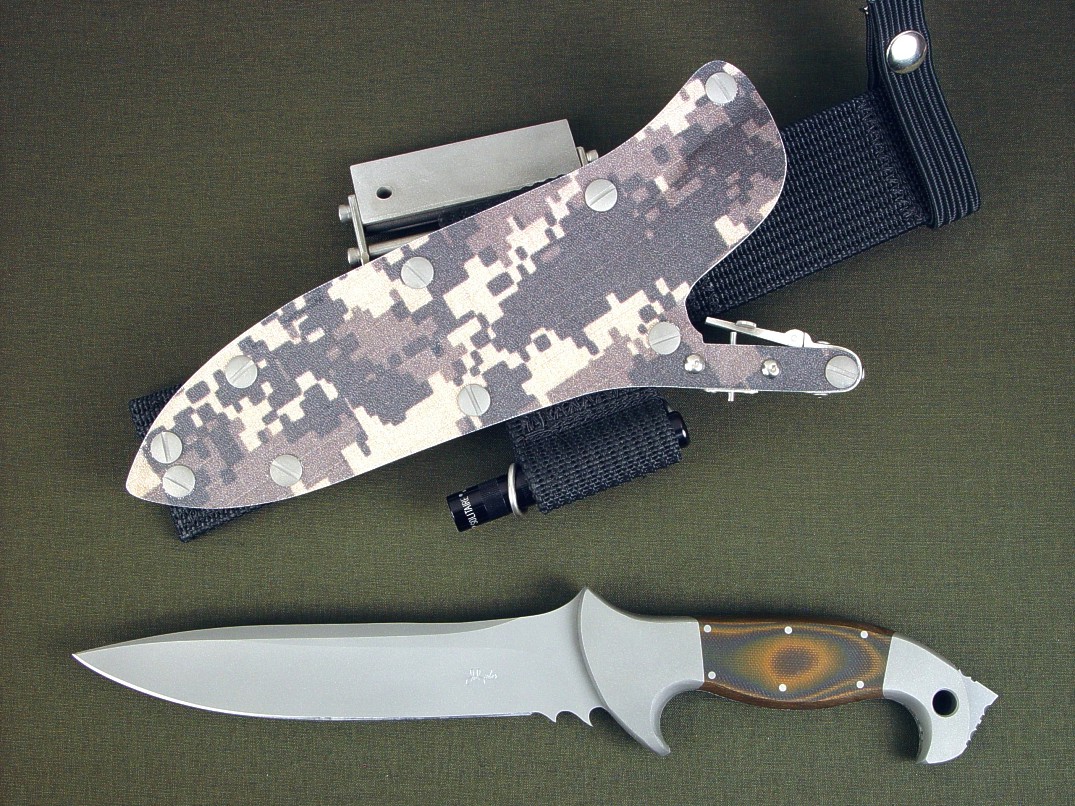 "Anzu" Tactical Combat, Survival Knife
Size: Length overall: 12.0" (30.5 cm), Blade Length: 6.5" (16.5 cm), Thickness: .200" (5.1 mm)
Weight: Knife: 14.3 oz. (405 grams), Sheath (with extender and accessory package): 1 lb. 3 oz. (539 grams)
Blade: CPMS30V High Vanadium Martensitic Stainless Powder Metal Technology Tool Steel, Hardened and Tempered to Rockwell C60, Bead Blasted
Bolsters, Fittings: 304 Austenitic Stainless Steel, Bead Blasted
Handle: Gold and Black (Tiger Stripe) G10 Fiberglass/Epoxy Laminate Composite
Sheath: Locking, Desert Digi-camo Kydex, Aluminum, Stainless Steel, Polypropylene and Nylon belt loop extender with Firesteel/Magnesium fire starter, Fine DMT diamond pad sharpener, Maglite Solitaire® flashlight, all stainless steel fittings.
Knife: A true tactical combat and survival knife, the Anzu was named for a Sumerian god, from An "heaven" and Zu "far" and was the son of the bird goddess, Sirius. The feather-like blade and rear persuader talon carry the name well. Though I had a bird-like inspiration for this blade, it is no featherweight when it comes to defensive tactical combat knives. This is a serious weapon and tool, designed for the theatre of conflict. This Anzu is has a special blade steel: CPMS30V. This is an exotic, highly refined ultra-modern powder metal technology tool steel made by fusing together the powdered components of the steel for a highly uniform and densely packed alloy set, unobtainable by conventional methods of steel manufacture. In this particular grade, this yields a steel that contains 3 percent vanadium. The vanadium forms super-hard vanadium carbide particles when the knife is heat treated, which translates to an extremely wear-resistant cutting edge. So wear-resistant is this steel that only a diamond abrasive will sharpen it properly (but don't worry; I've included that too!). What this means to the owner is a knife that will cut and cut and cut for many years, even decades of use. Since I've deeply hollow ground the blade, it can be sharpened and maintain thinness at the cutting edge for generations of use. The blade has a long, sweeping and aggressive edge profile, and I've omitted serrations as this knife is designed for thrusting and slicing with little effort. The spine has a three quarter length swage for reduced point thickness and high concentration of piercing strength, and the sculpted choil grouping yields a distinctive and defined grind termination. The handle is full and strong, with a complete taper to reduce weight at just the right places. The front quillon is bolstered all the way to the thumb rise to support the fingers and offer the highest transfer of force from the hand to the blade without digging into the hand. This is the closest thing to a full guard possible on this size of knife. The handle has a comfortable belly and melts into the hand like it was made there. The rear bolster has a great hawk's bill quillon to lock the fingers, and a through-tang chamfered lanyard hole for extra security if needed. The bolsters are very tough high nickel, high chromium austenitic stainless steel, for zero-care and are bead blasted for a no-nonsense finish. They are dovetailed to lock a pair of G10 fiberglass reinforced epoxy laminate composite scales to the handle, and the full filework adds a distinctive touch of handmade flair while improving grip strength. A unique feature of the Anzu is the defensive rear talon (also called a persuader, or skull crusher) that offers just enough point to persuade an enemy without the lethal penetration of the full blade. The talon is not obtrusive or large, so it's more comfortable and safe to the knife owner. The knife feels balanced and comfortable in the hand in either the foreword or reverse grip style with the fulcrum point at the location of the forefinger in the quillon.
Sheath: The sheath is a professional assembly, an example of why I'm committed to making the finest combat tactical, and rescue knives and sheaths on the planet. It starts with double thickness (.125") desert colored digi-camo kydex hot-formed over a high strength, corrosion resistant aluminum welt frame, secured with bead blasted 304 stainless steel Chicago screws for the ultimate in durability and no glare. The sheath is one of my proven positively locking waterproof models, with all stainless steel locking mechanism and components for the ultimate in reliability. Even the machine screws are stainless steel. The sheath can be worn in any position, even upside down when worn with the die-formed high alloy aluminum belt loops (included, but not shown). The belt loops can be located in several positions along the welt frame and are reversible for a variety of wear options. I've also included an additional locking sheath built to the same specifications, in all black kydex with blued steel Chicago screws at my client's request.
Accessories: This knife and sheath needed my ultimate accessory package, so I included my Ultimate survival, CSAR sheath belt loop extension accessories with new and added features and devices. The polypropylene accessory is waterproof, durable, and extremely stout, and allows the locking knife sheath to be worn in a more traditional belt position at the hip. The extension is mounted with 304 stainless steel straps and stainless steel machine screws attached to the existing stainless Chicago screws, and the assembly is stiffened by multiple zigzag nylon stitching to prevent the extension from folding, bending, or collapsing when the knife is extracted from the sheath. The belt loop is 2.5 inches wide for the widest of belts, and has a top placement shock cord with snap retention to prevent the knife handle from flopping around during active movements. The shock cord is not for retention of the knife; this is done with the stainless steel sheath lock. At the lower back of the extension I've included a custom fit pocket for a DMT (Diamond Machining Technology) Mini-Sharp diamond-nickel abrasive hone, to bring up the cutting edge in the field with ease, even on this high alloy wear resistant blade. These are great tools that can re-sharpen or just touch up even the hardest tool steel edges, as they are surface bonded with diamond abrasives. The pocket for this tool is situated at the sheath back and against the body, so the sharpener can not be removed unless the sheath is off the body and the industrial strength Velcro closure is open. I also added a specially modified critical survival component to this accessory: the Firesteel/Magnesium block with custom fittings. These blocks are waterproof and durable, with soft magnesium that can be easily shaved off with the knife blade, and a Firesteel striker to ignite the magnesium shavings when placed into tinder to start a fire. A unique addition to this block is the stainless steel rod guard. This minimizes the possibility of the Firesteel contacting any other metals and causing accidental sparks and ignition when worn or removed, guards the knife tip (or swage) when the blade is dragged over the Firesteel, helps concentrate and guide the spark direction, and offers a variety of mounting options, besides on the sheath extender's industrial strength Velcro straps. Being all 304 stainless steel, it will not corrode or rust. A recent inclusion on these useful accessory packages is the Maglite Solitaire, a small and durable flashlight that is waterproof, with o-ring seals and made of black anodized machined aluminum. I custom make a stainless steel retention ring mount for locking the light in its dedicated sleeve for security yet "up front" access in the package. There are much more to these accessories; learn about these critical accessories on a special page on my site at this link. Mounting, care, and use instructions are posted there.
A professional, elegant, dedicated, durable, and extremely wear-resistant military combat-grade knife, weapon, and survival tool with all of the accessories.
Thanks, C. H.!
Hey Jay,
Long time no talk. I thought it was long overdue to give you some feedback on the Anzu knife you were kind enough to sell me 7-8 months ago.
First off, wow. What an unbelievable weapon. From its razor's edge to the perfectly formed handle, it's the most impressive and useful tool I have ever bought...because before the Anzu I didn't even know what a real combat knife was. But now I can guarantee, it will be on my gear anytime I go overseas.
Second, I got some serious use out of it in the field just recently and that edge just keeps on cutting. It's still as keen as the day I unopened it. Every time I take it out of its sheath, there are always a few who look at it and ask where in the hell I got a knife like that. Actually seeing the difference between a real combat knife and those bendy POS knives from cold steel puts it into perspective.
Anyway, I am extremely happy with the knife and I apologize for not writing sooner. Take care Jay, and the best to you and yours.
Respectfully,
-Chris
P.S. I will be contacting you in the near future with a custom knife order if you are accepting them right now.
---
---