Amethystine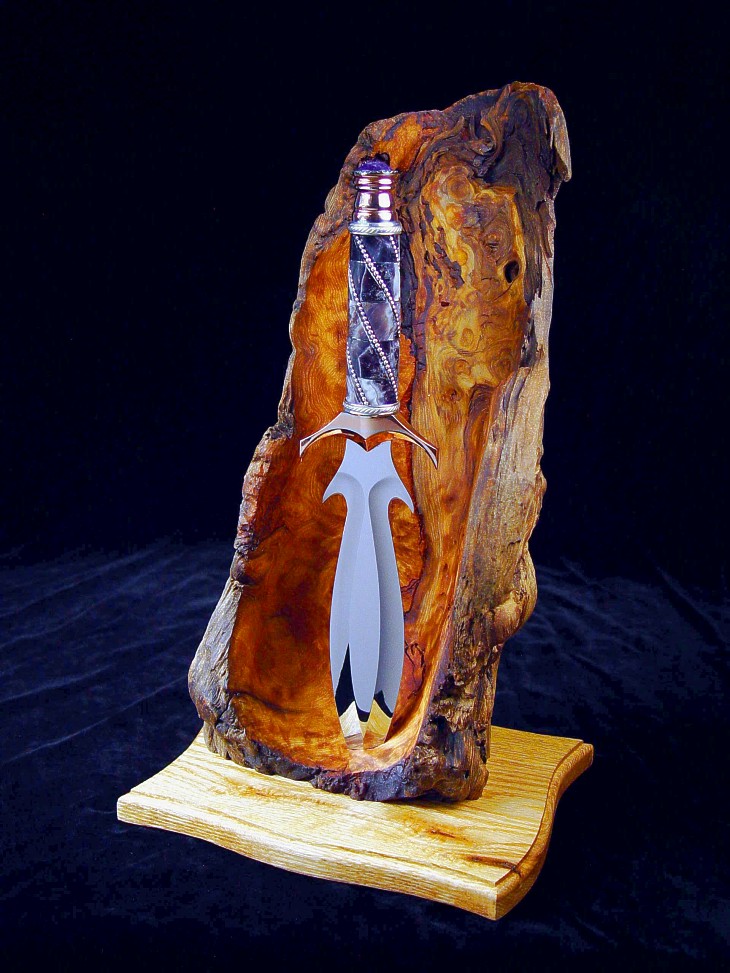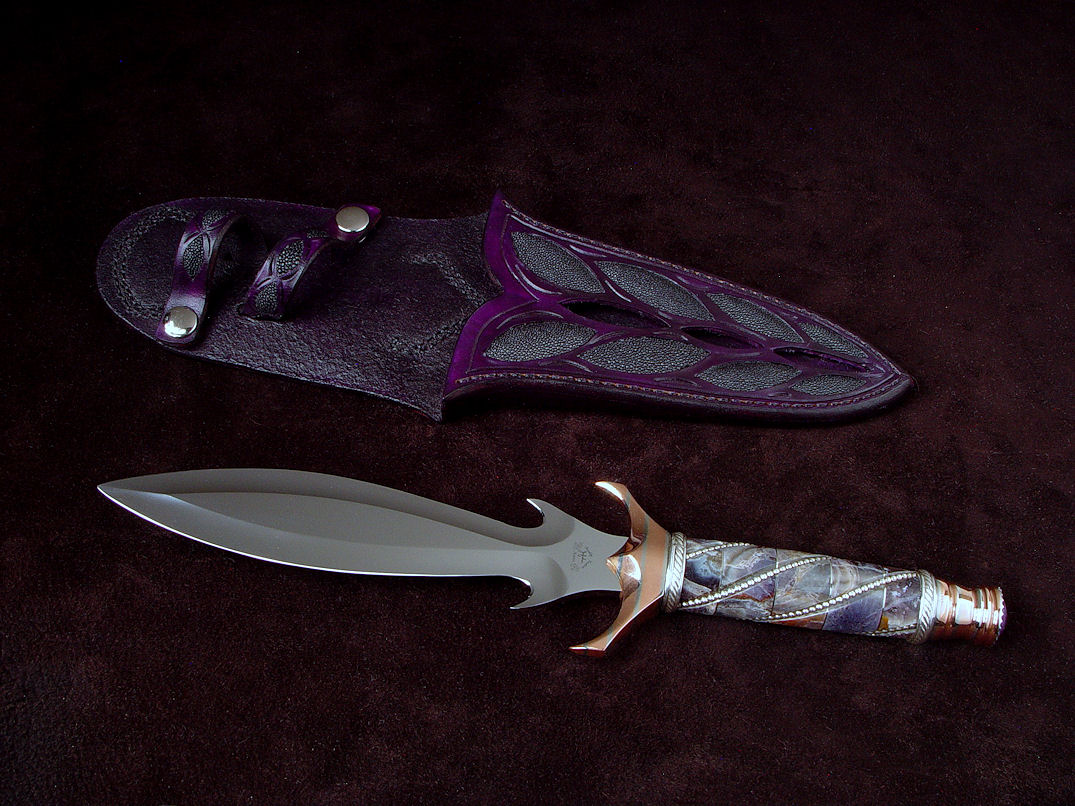 Amethystine Dagger
Size: Length Overall: 13.6" (34.6 cm), Blade Length: 7.75" (19.7 cm), Thickness: .187" (4.8 mm)
Weight: 1 lb., 1 oz. (482 grams), Sheath: 8.6 oz. (245 grams)
Blade: 440C high chromium stainless steel, hardened and tempered to 58HRC
Fittings: Copper, Nickel Silver, Sterling Silver, diffusion welded
Handle: Lace Amethyst Gemstone, Amethyst Crystal Gemstone
Stand: Ponderosa Pine Burl, Red Oak Base
Sheath: Black Rayskin inlaid in hand-carved leather shoulder
Knife: A study in fine double edges, Amethystine is an elegant dagger with some unique features. The blade is tightly ground with a 3" diameter contact wheel, and the grind terminations are full, that is completely (180 degree) radiused into the profile of the blade. This is a very difficult grind to create and finish well. The steel is mirror finished 440C high chromium martensitic stainless steel for the greatest longevity and beauty of any stainless tool steel. The guard is fully sculpted, (and with the pommel) is made of diffusion welded copper and nickel silver. This is a complicated process, and the union of the two metals is complete on the atomic level; they are fused into a solid billet, yet retain their individual characteristics. The handle is Lace Amethyst gemstone spaced with nickel silver spacers, hand-carved, fluted, and wrapped with sterling silver half-bead gallery wire in graceful twists. The ferrules are sterling silver rope twist, and the pommel capstone is a solid Amethyst crystal cabochon, domed and polished. To illustrate how difficult the construction is of this type of handle, it's composed of over 40 individual pieces, all fitted and finished together. The stand I chose to accent the knife is a unique piece of Ponderosa Pine burl, smoothed and oiled, mounted to a routed and finished Red Oak base. The dagger is anchored into the base like a king on a throne of this natural burl.
Sheath: The sheath was custom ordered for this knife, and came later than the construction of the knife and stand, a great addition to the beautiful ensemble. This is a complicated sheath with 55 individual pieces and components! I hand-carved this custom sheath in 9-10 oz. leather shoulder, and inlaid the sheath with 35 individual inlays of black rayskin, in a symmetrical pattern throughout, even in the double-row stitched belt loop. The sheath body has front windows to display the beautiful finish on the polished stainless steel blade, and the retaining strap (with 9 rayskin inlays) is spiral wrapped to echo the wire wrapping of the handle and secured with two nickel plated steel snaps. The sheath is hand-stitched with black nylon and dyed a deep purple to compliment the amethyst handle, and is sealed and buffed for longevity.
This was a great project, and wonderful to revisit it to add the custom sheath!
Thanks, J. S.!
Jay,
The sheath compliments the dagger perfectly.
--J.
---
---