Alegre EL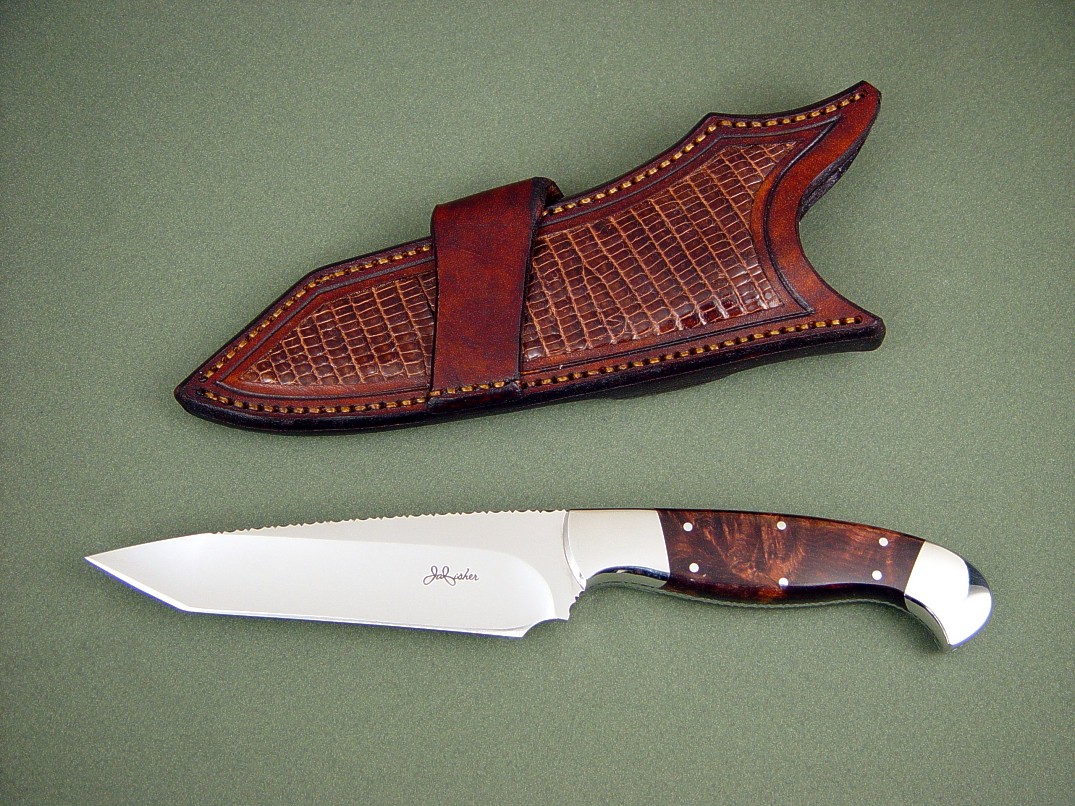 Alegre EL
Size: Length overall: 9.7" (24.6 cm), Blade Length: 5.0" (12.7 cm), Thickness: .193" (4.9 mm)
Weight: Knife: 7.7 oz. (218 grams) Sheath: 4.3 oz. (122 grams)
Blade: 440C High Chromium Martensitic Stainless Tool Steel, Hardened and Tempered to Rockwell C59
Bolsters, Fittings: 304 Austenitic Stainless Steel
Handle: Honduras Rosewood Burl Exotic Hardwood
Sheath: Teju Lizard Skin inlaid in hand-carved leather, crossdraw style
Knife: Custom made for a great client, this Alegre has an extended length (EL) blade for improved usability, and is custom designed for the client's hand size. The clean, mirror polished blade is hollow ground 440C high chromium martensitic stainless tool steel, hardened and tempered to 59HRC for high wear resistance and corrosion resistance. The tanto style blade is strong and tough with good point geometry and a stout secondary point where the two straight edges meet. I sharpened the knife to a razor-keen single bevel cutting edge. The blade has full filework, completely around the fully tapered tang, which supports two pairs of 304 austenitic high nickel, high chromium stainless steel for zero care and ultimate corrosion resistance. The dovetailed bolsters bed a pair of book-matched Honduras Rosewood Burl handle scales, a rich, dark, and highly figured rosewood rarely seen in burl form. The handle is well supported with six 304 stainless steel pins through the tang. The knife is comfortable feels great in the hand.
Sheath: This knife gets one of my custom cross draw leather sheaths, made of 9-10 oz. leather shoulder, tightly hand-stitched with tough polyester sinew, and dyed a medium brown, lacquered and sealed. The sheath has two broad panel inlays of brown Teju lizard skin which is glossy and smooth, complimenting the handle material of the knife perfectly.
A great knife for a great client!
Thanks, H. L.!
Jay,
I received the knives you crafted a day ago. Both are exceptional in fit, finish, balance, and design. I couldn't be more pleased with the work. Thanks very much for creating such beautiful examples of the knifemaker's art for me. The cross draw sheath is exactly what I wanted for the Alegre, and a great match for the knife.
I'm very much looking forward to the future projects as I'm sure they will turn out even more memorable than those you already create for me. Thanks again for your superb work and craftsmanship!
--H.
---
---